"Now there is apparently a causal link between heroin addiction and vegetarianism."
― Irvine Welsh, Trainspotting
Scottish urban life in recent times has proved a fertile ground for novelists, with Douglas Stuart's Shuggie Bain winning the  2020 Man Booker prize and David Keenan's  This Is Memorial Device: An Hallucinated Oral History of the Post-Punk Music Scene in Airdrie, Coatbridge and Environs 1978–1986 shortlisted for a whole plethora of awards. And this month's selection of newly acquired fiction sees another novel joining these illustrious ranks. The Young Team by Graeme Armstrong revolves round gang life and culture in the Scottish town of Airdrie. A gritty and darkly humorous story told in the vernacular of the area it has already been highly praised and compared to the Scottish generational defining novel Trainspotting.
The young team / Armstrong, Graeme
"Azzy Williams is ready. Ready to smoke, pop pills, drink wine and ready to fight. But most of all, he's ready to do anything for his friends, his gang, his young team. Round here, in the schemes of the forgotten industrial heartland of Scotland, your mates, your young team – they're everything. Azzy Williams is fourteen; a rising star, this is his life and he loves it. Azzy Williams is seventeen; he's out of control. Azzy Williams is twenty-one; he'd like to leave it all behind. But a way out isn't easy to find…" (Catalogue) Also available as an eBook.
The untameable / Arriaga Jordán, Guillermo
"Yukon, Canada's far north. A young man tracks a wolf through the wilderness. The one his grandfather warned him about… In Mexico City, Juan Guillermo has pledged vengeance. For his murdered brother, Carlos. For his parents, sentenced to death by their grief. But in 1960s Mexico justice is sold to the highest bidder, and the Catholic fanatics who killed Carlos are allied to Zunita, a corrupt and influential police commander. If he is to quench his thirst for revenge Juan Guillermo will have to answer his inner call of the wild and discover what links his destiny to a hunter on the other side of America." (Adapted from Catalogue)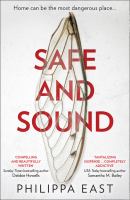 Safe and sound / East, Philippa
"In a small London bedsit, a radio is playing. A small dining table is set for three, and curled up on the sofa is a body… Jenn is the one who discovers the woman, along with the bailiffs. All indications suggest that the tenant – Sarah Jones – was pretty, charismatic and full of life. So how is it possible that her body has lain undiscovered for ten whole months? " (Adapted from Catalogue)
How do you live? / Yoshino, Genzaburō
"The streets of Tokyo swarm below fifteen year-old Copper as he gazes out into the city of his childhood. Struck by the thought of the infinite people whose lives play out alongside his own, he begins to wonder, how do you live? Considering life's biggest questions for the first time, Copper turns to his dear uncle for heart-warming wisdom. As the old man guides the boy on a journey of philosophical discovery, a timeless tale unfolds, offering a poignant reflection on what it means to be human." (Adapted from Catalogue)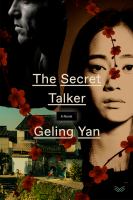 The secret talker : a novel / Yan, Geling
"Hongmei is the perfect Asian wife: beautiful, diligent, and passive. She lives a quiet life in Northern California with her husband, Glen, an intelligent and caring college professor. But when a mysterious person begins to email her, Hongmei can't resist and soon finds herself enthralled in a psychological cat-and-mouse game. Who is stalking her? And why does s/he know her deepest, darkest secrets? As Hongmei is forced to confront her own dark past in China, her perfect life begins to fall apart. Desperate and self-destructive, she embarks on an investigation into her emailer's secret history. One that may tear her life and marriage apart forever" (Adapted from Catalogue)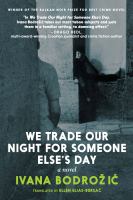 We trade our night for someone else's day / Simić Bodrožić, Ivana
"Nora is a journalist assigned to do a puff piece on the perpetrator of a crime of passion–a Croatian high school teacher who fell in love with one of her students, a Serb, and is now in prison for having murdered her husband. But Nora herself is the daughter of a man who was murdered years earlier under mysterious circumstances. And she wants, if not to avenge her father, at least to bring to justice whoever committed the crime." (Adapted from Catalogue)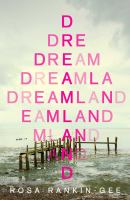 Dreamland / Rankin-Gee, Rosa
"In the coastal resort of Margate, hotels lie empty and sun-faded 'For Sale' signs line the streets. The sea is higher – it's higher everywhere – and those who can are moving inland. A young girl called Chance, however, is just arriving. Chance's family is one of many offered a cash grant to move out of London – and so she, her mother Jas and brother JD relocate to the seaside, just as the country edges towards vertiginous change. In their new home, they find space and wide skies, a world away from the cramped bedsits they've lived in up until now." (Adapted from Catalogue)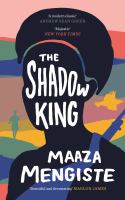 The shadow king / Mengiste, Maaza
"With the threat of Mussolini's army looming, recently orphaned Hirut struggles to adapt to her new life as a maid in Kidane and his wife Aster's household. Kidane, an officer in Emperor Haile Selassie's army, rushes to mobilise his strongest men before the Italians invade. Meanwhile, Mussolini's hundreds of thousands of Italian soldiers march on Ethiopia expecting an easy victory. As the war begins in earnest, Hirut, Aster, and the other women long to do more than care for the wounded and bury the dead. When Emperor Haile Selassie goes into exile and Ethiopia quickly loses hope, it is Hirut who offers a plan to maintain morale. " (Adapted from Catalogue)