"Writers use everything. We can't help it. Whatever touches us touches our writing."
Octavia E. Butler Landing
When NASA's  Perseverance rover landed on mars it did so at a landing location called "Octavia E. Butler Landing," after the acclaimed science fiction author Octavia E. Butler.

MISSION: Mars Reconnaissance Orbiter : SPACECRAFT Mars Reconnaissance Orbiter (MRO) :
INSTRUMENT  High Resolution Imaging Science Experiment (HiRISE) Image credit NASA/JPL-Caltech/University of Arizona

Amongst this month's recently acquired Science Fiction and Fantasy writers we have a newly-released collection of Octavia E Butler works from The Library of America. Octavia E Butler was a painfully shy child who sought refuge in Pasadena Central Library reading and writing fantasy; at age ten she begged her mother to buy a Remington typewriter and rarely wavered from that point onward in her quest to become a writer.
She attended community college during the time of the Black Power movement where she was encouraged to continue writing science fiction. Octavia E Butler was dismayed by the genre's unimaginative portrayal of class and ethnicity, not to mention lack of female protagonists and set about writing works that addressed this bias.  She sold her first stories to the American Science Fiction writer Harlan Ellison, an early supporter of her work.
Octavia E  Butler works often explore issues of race, sex and power in an unsentimental and evocative way.  In her works she foresaw the major issues of the 21st century: environmental collapse, corporate greed, political and socio-economic decay and the ever-growing gap between the wealthy and the poor. She went on to become a multiple recipient of both the Nebula and the Hugo awards as well as a host of other accolades; her work is cited as a major influence by many of today's Science Fiction authors. She passed in 2006.
Other fabulous titles we have in this month's selection include Ben Aaronovitch's latest work, a powerful new voice in the form of South Korean Kim Bo Young and the much anticipated The Memory Theater from Karin Tidbeck.
Octavia E. Butler : Kindred, Fledgling, collected stories / Butler, Octavia E
"This first volume in the Library of America edition of Octavia E. Butler's collected works opens with her masterpiece, Kindred, one of the landmark American novels of the last half century. Its heroine, Dana, a Black woman, is pulled back and forth between the present and the pre-Civil War past, where she finds herself enslaved on the plantation of a white ancestor whose life she must save to preserve her own. In Fledgling, an amnesiac discovers that she is a vampire, with a difference: she is a new, experimental birth with brown skin, giving her the fearful ability to go out in sunlight. Rounding out the volume are eight short stories and five essays–including two never before collected." (Adapted from Catalogue)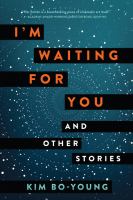 I'm waiting for you : and other stories / Kim, Bo Young
"In this mind-expanding work of speculative fiction, available in English for the first time, one of South Korea's most treasured writers explores the driving forces of humanity–love, hope, creation, destruction, and the very meaning of existence–in two pairs of thematically interconnected stories. Four tales of speculative fiction includes the story of an engaged couple trying to fight time and space to get married and a story featuring godlike beings who created Earth and humanity and pass judgement on them" (Adapted from Catalogue)
The memory theater / Tidbeck, Karin
"In a world just parallel to ours exists a mystical realm known only as the Gardens. It is a place where feasts never end, games of croquette have devastating consequences, and teenagers are punished for growing up. For a select group of Masters, it's a decadent paradise where time stands still. For those who serve them, however, it's a slow torture where their lives can be ended in a blink. In a bid to escape before their youth betrays them, Dora and Thistle–best friends and confidants–set out on a remarkable journey through time and space." (Adapted from Catalogue)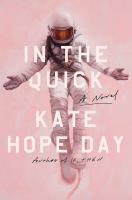 In the quick : a novel / Day, Kate Hope
"June is a brilliant but difficult girl with a gift for mechanical invention who leaves home to begin a grueling astronaut training program. Six years later, she has gained a coveted post as an engineer on a space station, but is haunted by the mystery of Inquiry, a revolutionary spacecraft powered by her beloved late uncle's fuel cells. The spacecraft went missing when June was twelve years old, and while the rest of the world has forgotten them, June alone has evidence that makes her believe the crew is still alive…" (Adapted from Catalogue)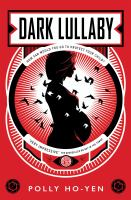 Dark lullaby / Ho-Yen, Polly
"The world is suffering an infertility crisis, the last natural birth was over twenty years ago and now the only way to conceive is through a painful fertility treatment. Any children born are strictly monitored, and if you are deemed an unfit parent then your child is extracted. After witnessing so many struggling to conceive – and then keep – their babies, Kit thought she didn't want children. But then she meets Thomas and they have a baby girl, Mimi. Soon the small mistakes build up and suddenly Kit is faced with the possibility of losing her daughter, and she is forced to ask herself how far she will go to keep her family together." (Adapted from Catalogue)
The ladies of the secret circus / Sayers, Constance
"Paris, 1925: To enter the Secret Circus is to enter a world of wonder–a world where women weave illusions of magnificent beasts, carousels take you back in time, and trapeze artists float across the sky. Bound to her family's circus, it's the only world Cecile Cabot knows until she meets a charismatic young painter and embarks on a passionate affair that could cost her everything. Virginia, 2004: Lara Barnes is on top of the world, but when her fiancé disappears on their wedding day every plan she has for the future comes crashing down… " (Adapted from Catalogue)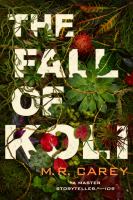 The fall of Koli / Carey, M. R.
""What will the future hold for those who are left? Koli has come a long way since being exiled from his small village of Mythen Rood. In his search for the fabled tech of the Old Times, he knew he'd be battling shunned men, strange beasts, and trees that move as fast as whips. But he has already encountered so much more than he bargained for. Now that Koli and his companions have found the source of the signal they've been following—the mysterious "Sword of Albion"—there is hope that their perilous journey will finally be worth something. " (Adapted from Catalogue)
Doors ? Colony / Heitz, Markus
"When his beloved only daughter goes missing, millionaire entrepreneur Walter van Dam calls in a team of experts to find her. But the rescuers are not the only people on her trail, and there are dangers in the underground labyrinth that no one could ever have foreseen. In a gigantic cavern the would-be rescuers come across a number of strange doors marked with enigmatic symbols. Anna-Lena must be behind one of them, but time is running out and they need to choose, quickly, for suddenly, they are all at risk. They little expect DOOR ? to take them back to the 1940s — but this is not the 1940s they know…." (Adapted from Catalogue)
What Abigail did that summer / Aaronovitch, Ben
"Ghost hunter, fox whisperer, troublemaker. It is the summer of 2013 and Abigail Kamara has been left to her own devices. This might, by those who know her, be considered a mistake. While her cousin, police constable and apprentice wizard Peter Grant, is off in the sticks chasing unicorns, Abigail is chasing her own mystery. Teenagers around Hampstead Heath have been going missing but before the police can get fully engaged, the teens return home – unharmed but vague about where they've been. Aided only by her new friend Simon, her knowledge that magic is real, and a posse of talking foxes that think they're spies, Abigail must venture into the wilds of Hampstead to discover who is luring the teenagers and more importantly – why?" (Adapted from Catalogue) Check out our interview with Ben Aaronovitch ( see below)