The New Zealand Garden Bird Survey is happening between 26 June to 4 July.
Would you like to join the rest of New Zealand and make a difference to the environment, while having fun spending 1 hour in your backyard watching birds?
Healthy bird populations can indicate that the environment is healthy. And you can help Manaaki Whenua – Landcare Research understand what's happening in the populations of all the birds around us, in city and garden environments, by counting birds in your backyard.
The best thing about this national event, is that you can also win a pair of Nikon Prostaff binoculars or a nature escape to Wellington.
You can find more details on the Garden Bird Survey website, and use the tally sheet to record your unique findings. The information is also available in Te Reo Māori.  And don't forget to  join the exciting competition! There are also some cool children's activities.
Get ready for this event and make use of the library books as helpful guides to help you locate the birds. Also find helpful resources from the citizen science collection blog.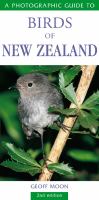 A photographic guide to birds of New Zealand / Moon, Geoff
"A comprehensive guide to birds that includes species accounts which have been updated according to the 4th edition of the Ornithological Society's official Checklist of the Birds of New Zealand. It features photographs of the most commonly seen birds along with detailed information on distribution, habitat, behaviour and breeding." (Catalogue)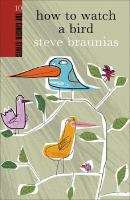 How to watch a bird / Braunias, Steve
"As prize-winning journalist Steve Braunias stands on an apartment balcony on a sultry summer evening, a black-backed gull flies so close he is instantaneously bowled over with happiness: 'I thought: Birds, everywhere. I wanted to know more about them. 'This book is the result – a wondrous personal journey into the amazing world of birds, and the people ensnared, captivated and entranced by them: the passionate tribe of bird-watchers and twitchers." (Catalogue)
Birds of New Zealand / Fitter, Julian
"An authoritative new photographic guide to the birdlife of New Zealand. this beautiful photographic guide is the ideal companion for travelling birdwatchers and nature enthusiasts alike. Featuring over 300 species of bird most likely to be seen in New Zealand, it is the only guide that anyone travelling to this fascinating region of the world will need. * Illustrated with over 600 full-colour photographs and featuring detailed species descriptions and distribution maps * Key information on national parks helps readers to find the best spots to discover each bird" (Adapted from the catalogue)
Shorebirds / Arkins, Alina
"Introduces common shore birds of New Zealand giving information about breeding, feeding, habitat, conservation and migration. Suggested level: primary, intermediate, junior secondary." (Catalogue)
Beautiful birds of New Zealand / Ballance, Alison
"This book describes 100 birds, which covers all the NZ birds that you are most likely to see, including some rare and endangered birds. For each bird there is one page of accessibly written and highly informative text with one large photograph facing it." (Catalogue)
Attracting birds and other wildlife to your garden in New Zealand / Ell, Gordon
"Birds in the New Zealand Garden was originally published in 1981 (and went on to reprint 11 times). In this highly practical new hardback book, which includes beautiful bird and nature photography by Geoff Moon and others, enticing birds, lizards, butterflies and other animals into your backyard is made simpler than ever, regardless of the size or style of your garden. Tricks ranging from building a bird table or a nest box to raising froglets or establishing a nature pond  tables listing ideal native and introduced shrubs and trees to provide food and shelter for birds, butterflies, bees and more." (Adapted from the catalogue)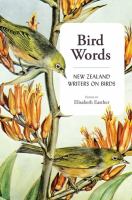 Bird words : New Zealand writers on birds
"New Zealand birds have inspired mythology, song, whimsical stories, detailed observation, humour and poetry. From the kakapo, kokako and kaka to the sparrow, starling and seagull, both native and imported birds have been immortalised in print. This is a varied and stimulating selection from the flocks of New Zealand writers who have given our birds a voice. They have brought extinct birds back to life and even enabled the kiwi to take flight on the page."–Publisher information." (Adapted from the Catalogue)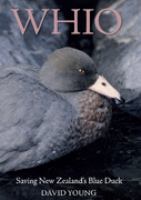 Whio : saving New Zealand's blue duck / Young, David
"The blue duck, or whio, is one of New Zealand's ancient treasures, a beautiful torrent duck that once lived on clear, fast-flowing rivers throughout most of the country. Sadly, this is no longer the case. The blue duck belongs to the not so well known 'second tier' of endangered species (including kaka, kea, parakeets and North Island brown kiwi) whose numbers have dropped alarmingly in the last 15 years. Whio tells the story of how a dedicated group of scientists, field workers and volunteers have set about saving the blue duck. " (Adapted from the catalogue)
A naturalist's guide to the birds of New Zealand / Thomas, Oscar
"This photographic identification guide to 239 bird species in New Zealand, including the most commonly seen, unique and endemic species, is perfect for resident and visitor alike. High-quality photographs from one of New Zealand's youngest nature photographers are accompanied by detailed species descriptions, which include nomenclature, size, distribution, habits and habitat. The user-friendly introduction covers climate, vegetation, biogeography and the key sites for viewing the listed species. " (Adapted from the catalogue)
Forest and ocean : bird songs. / Melbourne, Hirini "Hirini Melbourne was a tireless advocate of Maori language and culture and led by example. On this album are a selection of his songs in Te Reo, performed by the composer together with simple, intimate guitar accompaniment. Recordings of forest and ocean bird calls are sensitively woven into the recording. These songs are suitable for childrens' choirs, too… A truly enjoyable album and an excellent resource for primary schools in particular." (SOUNZ)
1-2-3 bird! / Gunson, Dave
"Racing birds, splashing birds, safari birds and party birds … Be a bird spotter! A fun counting book". This book is available in both Maori and English.  (Adapted from the catalogue)
The cuckoo and the warbler : a true New Zealand story / Warne, Kennedy
"The Cuckoo and the Warbler tells the story of one of the most remarkable wildlife relationships in New Zealand, between pipiwharauroa, the shining cuckoo, and riroriro, the grey warbler. It is a story of tragedy, trickery and faithful care – and it plays out each spring and summer in the forests of Aotearoa. Although rarely seen by humans, the interaction of these two native birds is a striking example of nature's inventiveness." (Catalogue)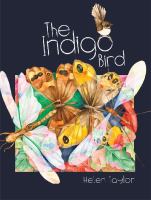 The indigo bird / Taylor, Helen J.
"Fantail is looking for Takahe, but where can he be? Is he playing with Weka in the snow or splashing in the puddles with Pukeko? Perhaps he's hiding in plain sight! Suggested level: junior." (Catalogue)
New legends of Aoteaora : New Zealand birds / Swadling, Irene
"A collection of six stories told in a traditional style about New Zealand birds and their environment. Suggestd level: junior, primary." (Catalogue)
In the garden : explore & discover the New Zealand backyard / Candler, Gillian
"In the Garden introduces young children to common creatures they can find in a New Zealand garden. It is the only guide available for young children and families that shows creatures in their natural habitats, with sections on bees, wasps, butterflies, snails, lizards, and birds.  In the Garden is a finalist in the non-fiction section of the New Zealand Post Children's Book Awards. " (Adapted from the catalogue)
One lonely kākāpō : a New Zealand counting book / Morris, Sandra
"Introduces the numbers from one to ten alongside a variety of native New Zealand birds, reptiles and sea life." (Catalogue)
12 huia birds = 12 manu huia / Stokoe, Julian
"12 beautiful huia birds play and sing in the forest. But is that a canoe arriving? A rat sniffling? A ship on the horizon? One by one, the huia start to disappear what will remain? 12 Huia Birds is a captivating celebration of one of our loveliest birds. Through gentle rhyme and colourful imagery it subtly conveys an environmental message and includes links to a 12 Huia Birds app, educational resources and games. This book has both English and Maori versions. " (Adpated from the catalogue)