Kia ora e te whānau, the arrival of the colder weather makes it a good time to snuggle up with some pukapuka.
This selection of recent releases includes four anthologies which between them cover the experiences and insights of Māori academics, Indigenous relationships with the whenua / land, climate change, and art publishing in Aotearoa. Mīharo! We love collections of writing like these, which you can dip in and out of like a kererū in a birdbath (probably with less splashing though).
Other recent releases are Danny Keenan's incisive account of the New Zealand wars – the first such book to be written from a Māori perspective, and Linda Waters' investigation into the details and detective work of art conservation. If you're already missing summer and long days in the māra / garden, Niva Kay's guide to organic home gardening might be just what you need. We're also smitten with Johanna Knox's classic, The Forager's Treasury, now in its fully revised second edition.
Climate Aotearoa, Wars without End and The Abundant Garden are also available as eBooks on Overdrive, our most popular source of eBooks and eAudiobooks.
Happy reading!
Ngā kete mātauranga : Māori scholars at the research interface /
ed. Professors Jacinta Ruru and Linda Waimarie Nikora
"In this transformative book, 24 Maori academics share their personal journeys, revealing what being Māori has meant for them in their work. Their perspectives show how mātauranga is positively influencing the Western-dominated disciplines of knowledge in the research sector. It is a shameful fact, says co-editor Jacinta Ruru, that only about 5 percent of academic staff at universities in Aotearoa are Māori." (Adapted from catalogue)
Kia Whakanuia te Whenua : People Place Landscape / ed. Hill, Carolyn
"Confronting the pain of alienation and whenua loss for all Indigenous peoples, Kia Whakanuia te Whenua offers an alternative world view. It also seeks to stimulate interdisciplinary thinking, share and integrate knowledge, and create positive change for all who reside in Aotearoa New Zealand. Fourty-four writers share their perspectives and expertise across a range of disciplines." (Adapted from publisher's description)
Wars without end : ngā pakanga whenua o mua, New Zealand's land wars : a Māori perspective / Keenan, Danny
"From the earliest days of European settlement in New Zealand, Māori have struggled to hold on to their land. When open conflict between Māori and Imperial forces broke out in the 1840s and 1860s, the struggles only intensified. Wars without end is the first book to approach this contentious subject from a Māori point of view, focusing on the Māori resolve to maintain possession." (Adapted from catalogue, eBook available here).
The Forager's Treasury : the essential guide to finding and using wild plants in Aotearoa / Knox, Johanna (Revised edition, first published in 2013)
In the urban and rural wildernesses, there is an abundance of food just waiting to be discovered. Johanna Knox (Ngāti Tukorehe / Ngāti Kahu ki Tauranga) makes you look at the plants around you in a different light. She provides advice on finding and harvesting edible plants, as well as recipes for food, medicine, perfume and more. (Adapted from publisher's description).
The Abundant Garden : a practical guide to growing a regenerative home garden / Kay, Niva
"Niva and Yotam Kay of Pakaraka Permaculture, on the Coromandel Peninsula, share their long experience in organic gardening in this comprehensive book on how to create and maintain a productive and regenerative vegetable garden. This is grounded in the latest scientific research on soil health, ecological and regenerative practices." (Adapted from catalogue, eBook available here).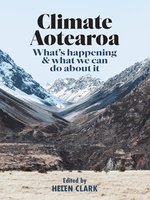 Climate Aotearoa / ed. Clark, Helen
"Climate Aotearoa includes contributions from a range of scientists, and outlines the climate situation as it is now and in the years to come. It suggests the changes you can make for maximum impact, what we should be asking of our government and what we should be asking of our business community. In doing so, this is a hopeful book: actions can make a difference."(Adapted from Overdrive description, eBook available here)
Dwelling in the Margins : art publishing in Aotearoa / ed. Kerr, Katie
"On the periphery of Aotearoa New Zealand's publishing scene, there is a rich and varied cottage industry of small press publishers that are pushing the boundaries of book-making. Dwelling in the Margins introduces the leading figures of independent publishing in their own words. Through a curated collection of stories and essays, thirty practitioners reflect on their craft, speculate on the changing landscape of book-making, and imagine alternative frameworks for the future of publishing." (Adapted from publisher's description)
The back of the painting : secrets and stories from art conservation / Waters, Linda
"The seal of the Prince of Yugoslavia, the icon that protected persecuted Russians, Monet's repurposed canvas: all these stories can be found on the backs of paintings in New Zealand art museums. This book explores the backs of thirty-three paintings held in the collections of the Museum of New Zealand Te Papa Tongarewa, the Auckland Art Gallery Toi o Tāmaki and the Dunedin Public Art Gallery." (Adapted from publisher's description")