"Mine is a gruesome job, but for a scientist with a love for the mechanics of the human body, a great one."

― Judy Melinek, Working Stiff: Two Years, 262 Bodies, and the Making of a Medical Examiner
Recently we had the great pleasure of hosting a crime writers' panel event at our Newtown branch (if you missed it, have no fear – you can watch it below). Amongst our fabulous panel we had husband and wife crime-writing duo T. J. Mitchell and Judy Melinek. So it is fabulous to see in this month's selection of newly-acquired crime fiction Aftershock, the latest book from the couple which features their forensic sleuth Dr. Jessie Teska.
We have a whole selection of other detective and mystery novels, including the wonderful Paul Cleave, Anna Bailey (a chilling new voice who is gathering rave reviews and definitely an author to check out), and Jane Adam's historical whodunnit Old Sins, set in the 1920's and featuring Scotland Yard's Chief Inspector Henry Johnstone (if you are a fan of the golden age of crime writers this will definitely be of interest).
Below are these and a few other picks from our recently acquired titles.
Aftershock / Melinek, Judy
"There's a body crushed under a load of pipes on a San Francisco construction site, and medical examiner Dr. Jessie Teska is on call. Her autopsy reveals that the death is a homicide staged as an accident. When an earthquake sends the city reeling, her case falls apart and an innocent man is being framed. Jessie is the only one who can prove it– if she can piece together the truth before it gets buried in the rubble." (Adapted from Catalogue) Also available as an eBook.
The quiet people / Cleave, Paul
"Cameron and Lisa Murdoch are successful crime-writers. They have been on the promotional circuit, joking that no-one knows how to get away with crime like they do. After all, they write about it for a living. So when their 7 year old son Zach goes missing, naturally the police and the public wonder if they have finally decided to prove what they have been saying all this time – are they trying to show how they can commit the perfect crime?" (Catalogue) Also available as an eBook. 
Old sins / Adams, Jane
"1929. The discovery of the bodies of two retired policemen, Walter Cole and Hayden Paul, sounds warning bells to DCI Henry Johnstone. Both men were experiencing financial difficulties, and their deaths were staged to look like suicides. Hayden left a note containing two words: old sins. And when Henry attends his sister's Halloween party, he is approached by a flamenco dancer who leaves a note with the name of another man. Could this be a grim warning?Henry is forced on a painful journey back to an old case he worked on with Cole and Paul." (Adapted from Catalogue)
Tall bones / Bailey, Anna
"When seventeen-year-old Emma leaves her best friend Abi at a party in the woods, she believes, that their lives are just beginning. Many things will happen that night, but Emma will never see her friend again. Abi's disappearance cracks open the facade of the small town of Whistling Ridge. Even within Abi's family, there are questions to be asked.  Anything could happen in Whistling Ridge, this tinder box of small-town rage, and all it will take is just one spark – the truth of what really happened that night out at the Tall Bones…." (Adapted from Catalogue)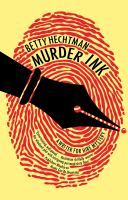 Murder ink / Hechtman, Betty
"Veronica Blackstone is a writer for hire. Be it love letters, biographies, resumes or wedding vows, Veronica has you covered. Her latest assignment is writing a celebration of life book for the funeral of one-time client Rachel Ross who tragically died one year after her wedding. While researching Rachel's life, Veronica finds the information surrounding the circumstances of her death to be shrouded in mystery. No one quite knows what happened and her prominent family are more concerned with their image than the truth. Was her fall an accident, deliberate or something else? " (Adapted from Catalogue)
Becoming Inspector Chen / Qiu, Xiaolong
"After a number of grueling cases Chief Inspector Chen is facing mounting pressure from his superiors, many of whom are concerned with where his loyalties lie. What's more, he is excluded from an investigation into an incendiary poem posted on an online forum. Wracked with self-doubt and facing an anxious wait to discover the fate of his career, Chen is left to reflect on the events that have led to where he is now – from his amateur investigations as a child during the Cultural Revolution, to his very first case on the Shanghai Police Force. Has fighting for the Chinese people and the morals he believes in put him in conflict with the Party? Why is he being kept away from the new case? As well as his career, is his life now also at risk?" (Adapted from Catalogue)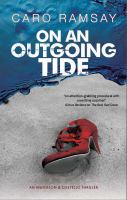 On an outgoing tide / Ramsay, Caro
"The body is found in the early hours of the morning, drifting lifelessly on the outgoing tide. Twenty-three-year-old medical student Aasha Ariti had been enjoying a night out to celebrate the end of lockdown. Anthony Poole, the last person to have seen her alive, is the prime suspect. Before detectives Anderson and Costello can make further headway, they are pulled off the case to investigate the murder of a pensioner in his own home. As they dig deeper however, the two detectives uncover a number of secrets in the dead man's past. Secrets that link to another murder more than forty years before. " (Adapted from Catalogue)
Blood grove / Mosley, Walter
"After being approached by a shell-shocked Vietnam War veteran who claims to have gotten into a fight protecting a white woman from a black man, Easy embarks on an investigation that takes him from mountaintops to the desert, through South Central and into sex clubs and the homes of the fabulously wealthy, facing hippies, the mob, and old friends perhaps more dangerous than anyone else." (Adapted from Catalogue)