One of my favourite things about the art of comics is how they depict sound. Since the medium is completely mute, comic artists have to come up with novel visual tricks to portray music.
In Ed Piskor's Hip-Hop Family Tree, the colouring will go into a shaky 'double-vision', giving the panel the disorienting effect of looking at a 3D movie without the glasses, to depict the rattling bass of a sound system. In Kieron Gillen and Jamie McKelvie's Phonogram, music fans called 'phonomancers' turn pop songs into magic spells to illustrate (without music) that feeling of power and invincibility you get from listening to your favourite song.
It seems more and more comic artists are going to bat for this technical challenge, as the graphic novel music biopic has become a popular subgenre in the 2010s. Sitting somewhere between documentary and written biography, it allows artists to exaggerate and caricature the details of an artist's career. Mike Allred's pop-art inspired drawing style is a perfect match for his most recent work Stardust, rayguns & moonage daydreams, which gives David Bowie a cosmic career odyssey worthy of the work that he put into building the myth of Ziggy Stardust. Similarly, The Fifth Beatle sees the Fab Four through the eyes of their humble manager Brian Epstein; the comic's colouring accentuates the efforts Epstein went through to take four lads with the marks of musical greatness from the grey pallor of Liverpool to the bright shiny vistas of international stardom. The graphic novel biography makes bands and artists seem larger than life in a way that photographs or concert films can sometimes struggle to capture.
From the mega-pop stars, to the unsung heroes of music history, to the fans that keep the passion burning, there's a graphic novel for every audience in our collection!
The complete Phonogram / Gillen, Kieron
"Collected in a single volume for the first time, the first critically beloved work from the creators of The Wicked + the Divine. Includes RUE BRITANNIA, THE SINGLES CLUB and THE IMMATERIAL GIRL, with RUE BRITANNIA coloured for the first time. The world where Music Is Magic has never looked better." (Catalogue)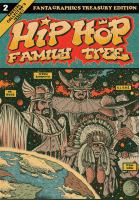 Hip hop family tree [2] : 1981-1983 / Piskor, Ed
"The second instalment of this acclaimed graphic novel hip-hop history (originally serialized on the popular website Boingboing) covers the years 1981-1983. Hip Hop has made a big transition from the parks and rec rooms to downtown clubs and vinyl records. The performers make moves to separate themselves from the paying customers by dressing more and more flamboyant until a young group called RUN-DMC comes on the scene to take things back to the streets." (Adapted from catalogue)
The fifth Beatle : the Brian Epstein story / Tiwary, Vivek J.
"The Fifth Beatle is the untold true story of Brian Epstein, the visionary manager who discovered and guided The Beatles — from their gigs in a tiny cellar in Liverpool to unprecedented international stardom. Yet more than merely the story of "The Man Who Made The Beatles," The Fifth Beatle is an uplifting, tragic, and ultimately inspirational human story about the struggle to overcome seemingly insurmountable odds. Brian himself died painfully lonely at the young age of thirty-two, having helped The Beatles prove through "Sergeant Pepper's Lonely Hearts Club Band" that pop music could be an inspirational art form. He was homosexual when it was a felony to be so in the United Kingdom, Jewish at a time of anti-Semitism, and from Liverpool when it was considered just a dingy port town." (Catalogue)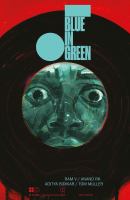 Blue in green / V, Ram
"The dark and haunting portrayal of a young musician's pursuit of creative genius — the monstrous nature of which threatens to consume him as it did his predecessor half a century ago. From creators Ram V (Grafity's Wall, These Savage Shores) and Anand RK (Grafity's Wall). BLUE IN GREEN is an exploration of ambitions, expectations, and the horrific depths of their spiraling pursuit." (Catalogue)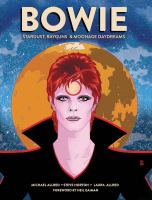 Bowie : stardust, rayguns & moonage daydreams / Allred, Mike
"BOWIE: Stardust, Rayguns, & Moonage Daydreams chronicles the rise of Bowie's career from obscurity to fame; and paralleled by the rise and fall of his alter ego as well as the rise and fall of Ziggy Stardust. As the Spiders from Mars slowly implode, Bowie wrestles with his Ziggy persona. The outcome of this internal conflict will change not only David Bowie, but also, the world." (Adapted from catalogue)
Gunning for hits. music thriller / Volume 1, Slade : / Rougvie, Jeff
"In the 80's NYC music business, Martin Mills, a record company talent scout, jumps at the chance to make a comeback album with his favorite rock legend. When it goes sideways, Martin is forced to use deadly skills from his past" (Catalogue)
Redbone : the true story of a Native American rock band / Staebler, Christian
"Brothers Pat and Lolly Vegas were talented Native American rock musicians that took the 1960s Sunset Strip by storm. Determined to control their creative vision and maintain their cultural identity, they eventually signed a deal with Epic Records in 1969. But as the American Indian Movement gained momentum the band took a stand, choosing pride in their ancestry over continued commercial reward. Created in cooperation with the Vegas family, authors Christian Staebler and Sonia Paoloni with artist Thibault Balahy take painstaking steps to ensure the historical accuracy of this important and often overlooked story of America's past. Part biography and part research journalism, Redbone provides a voice to a people long neglected in American history." (Adapted from catalogue)
Total jazz / Blutch
"In these freewheeling short stories, vignettes, and sketches that originally appeared in Jazzman magazine, the famed French cartoonist examines not only the genre and its creators but the nature of the subculture. The grumpy festival-goer, the curmudgeonly collector, the anxious auditioner, and many others are his targets. As improvisional as Coltrane and Mingus, Blutch captures the excitement of live performance and of creating and listening to music." (Catalogue)
Topp : promoter Gary Topp brought us the world / Collier, David
"As with all of Collier's work, his latest graphic novel is a combination of memoir and biography. This time, he explores his involvement in the cultural landscape of Toronto in the 1970s and 80s, specifically focusing on the life of Gary Topp, a concert promoter and founder of the pioneering Canadian repertory cinema. Topp emerged from an immigrant background, abandoned the family textile business, and became an influential figure in the lives of an entire community. He was also Collier's first boss and mentor. Though outspoken and opinionated, Gary Topp inspired love and devotion, not only in those who worked for him, but also in the acts he booked — including the Ramones, The Police, and the Dixie Chicks. This graphic novel looks at a rapidly disappearing past and uses Topp's ability to see beyond the mainstream for a look at where our culture is heading." (Catalogue)