Do you love to read true crime? Kath, one of our lovely librarians, has put together this round-up of her true crime picks. Have a read and let us know your favourites in the comments!
It's no secret that the true crime genre has exploded over the past few years, particularly thanks to a number of podcasts that have not only taken deep dives into significant crime stories, but have even managed to solve a few incredibly intense ones.  Now more than ever, there are many new true crime books to delve into if you're a fan of the genre.
That said, the genre has been around as long as crime and books have existed, so there are plenty of good books to work your way back through if you've caught up with all the recent best sellers.
I've selected some that I've enjoyed over the years, many of them from my country of origin, Australia.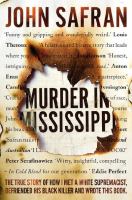 Murder in Mississippi / Safran, John
This is one of the best true crime books I have ever read.   John Safran, an Australian satirist and documentary maker, played a prank on a white supremacist in Mississippi as part of his TV series John Safran vs God. The footage was canned for legal reasons and he thought that was the last he'd have to do with Richard Barrett.  It came as a shock then to find out a while later that Barrett had been stabbed to death by a black man, one that he owed money to and had allegedly propositioned.  Not content with just researching the story of Barrett's murder, Safran headed to Mississippi to interview all involved, including the killer… and managed to get himself tangled even further into the story while he was there.  What follows is a riveting exploration into what happened, why it happened and why on earth Safran found himself in the situation he had got into.  An absolute page turner!
A scandal in Bohemia / Haigh, Gideon
In the 1920s Mollie Dean was a young, independent woman, a poet and aspiring novelist who was the lover and muse of acclaimed artist Colin Colahan.  And then one night in 1930 she was brutally murdered by an unknown killer.  When police investigated, they found a tangle of bohemian lifestyles, abusive family and sexual freedom that was to shake Melbourne to the core and inspire music, literature and theatre long into the future.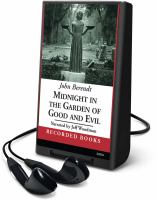 Midnight in the Garden of Good and Evil / Berendt, John (Audiobook)
A delicious, steamy melange of high society, rednecks, con artists, voodoo, antiques and a stunning black drag queen who metaphorically slays all in her path.  This New York Times bestseller was made into a film starring John Cusack and the Lady Chablis, the actual drag queen featured in the book.  This book reads like fiction, but it's all true, and like the aforementioned Safran book, the author John Berendt manages to get himself embroiled in the story.  Another riveting story.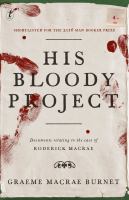 His bloody project : documents relating to the case of Roderick Macrae, a historical thriller / Burnet, Graeme Macrae
His Bloody Project is technically fiction, but it has been created from extensive research into a true crime case and the community around it.  A fantastic historical thriller explores a triple murder in a small Scottish farming community around the time of the highland clearances.  There is no question that 17 year old Roderick Macrae committed these brutal murders, but what led him to do so? What secrets were being kept by the villagers of Culdie?  Graeme Macrae Burnet has used the historical documents of the time to piece together the story and speculate on the reasons behind this dramatic occurrence in a tiny village community.
Tamam Shud : the Somerton man mystery / Greenwood, Kerry
Written by Kerry Greenwood, author of the Phryne Fisher and Corinna Chapman novels, this is the story of the most mysterious unsolved murder in Australian history.  In 1948 a body was found on a beach in Adelaide, and even now, it is not known who he was.  But around him, were so many bizarre details.  A tiny scrap of paper with the words "Tamum Shud" sewn into the lining of his suit.  A code written in a book of Persian poetry… the same book that the piece of paper in his suit had been torn from.  All the labels had been cut from his clothing.  Kerry Greenwood delves into this story to try to solve it after all these years, and leaves us with almost as many questions as we have answers!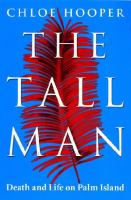 The tall man / Hooper, Chloe
Chloe Hooper takes a close look at the case of Cameron Doomadgee, the Palm Island man who was found dead in a watch house cell after swearing at a white police officer, Senior Sergeant Christopher Hurly, and the long and difficult efforts to bring him to trial.  Indigenous deaths in custody have long been a contentious issue in Australia and the Palm Island case was a flashpoint in Indigenous rights.  This would have been a very complex case to research and even more difficult to write as sensitively as Chloe Hooper has. A totally engrossing read that literally made me hold my breath in parts.
In cold blood : a true account of a multiple murder and its consequences / Capote, Truman
Let's face it, In Cold Blood is the OG of the true crime genre as we know it today.  Truman Capote took crime reporting and turned it into literature.  Investigating the 1959 murder of the Clutter family and the men who carried out that murder, Capote himself got embroiled in the community of Holcomb, Kansas and the lives of the two murderers, Perry Smith and Richard Hickock.  There is an intimacy to the way that Capote writes about those involved in this case that set the tone for crime writing well into the future.  As well as a captivating tale, it's a fantastic way to look at the way the true crime genre was born.
For more great true crime reads, click here.