I travel not to go anywhere, but to go. I travel for travel's sake. The great affair is to move.
This month's science fiction and fantasy showcase features five-time Nebula award-winner Greg Bear's latest epic historical fantasy novel, The unfinished land, which evokes the seafaring spirit of Robert Louis Stevenson's work. Also included this month is The burning god — the fantastic finale to R. F. Kuang's acclaimed Poppy war trilogy, partly inspired by 20th century Chinese history. On a much stranger and weirder note, Nino Cipri's Finna sees carnivorous furniture running amok and elderly customers slipping through portals in a box furniture store to find themselves ending up in other dimensions. And if Finna is your cup of tea, you should also try Grady Hendrix's Horrorstör. Have a browse of these and other exciting new titles below!
The unfinished land / Bear, Greg
"Reynard, a young apprentice, seeks release from drudgery in the English village of Southwold. His rare days off lead him to strange encounters — not just with press gangs hoping to fill English ships to fight the coming Spanish Armada, but strangers who seem to know him — one of whom casts a white shadow. And after a fierce battle at sea, Reynard finds himself the sole survivor. For days he drifts, until he is rescued by a galleon, also lost– both are propelled by a strange current to the unknown northern island of Thule. Here Reynard must meet his destiny in a violent clash between humans and gods." (Adapted from Catalogue)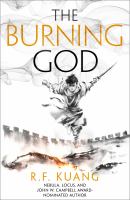 The burning god / Kuang, R. F.
"After saving her nation of Nikan from foreign invaders and battling the evil Empress Su Daji in a brutal civil war, Fang Runin was betrayed by allies and left for dead. Despite her losses, Rin hasn't given up on those for whom she has sacrificed so much – the people of the southern provinces and especially Tikany, the village that is her home. Returning to her roots, Rin meets difficult challenges – and unexpected opportunities. While her new allies in the Southern Coalition leadership are sly and untrustworthy, Rin quickly realizes that the real power in Nikan lies with the millions of common people who thirst for vengeance and revere her as a goddess of salvation." (Adapted from Catalogue) Also available as an eBook.
Finna / Cipri, Nino
"When an elderly customer at a Swedish big box furniture store — but not that one — slips through a portal to another dimension, it's up to two minimum-wage employees to track her across the multiverse and protect their company's bottom line. Multi-dimensional swashbuckling would be hard enough, but those two unfortunate souls broke up a week ago. To find the missing granny, Ava and Jules will brave carnivorous furniture, swarms of identical furniture spokespeople, and the deep resentment simmering between them. Can friendship blossom from the ashes of their relationship? In infinite dimensions, all things are possible." (Adapted from Catalogue)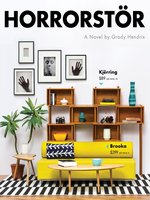 Horrorstor, Grady Hendrix (ebook)
"Something strange is happening at the Orsk furniture superstore in Cleveland, Ohio. Every morning, employees arrive to find broken Kjerring bookshelves, shattered Glans water goblets, and smashed Liripip wardrobes. Sales are down, security cameras reveal nothing, and store managers are panicking.
To unravel the mystery, three employees volunteer to work a nine-hour dusk-till-dawn shift. In the dead of the night, they'll patrol the empty showroom floor, investigate strange sights and sounds, and encounter horrors that defy the imagination." (Adapted from Overdrive description)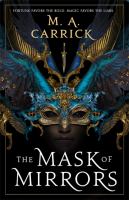 The mask of mirrors / Carrick, M. A.
"Renata Virdaux is a con artist who has come to the sparkling city of Nadezra — the city of dreams — with one goal: to trick her way into a noble house and secure her fortune and her sister's future.But as she's drawn into the aristocratic world of House Traementis, she realises her masquerade is just one of many surrounding her. And as corrupted magic begins to weave its way through Nadezra, the poisonous feuds of its aristocrats and the shadowy dangers of its impoverished underbelly become tangled — with Ren at their heart." (Adapted from Catalogue)
The bone maker : a novel / Durst, Sarah Beth
"Twenty-five years ago, five heroes risked their lives to defeat the bone maker Eklor — a corrupt magician who created an inhuman army using animal bones. But victory came at a tragic price. Only four of the heroes survived. Since then, Kreya, the group's leader, has exiled herself to a remote tower and devoted herself to one purpose: resurrecting her dead husband.  Maybe the dead don't rest in peace after all. Five warriors — one broken, one gone soft, one pursuing a simple life, one stuck in the past, and one who should dead. Their story should have been finished. But evil doesn't stop just because someone once said, "the end."" (Adapted from Catalogue)
Remote control / Okorafor, Nnedi
"The day Fatima forgot her name, Death paid a visit. From hereon in she would be known as Sankofa—-a name that meant nothing to anyone but her, the only tie to her family and her past. Her touch is death, and with a glance a town can fall. And she walks–alone, except for her fox companion–searching for the object that came from the sky and gave itself to her when the meteors fell and when she was yet unchanged; searching for answers. But is there a greater purpose for Sankofa, now that Death is her constant companion? " (Adapted from Catalogue) Also available as an eBook.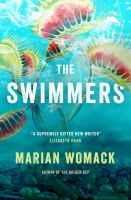 The swimmers / Womack, Marian
"After the ravages of the Green Winter, Earth is a place of deep jungles and monstrous animals. The last of the human race is divided into surface dwellers and the people who live in the Upper Settlement, a ring perched at the edge of the Earth's atmosphere. Bearing witness to this divided planet is Pearl, a young techie with a thread of shuvani blood, who lives in the isolated forests of Gobari, navigating her mad mother and the strange blue light in the sky. But Pearl's stepfather promises her to a starborn called Arlo, and the world Pearl thought she knew will never be the same again." (Adapted from Catalogue)
Upright women wanted / Gailey, Sarah
"Esther is a stowaway. She's hidden herself away in the Librarian's book wagon in an attempt to escape the marriage her father has arranged for her — a marriage to the man who was previously engaged to her best friend. Her best friend who she was in love with. Her best friend who was just executed for possession of resistance propaganda. The future American Southwest is full of bandits, fascists, and queer librarian spies on horseback trying to do the right thing. A good old-fashioned horse opera for the 22nd century. Gunslinger librarians of the apocalypse are on a mission to spread public health, decency, and the revolution" (Adapted from Catalogue) Also available as an eBook.