Three times listed for the Ockham New Zealand Book Awards, Brannavan Gnanalingam will be one of the authors coming to Newtown Library as part of our
Capital Crimespree: Newtown Mystery in the Library event in conjunction with Ngaio Marsh Awards. 
When: 6pm, Friday 30 April 2021
Where: Newtown Library, 13 Constable Street, Wellington 6021
This is a free event.
Our stellar line up also includes Dame Fiona Kidman one of the most highly acclaimed and celebrated authors in New Zealand,  Sally J Morgan longlisted for the 2021 Acorn Prize for Fiction  and Dr Judy Melinek and TJ Mitchell the husband-and-wife writing duo behind the Jessie Teska forensic mysteries. Dr Judy Melinek was part of the forensic team that investigated the 9/11 World Trade Centre site.
We're so excited to be hosting all these crime-writing luminaries, that we are doing short profiles on all the authors involved.   Our next profile is Brannavan Gnanalingam.
Brannavan Gnanalingam is a Wellington lawyer and writer of fiction and non-fiction. His past three novels have all been listed for the Ockham New Zealand Book Awards; Sodden Downstream was shortlisted in 2018. His latest novel Sprigs is on the shortlist for this year's Fiction award at the Ockham New Zealand Book Awards and is tipped to feature in the 2021 Ngaio Marsh awards.
If you are interested in crime fiction in any way this event promises to be unmissable and will undoubtedly reveal and  shed light on how these gifted authors craft characters, create exciting storylines and how they address real-life issues through their fiction.
Below is a selection of Brannavan Gnanalingam's work we have available to borrow.
Click here for the Facebook event.
Please note "Mature/ adult issues of a challenging nature" may be discussed.
Getting under sail / Gnanalingam, Brannavan
"Brannavan Gnanalingam's 'Getting Under Sail' tells the story of three New Zealanders on an ad hoc road-trip through West Africa. Starting in Morocco, the three aim to reach Ghana via Western Sahara, Mauritania, Senegal, Mali, Burkina Faso, Togo and Benin." (Adapted from Catalogue)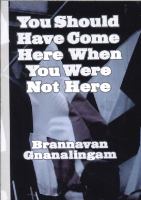 You should have come here when you were not here / Gnanalingam, Brannavan
"The intriguing title of this novel by Wellington writer Brannavan Gnanalingam derives from a statement made by Parisians to their Nazi occupiers in World War II when the Germans expressed being underwhelmed by the attractions of the French capital. This postmodern travelogue tells the lonely tale of Veronica, a thirty-something asexual female journalist from New Zealand who travels to Paris late as a freelance journalist only to find the city indifferent to and from her." (Adapted from Catalogue)
/ Gnanalingam, Brannavan
"'Credit in the straight world' charts the fortunes of Frank Tolland as he casts off an ignoble birth to become the singular leader of business and community in small-town New Zealand. Told through the eyes of his mute brother, George, this novel is a sharp and satirical account of a small-town finance company, and sweeps through the dramatic economic changes of the 20th and the 21st centuries"–Publisher's information." (Adapted from Catalogue)
A briefcase, two pies and a penthouse : a novel / Gnanalingam, Brannavan
"A Briefcase, Two Pies and a Penthouse looks at modern day spies in New Zealand. Instead of 'Reds Under the Bed', the new existential threat is Islamic terrorism – and the novel looks at a very New Zealand response to a global issue. Rachel McManus has just started at the New Zealand Alarm and Response Ministry. One of the few females working there, she is forced to traverse the peculiarities of Wellington bureaucracy, lascivious colleagues, and decades of sedimented hierarchy. She has the chance to prove herself by investigating a suspected terrorist, who they fear is radicalising impressionable youth and may carry out an attack himself on the nation's capital." (Catalogue)
Sprigs / Gnanalingam, Brannavan
"It is Saturday afternoon and two boys' schools are locked in battle for college rugby supremacy. Priya – a fifteen year old who barely belongs – watches from the sidelines. Then it is Saturday night and the team is partying. Priya's friends have evaporated and she isn't sure what to do. In the weeks after 'the incident' life seems to go on. But when whispers turn to confrontation, the institutions of wealth and privilege circle the wagons." (Adapted from Catalogue)