Internationally celebrated New Zealand author Dame Fiona Kidman will be one of the authors coming to Newtown Library as part of our
Capital Crimespree: Newtown Mystery in the Library,
in conjunction with Ngaio Marsh Awards. 
When: 6pm Friday 30 April 2021
Where: Newtown Library, 13 Constable Street, Wellington 6021
This is a free event.
Our stellar line up also includes three-time Ockham New Zealand Book Awards listed author Brannavan Gnanalingam, longlisted 2021 Acorn Prize for Fiction nominee Sally J Morgan and Dr Judy Melinek and TJ Mitchell, the husband-and-wife writing duo behind the Jessie Teska forensic mysteries. Dr Judy Melinek was part of the forensic team that investigated the 9/11 World Trade Center site.
We're so excited to be hosting each of these crime-writing luminaries that we are doing short profiles on all of the authors involved. Our next profile is Dame Fiona Kidman.
Dame Fiona Kidman is one of the most highly acclaimed and celebrated authors in New Zealand. She has an OBE and DNZM for services to literature as well as the French honours the Chevalier de l'Ordre des Artes et des Lettres (Knight of the Order of Arts and Letters) and the Légion d'Honneur (French Legion of Honour).
Kidman's contribution to literature in Aotearoa/New Zealand is vast. Since publishing her first novel in 1970, she has gone on to create a large, powerful and imaginative body of work ranging from novels to short stories, memoirs to poetry, plays to radio series. She has won a huge range of awards, fellowships and residencies and has won the New Zealand Book Award on four separate occasions!
This Mortal Boy, her most recent novel, won the 2019 Ockham New Zealand Book Awards Acorn Foundation Fiction Prize, the NZ Booklovers Award, the NZSA Heritage Book Award for Fiction and the Ngaio Marsh Award for Best Crime Novel.
If you are interested in crime fiction in any way this event promises to be unmissable and will undoubtedly reveal and  shed light on how these gifted authors craft characters, create exciting storylines and how they address real-life issues through their fiction.
Below is just a very small selection of Dame Fiona Kidman's work we have available to borrow.
Click here for the Facebook event.
Please note, mature/ adult issues of a challenging nature may be discussed.
The infinite air / Kidman, Fiona
"The rise and fall of 'the Garbo of the skies', as told by one of New Zealand's finest novelists. Jean Batten became an international icon in the 1930s. A brave, beautiful woman, she made a number of heroic solo flights across the world. The newspapers couldn't get enough of her; and yet she suddenly slipped out of view, disappearing to the Caribbean with her mother and dying in obscurity in Majorca, buried in a pauper's grave." (Adapted from Catalogue) Also available as an eBook.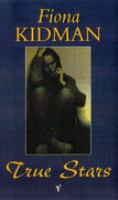 True stars. / Kidman, Fiona
"Rose Kendall is alone. She is alienated from her children, her friends, and her political ideals, and there is someone trying to scare her – she doesn't know why and she doesn't know who." (Catalogue) Also available as an eBook.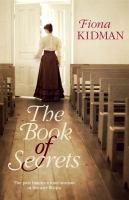 The book of secrets / Kidman, Fiona
"In 1853, a group of settlers established a community at Waipu in the northern part of New Zealand. They were led there by a stern preacher, Norman McLeod. The community had followed him from Scotland in 1817 to found a settlement in Nova Scotia, then subsequently to New Zealand via Australia.   – Isabella, her daughter Annie and granddaughter Maria. McLeod's harsh leadership meant that anyone who ran counter to him had to live a life of secrets. The 'secrets' encapsulated the spirit of these women in their varied reactions to McLeod's strict edicts and connect the past to the present and future." (Catalogue) Also available as an eBook.
This mortal boy / Kidman, Fiona
"Albert Black, known as the 'jukebox killer', was only twenty when he was convicted of murdering another young man in a fight at a milk bar in Auckland on 26 July 1955. His crime fuelled growing moral panic about teenagers, and he was to hang less than five months later, the second-to-last person to be executed in New Zealand. But what really happened? Was this a love crime, was it a sign of juvenile delinquency? Or was this dark episode in our recent history more about our society's reaction to outsiders?" (Adapted from Catalogue)Also available as an eBook