"Sourdough is basically an edible Tamagotchi."
– Meik Wiking, The Little Book of Hygge: The Danish Way to Live Well
(Click here for availability of title).
Over the course of lockdown many of us discovered the magical powers of baking, but what if your baking was actually magical and you could make gingerbread people dance? Well, this is the fun and quirky premise of A wizard's guide to defensive baking by T Kingfisher, a fantasy novel where Mona, the book's protagonist, has to defend her embattled city using her unique magical powers. Other recently acquired titles include Samantha Shannon's The Mask Falling, the very welcome release of Octavia E Butler's Clay's Ark,  the much-anticipated latest work from Lovecraft Country author Matt Ruff 88 names and Dealbreaker by L.X. Beckett, which should appeal to fans of Star Trek and Neuromancer.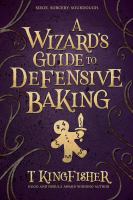 A wizard's guide to defensive baking / Kingfisher, T
"Fourteen-year-old Mona isn't like the wizards charged with defending the city. She can't control lightning or speak to water. Her familiar is a sourdough starter and her magic only works on bread. She has a comfortable life in her aunt's bakery making gingerbread men dance. But Mona's life is turned upside down when she finds a dead body on the bakery floor. An assassin is stalking the streets of Mona's city, preying on magic folk, and it appears that Mona is his next target. And in an embattled city suddenly bereft of wizards, the assassin may be the least of Mona's worries…" (Catalogue)
Fireheart tiger / Bodard, Aliette de
"Thanh is royalty in a beleaguered nation of scattered provinces pressured on all sides. The daughter of ancestors armed with swords and courage, she was fostered in a foreign capital to seal an alliance, and returned–to her powerful mother's disappointment–quiet and thoughtful instead of brash and confident. Propped up by the guns and silver of Ephteria, a far more powerful empire, her country is losing the game of power. In Eldris, an Ephterian princess, Thanh finds both romance and intoxicating risk. Eldris may desire her, but she doesn't respect what Thanh holds dear." (Adapted from Catalogue)
The mask falling / Shannon, Samantha
"Dreamwalker Paige Mahoney has eluded death again. Snatched from the jaws of captivity and consigned to a safe house in the Scion Citadel of Paris, she finds herself caught between those factions that seek Scion's downfall and those who would kill to protect the Rephaim's puppet empire. The mysterious Domino Program has plans for Paige, but she has ambitions of her own in this new citadel. With Arcturus Mesarthim-her former enemy-at her side, she embarks on an adventure that will lead her from the catacombs of Paris to the glittering hallways of Versailles. " (Catalogue) Also available as an eBook.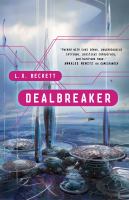 Dealbreaker / Beckett, L. X
"Rubi Whiting has done the impossible. She has proved that humanity deserves a seat at the galactic table. Well, at least a shot at a seat. Having convinced the galactic governing body that mankind deserves a chance at fixing their own problems, Rubi has done her part to launch the planet into a new golden age of scientific discovery and technological revolution. However, there are still those in the galactic community that think that humanity is too poisonous, too greedy, to be allowed in, and they will stop at nothing to sabotage a species determined to pull itself up." (Adapted from Catalogue)
Clay's ark / Butler, Octavia E
"In an alternate America marked by volatile class warfare, Blake Maslin is traveling with his teenage twin daughters when their car is ambushed. Their attackers appear sickly yet possess inhuman strength, and they transport Blake's family to an isolated compound. There, the three captives discover that the compound's residents have a highly contagious alien disease that has mutated their DNA to make them powerful, dangerous, and compelled to infect others. If Blake and his daughters do not escape, they will be infected with a virus that will either kill them outright or transform them into outcasts whose very existence is a threat to the world around them." (Adapted from Catalogue)
We could be heroes / Chen, Mike
"Jamie woke up in an empty apartment with no memory and only a few clues to his identity, but with the ability to read and erase other people's memories–a power he uses to hold up banks to buy coffee, cat food and books. Zoe is also searching for her past, and using her abilities of speed and strength. When the archrivals meet in a memory-loss support group, they realize the only way to reveal their hidden pasts might be through each other. As they uncover an ongoing threat, suddenly much more is at stake than their fragile friendship." (Catalogue) Also available as an eBook.
Beyond Kuiper : the galactic star alliance. Part one Volume one. / Medney, Matthew
"If our galaxy is so full of sentient life, why has no one said hello? We thought of a simple, logical reason: no one wants to. We possess extremely short memories and long grudges, and the likelihood of receiving alien tools to hasten our expansion seems downright foolhardy. The Galactic Star Alliance has been alive and well for millions of earth years. Hundreds of thousands of sentient worlds and trillions of beings walk, run, and crawl across the many home worlds of the Alliance. This revelation led to many questions. " (Adapted from Catalogue)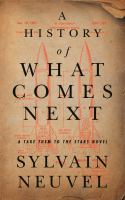 A history of what comes next / Neuvel, Sylvain
"Always run, never fight. Preserve the knowledge. Survive at all costs.
Take them to the stars. Over 99 identical generations, Mia's family has shaped human history to push them to the stars, making brutal, wrenching choices and sacrificing countless lives. Her turn comes at the dawn of the age of rocketry. Her mission: to lure Wernher Von Braun away from the Nazi party and into the American rocket program, and secure the future of the space race. But Mia's family is not the only group pushing the levers of history: an even more ruthless enemy lurks behind the scenes. " (Catalogue)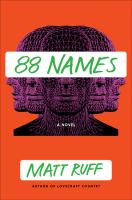 88 names : a novel / Ruff, Matt
"John Chu is a "sherpa"–a paid guide to online role-playing games like the popular Call to Wizardry. For a fee, he and his crew will provide you with a top-flight character. Chu's new client, the pseudonymous Mr. Jones, claims to be a "wealthy, famous person" with powerful enemies, and he's offering a ridiculous amount of money for a comprehensive tour of the world of virtual-reality gaming.  What begins as a whirlwind online adventure soon spills over into the real world. Chu must use every trick and resource at his disposal to stay one step ahead–because in real life, there is no reset button." (Catalogue)