It is like the point where the rainbow touches the forest. We think that we can see it—but if we go to look for it, it isn't there."
― Carlo Rovelli, The Order of Time
What if the Nazis had won World War Two, or what if you could travel back in time to save J F Kennedy from assassination? Alternative history novels offer authors the unique opportunity to do just that, take real life events and characters and then explore what would have happened if history had taken a different route. Many great writers have delved into the field such as Philip K Dick, Stephen King and Susanna Clarke to name but a few. Below is a very small selection of novels which depict a different reality from the one we exist in.
The man in the high castle / Dick, Philip K
"It is 1962 and the Second World War has been over for seventeen years: people have now had a chance to adjust to the new order. But it's not been easy. The Mediterranean has been drained to make farmland, the population of Africa has virtually been wiped out and America has been divided between the Nazis and the Japanese. In the neutral buffer zone that divides the two superpowers lives the man in the high castle, the author of an underground bestseller, a work of fiction that offers an alternative theory of world history in which the Axis powers didn't win the war." (Adapted from Catalogue) Also available as an eBook.
The plot against America / Roth, Philip
"Philip Roth imagines an alternate history where Franklin D. Roosevelt loses the 1940 presidential election to heroic aviator and rabid isolationist Charles A. Lindbergh. Shortly thereafter, Lindbergh negotiates a cordial "understanding" with Adolf Hitler, while the new government embarks on a program of folksy anti-Semitism. For one boy growing up in Newark, Lindbergh's election is the first in a series of ruptures that threaten to destroy his small, safe corner of America-and with it, his mother, his father, and his older brother." (Catalogue) Also available as an eBook.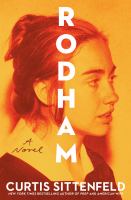 Rodham : a novel / Sittenfeld, Curtis
"In 1971, Hillary Rodham is a young woman full of promise: Life magazine has covered her Wellesley commencement speech, she's attending Yale Law School, and she's on the forefront of student activism and the women's rights movement. Feeling doubt about the prospective marriage to Bill Clinton, she endures their devastating breakup and leaves Arkansas. Over the next four decades, she blazes her own trail–one that unfolds in public as well as in private, that involves crossing paths again (and again) with Bill Clinton, that raises questions about the tradeoffs all of us must make in building a life. " (Catalogue) Also available as an eBook.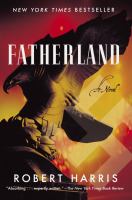 Fatherland / Harris, Robert
"Berlin, 1964. The Greater German Reich stretches from the Rhine to the Urals, and keeps an uneasy peace with its nuclear rival, the United States. As the Fatherland prepares for a grand celebration honoring Adolf Hitler's seventy-fifth birthday and anticipates a conciliatory visit from U.S. president Joseph Kennedy and ambassador Charles Lindbergh, a detective of the Kriminalpolizei is called out to investigate the discovery of a dead body in a lake near Berlin's most prestigious suburb." (Adapted from Catalogue) Also available as an eBook.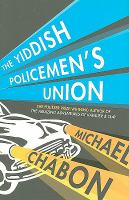 The Yiddish Policemen's Union / Chabon, Michael
"For sixty years, Jewish refugees and their descendants have prospered in the Federal Distric of Sitka, a "temporary" safe haven created in the wake of revelations of the Holocaust and the shocking 1948 collapse of the fledgling state of Israel. Proud, grateful, and longing to be American, the Jews of the Sitka District have created their own little world in the Alaskan panhandle, a vibrant, gritty, soulful, and complex frontier city that moves to the music of Yiddish. At once a gripping whodunit, a love story, an homage to 1940s noir, and an exploration of the mysteries of exile and redemption." (Adapted from Catalogue)
11/22/63 / King, Stephen
"On November 22, 1963, three shots rang out in Dallas, President Kennedy died, and the world changed. What if you could change it back? It begins with Jake Epping, a thirty-five-year-old English teacher in Lisbon Falls, Maine. Not much later his friend Al, who owns the local diner, divulges a secret: his storeroom is a portal to the past, a particular day in 1958. And Al enlists Jake to take over the mission that has become his obsession–to prevent the Kennedy assassination. So begins Jake's new life as George Amberson, in a different world of Ike and JFK and Elvis." (Adapted from Catalogue)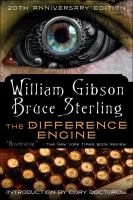 The difference engine / Gibson, William
"1855: The Industrial Revolution is in full swing, powered by steam-driven cybernetic Engines. Charles Babbage perfects his Analytical Engine, and the computer age arrives a century ahead of its time. Three extraordinary characters race toward a rendezvous with the future: Sybil Gerard—fallen woman, politician's tart, daughter of a Luddite agitator Edward "Leviathan" Mallory—explorer and palaeontologist; Laurence Oliphant—diplomat, mystic, and spy. Their adventure begins with the discovery of a box of punched Engine cards of unknown origin and purpose. Cards someone wants badly enough to kill for."  (Adapted from Catalogue)
Jonathan Strange & Mr Norrell / Clarke, Susanna
"The year is 1806. England is beleaguered by the long war with Napoleon, and centuries have passed since practical magicians faded into the nation's past. But scholars of this glorious history discover that one remains- the reclusive Mr Norrell whose displays of magic send a thrill through the country. Proceeding to London, he raises a beautiful woman from the dead and summons an army of ghostly ships to terrify the French. Yet the cautious, fussy Norrell is challenged by the emergence of another magician- the brilliant novice Jonathan Strange. Young, handsome and daring, Strange is the very opposite of Norrell. So begins a dangerous battle between these two great men which overwhelms the one between England and France. " (Adapted from Catalogue) Also available as an eBook.
The Eyre affair / Fforde, Jasper
"Great Britain circa 1985: time travel is routine, cloning is a reality (dodos are the resurrected pet of choice), and literature is taken very, very seriously. There are riots between the Surrealists and Impressionists. Amidst all this, Acheron Hades,  steals the original manuscript of Martin Chuzzlewit and kills a minor character, who then disappears from every volume of the novel ever printed! his next target is the beloved Jane Eyre, and it's not long before he plucks her from the pages of Bronte's novel. Enter Thursday Next. She's the Special Operative's renowned literary detective, and she drives a Porsche." (Catalogue)