Let us not take ourselves too seriously. None of us has a monopoly on wisdom." ― Queen Elizabeth II Christmas Broadcast 1991
The Crown television series and a certain Oprah interview has proven, if there was any doubt, that there is still a huge public appetite for all things Royal. And this month's selection of newly acquired fiction contains not one but two novels with The Royals involved in their plots. Wendy Holden's The Governess provides an intimate fictionalised peek behind the scenes of the real-life Royal Governess Marion 'Crawfie' Crawford into the imagined domestic lives of the future Queen and Princess Margaret. Whilst The Royal Correspondent By Alexandra Joel is about a young Sydney journalist covering the upcoming marriage of Princess Margaret to photographer Antony Armstrong-Jones. However, her wider investigations start to uncover the Profumo spy scandal. There are also some fabulous non-Royal books in our latest selections too.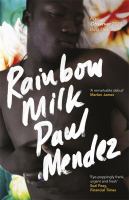 Rainbow milk / Mendez, Paul
" In the Black Country in the 1950s, ex-boxer Norman Alonso is a determined and humble Jamaican who has moved to Britain with his wife to secure a brighter future for themselves and their children. Blighted with unexpected illness and racism, Norman and his family are resilient in the face of such hostilities, but are all too aware that they will need more than just hope to survive. At the turn of the millennium, Jesse seeks a fresh start in London – escaping from a broken immediate family, a repressive religious community and the desolate, disempowered Black Country – but finds himself at a loss for a new centre of gravity, and turns to sex work to create new notions of love, fatherhood and spirituality. " (Catalogue)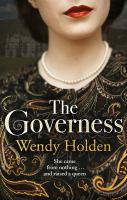 The governess / Holden, Wendy
"The fictionalised story of Marion 'Crawfie' Crawford, the progressive young working-class woman who, as royal governess for seventeen years, lived on the most intimate terms with Princess Margaret and the future Queen Elizabeth II. As the royal governess, Marion Crawford played a major role in shaping the childhood and subsequent world-view of Queen Elizabeth II, but her story is largely unknown and has never been explored in much depth. The Governess brings 'Crawfie' to life." (Adapted from Catalogue) Also available as an eBook.
Lullaby beach / Duffy, Stella
" When Lucy discovers the body of her great aunt Kitty, with a puzzling note and empty pill bottles by her bed, she can't believe that the formidable woman who held her family together is gone – or understand why she has taken her own life. Lucy is determined to decipher Kitty's final message. What she finds will overturn everything she thought she knew about her family. Lullaby Beach takes the reader on a journey through three generations of a complicated, close-knit family whose joys and misfortunes track many of the most pressing conflicts and concerns of post-war Britain, from the promise and hypocrisies of 1950s London to the political divides and risky freedoms of the present day." (Adapted from Catalogue)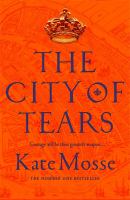 The city of tears / Mosse, Kate
"June 1572: for ten violent years the Wars of Religion have raged across France.  But now a precarious peace is in the balance: a royal wedding has been negotiated by Catherine de' Medici and Jeanne d'Albret, an alliance between the Catholic Crown and Henri, the Huguenot king of Navarre. It is a marriage that could see France reunited at last. Meanwhile in Puivert, an invitation has arrived for Minou Joubert and her family to attend this historic wedding in Paris in August. But what Minou does not know is that the Joubert family's oldest enemy, Vidal, will also be there. Nor that, within days of the marriage, on the eve of the Feast Day of St Bartholomew's, Minou's family will be scattered to the four winds and one of her beloved children will have disappeared without trace . " (Catalogue)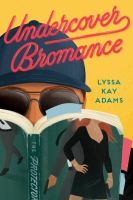 Undercover bromance / Adams, Lyssa Kay
"Liv Papandreas has a dream job as a sous chef at Nashville's hottest restaurant. Too bad the celebrity chef owner is less than charming behind kitchen doors. After she catches him harassing a young hostess, she confronts him and gets fired. Liv vows revenge, but she'll need assistance to take on the powerful chef.  He'll need to call in reinforcements: the Bromance Book Club. Inspired by the romantic suspense novel they're reading, the book club assists Liv in setting up a sting operation to take down the chef. But they're just as eager to help Mack figure out the way to Liv's heart… even though she's determined to squelch the sparks between them before she gets burned." (Adapted from Catalogue)
Meet me in Bombay : a novel / Ashcroft, Jenny
"It's New Year's Eve in Bombay, 1913, and Madeline Bright, new to the sweltering heat of colonial India, is yearning for all she has left behind in England. Then, at the stroke of midnight, Maddy meets Luke Devereaux, and as the year changes so do both their lives. Bold and charismatic, Luke opens her eyes to the wonders of Bombay, while Maddy's beauty and vivacity captures his heart. Only her mother disapproves, preferring the devoted Guy Bowen as a match for her daughter. But while Maddy and Luke are falling in love, the world is falling apart. World War I is on the horizon, and Luke will be given no choice but to fight. They will be continents apart, separated by danger and devastating loss, but bound by Luke's promise that they will meet again in Bombay." (Adapted from Catalogue)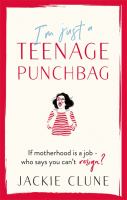 I'm just a teenage punchbag / Clune, Jackie
"I'm Just A Teenage Punchbag is a laugh-out-loud, sob-on-the bus journey through the so-called life of a middle-aged woman. Ciara is mother to three ungrateful, entitled teenagers, is married to steady Martin, a man with hairy udders, and is grieving for her mum who now lives in the wardrobe in a cardboard box from the crematorium. She finds solace in her anonymous blog, and in the daily chats she has with her mum's ashes (often the best conversations she has all day.)  She embarks on a mission to fulfil her mum's dying wishes to have her remains sprinkled from the top of the Empire State Building, finding company, distraction and – ultimately – herself in the process." (Adapted from Catalogue)
The royal correspondent / Joel, Alexandra
"When Blaise Hill, a feisty young journalist from one of Sydney's toughest neighbourhoods, is dispatched to London at the dawn of the swinging sixties to report on Princess Margaret's controversial marriage to an unconventional photographer, she is drawn into an elite realm of glamour and intrigue. As the nation faces an explosive upheaval, Blaise must grapple with a series of shocking scandals at the pinnacle of British society. Yet, haunted by a threat from her past and torn between two very different men, who can she trust in a world of hidden motives and shifting alliances? " (Adapted from Catalogue)