I'm Mark, the Customer Specialist for Music & Film at Wellington City Library. Here is some of the new and material we have been buying for the Music collection at our CBD Te Awe branch.
My colleague Neil & I decided to do some quick reviews of some new titles. Our limit was a couple of lines only. Do we actually carefully appraise & select the latest new music releases for your listening pleasure? Or do we just buy every third item on the list and hope it works out? Do we actually know anything about new music? Can you encapsulate an entire album in just one line? Read on to find out…
Real low vibe : the complete Reprise recordings 1992-1998. / Mudhoney
Neil: One of Grunge rock's pioneers, this compilation is from their major label period & features lots of rarities. The transition didn't bear the financial rewards the label hoped for, though the albums themselves were quite good, and after a few years they returned to Sub-Pop
Mark: Round up of the Grunge pioneers 6 year major label career. They paved the way for later bands but never commercialized their sound enough to claim a mainstream audience.
Super blood wolf moon /Brix & The Extricated
Neil: The Extricated's 3rd album moves further away from the long shadow of The Fall. Bass driven psychedelic modern garage. Surprising & rather good.
Mark: Ex-Fall members 3rd album sands off their rough edges for a more 90s Boston college rock sound of shimmering guitar pop/rock. Think Throwing Muses or early Blondie…
Yellow Magic Orchestra USA ; &, Yellow Magic Orchestra / Yellow Magic Orchestra
Neil: The hugely influential album from pioneering Japanese Electronic outfit YMO features a huge mash-up of dance music, video game samples & progressive rock tropes.
Mark: Allmusic describes Ryuichi Sakamoto's synth-pop group as second only to Kraftwerk in influence. Creating new worlds of sound with emerging technologies. Kitchy today in some parts maybe, but pioneering in the late 70s…
Introducing… Aaron Frazer. / Frazer, Aaron
Neil: Smooth debut release from this golden voiced crooner. 70s soulful R&B with a funky late night grove. Obviously a labour of love for a style of music he's a big fan of.
Mark: The drummer for retro-soul revivalists Durand Jones & the Indications. Smooth falsetto crooning recreates a warm 70s soul vibe.
Pow-wow. / Mallinder, Stephen
Neil: Re-release of the 80s album from half of the Cabaret Voltaire duo. Chunky danceable groves & rhythms. Still sounding fresh & new. Industrial, post-punk, funk, & electronica
Mark: 1982 solo debut from Cabaret Voltaire's Stephen Mallinder. His next solo record would be in 2019. Wonky vocals drift in & out of Lo-Fi beats. Intriguing. Not sure if you can really dance to this though…
Born into this : the music of Rattle. Volume 2, Improvisation.
Neil: Rattle Records have been at the forefront of classical, Jazz and Experimental art music in NZ for 30 years now. This compilation is their 150th release with over 40 tracks spanning their entire catalogue. A testament to the vast influence & cultural significance of the label.
Mark: 40 tracks from 3-decades worth of Rattle recordings. Artistic improvisation via Taonga puoro, acoustic instruments, Jazz, electroacoustic soundscapes and beyond. Contains some of the most important pure NZ musical statements of the last few decades.
Girls go power pop!
Neil: Catchy, infectiously sing-along classics from the likes of the Go-Go's & the Runaways, with some lesser known bands making up the compilation. Great fun, uplifting and solid road trip music.
Mark: Some usual suspects as well as some obscure gems in this choice Ace records comp of female Power Pop from the 80s and 90s. Plenty of crunchy guitar riffs and catchy choruses.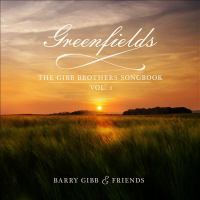 Greenfields : the Gibb brothers' songbook. Vol. 1 / Gibb, Barry
Neil: The last outstanding Bee-Gee looks to his legacy and records an album of Country versions of Bee-Gees classics with a bunch of Country guests. Mixed results. For me the standout track was 'Words' with Dolly Parton.
Mark: The Bee-Gees catalogue through the Country Music looking glass. Better than you might think for the most part.. Shows that the bones of great songs can retain their essence no matter the colourings applied.
Spare ribs. / Sleaford Mods
Neil: Their 6th album is another rambunctious, caustic, socially aware quintessentially 'British rapper' outing. Quality control remains high. As good as previous albums.
Mark: More working class Rap-punk from the Sleaford Mods filled with a sense of paranoia & trapped claustrophobia. Recorded during Covid-19. Digs deep into the social & political ills of modern Britain.
Think of spring. / Ward, M
Neil: Beautiful, sad, melancholic renditions of Billie Holliday classics. Exquisitely executed.
Mark: A pervading sense of wistfulness shades the tracks which drift gently along. Perfect Sunday afternoon music.
Black majik terror / Stälker
Neil: Wgtn based speed metal trio deliver a very 80's styled sound. Very reminiscent of Ronnie James Dio's Holy Diver. One for fans of this type of Speed Metal.
Mark: Stalker return with more great 80's inspired Metal fun. Like the soundtrack to an old Horror classic about fighting Aliens or Demons or something….
The king of Sudanese jazz. / Ahmed, Sharhabil
Neil: What a find! These recordings from the early 60's are a joyous mix of all sorts of styles such as Jazz, Samba & Tango but all with it's own musical identity. It's infectiously groovy and better than the early Beatles albums!
Mark: Fascinating recording from the 1960s Sudan before a military coup brought in a strict Islamist government that repressed the arts. Fuses western music like Rock N Roll & Surf Rock, early R&B with Ethiopian jazz, Congolese music, and the sounds of South Sudan for something truly uniquely funky and original.
The lost songs : 48 unreleased recordings / Welch, Gillian
Neil: After the roof of her recording studio was ripped off in a Tornado, Gillian Welch decided to rescue these archival tracks from the following flood. Her trademark Southern gothic bluegrass Country & Western style is well served by this compilation.
Mark: Boots No. 1 from 2016 was a collection of outtakes from her 1996 debut. This lavish Box Set follow up was originally recorded in 2002 to fulfil a publishing contract. The tapes were excavated for release during Covid-19, and reveal a vein of consistently evocative and enigmatic song-writing vignettes that are sure please fans of her type of Hillbilly country-folk.
Transmissions : the music of Beverly Glenn-Copeland : collected songs + unreleased music. / Glenn-Copeland, Beverly
Neil: This compilation of tranquil chilled music traces the artists entire career. Much of the music was recorded in relative solitude. An eclectic and unique album, but difficult to describe.
Mark: Rediscovered after decades of obscurity due to a Japanese collector's request for copies of his 1986 album 'Keyboard Fantasies', the transgender Black artist has gone on to be an influence on Blood Orange, Moses Sumney, and Caribou among others. Following a documentary in 2019 which took his story wider, 'Transmissions' is an attempt to gather works from across his career. Beautifully relaxing, hopeful & uplifting music.
Hidari ude no yume. / Sakamoto, Ryūichi
Neil: This is a welcome re-release of the unedited Japanese version of this album that varies dramatically from the Western release. Also contains an instrumental version with the vocals stripped out. A thoroughly engaging album from one of the giants of Japanese music forging ahead and pointing towards future masterpieces.
Mark: Original Japanese edition of Sakamoto's 'Left Handed Dream' released outside of Japan for the first time. Minimalist Electronica masterpiece. Still ahead of its time…
Deutsche elektronische musik. 4, Experimental German rock and electronic music 1971-83.
Neil: The 4th instalment of the series that documents the creative furnace that was the German music scene in the 70's & 80's.
Mark: More German experimental rock. An endless autobahn of electronic, progressive, & ambient torture…
Rollins in Holland : the 1967 studio & live recordings featuring Ruud Jacobs & Han Bennink. / Rollins, Sonny
Neil: A piece of Jazz history given a welcome 21st century official release.
Mark: Some unearthed Rollins featuring some studio & live tracks from European gigs with a pick-up band. The studio cuts showcase a surprisingly sympathetic degree of musical attunement. The live cuts show some great interaction but the sound is of lesser quality.
McCartney III. / McCartney, Paul
Neil: What can you say about a new Paul McCartney album? My best shot is: If you've enjoyed his previous solo outing then you'll probably enjoy this too…
Mark: All McCartney all the time in yet another lockdown album. Aims to recreate the strengths of the similar Chaos and Creation in the Backyard but falls short on the songs. Worth checking out if you're a fan of the lo-fi musings of McCartney & McCartney 11.
Plastic bouquet / Kacy & Clayton
Neil: In this Kiwi-Canadian collaboration Kacy & Clayton and Marlon Williams carefully craft a largely solemn collection of tracks that infuse country-folk, rockabilly & blues in unexpected ways and forms. Yet it all sounds & feels very natural & effortless like they have worked together for years.
Mark: Folky Canadian Saskatchewan cousins meet NZs Marlon Williams. A meeting of kindred spirits melds folky pop & Americana narratives. Pleasant but slight.
Pwr up. / AC/DC
Neil: Who would have though that after Brian Johnston had to pull out of the Rock Or Bust tour due to medial reasons that AC/DC would ever release a new album. Yet this is as good as their hey-day, firing on all cylinders. A full blooded rock out. Just goes to show you can never tell.
Mark: Surely one comeback that no one saw coming. Yet this is definitely not a 'Money Shot' as the album is chock full of punchy, catchy songs. AC/DC doing what they do best. A worthy addition to their legacy of rock…
.