Well, it's been a quiet week in Lake Wobegon, Minnesota, my hometown, out on the edge of the prairie."  ― Garrison Keillor.
Lake Wobegon first appeared in print in 1985 the fictitious town was the setting for the semi-autobiographical novel Lake Wobegon Days. The recorded version of which subsequently went on to win a Grammy.
The much-loved town actually started its existence earlier on radio in Garrison's A Prairie Home Companion show, known for its relaxed humour, folk music, fake nostalgic adverts and of course the news from Lake Wobegon inserts created by Garrison. When questioned about the town's name Keillor explained that he got the name for the town from an old Native American word meaning "the place where we waited all day in the rain [for you]."
The Lake Wobegon virus is the twelfth book in the Lake Wobegon series. It sees the author returning to America's most beloved mythic town to look at some very contemporary issues, intolerance and pandemics. When a virus passed on through cheese causes the town's usually demure citizens to loss their inhibitions, Garrison Keillor uses his trademark gentle wit and humour to take its readers through their adventures and misadventures.
There are lots of other fabulous new fiction acquisitions in our selection that feature a diverse range of tones, voices, and styles.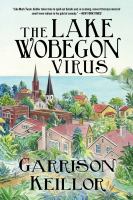 The Lake Wobegon virus : a novel / Keillor, Garrison
"A mysterious virus has infiltrated the good people of Lake Wobegon, transmitted via unpasteurised cheese made by a Norwegian bachelor farmer, the effect of which is episodic loss of social inhibition. Mayor Alice, Father Wilmer, Pastor Liz, the Bunsens and Krebsbachs, formerly taciturn elders, burst into political rants, inappropriate confessions, and rhapsodic proclamations, while their teenagers watch in amazement. Meanwhile, a wealthy outsider is buying up farmland for a Keep America Truckin' motorway and amusement park, estimated to draw 2.2 million visitors a year." (Adapted from Catalogue)
The butchers' blessing / Gilligan, Ruth
"Every year, Úna prepares for her father to leave her. He will wave goodbye early one morning, then disappear with seven other men to traverse the Irish countryside. Together, these men form the Butchers, a group that roams from farm to farm, enacting ancient methods of cattle slaughter. The Butchers' Blessing moves between the events of 1996 and the present, offering a simmering glimpse into the modern tensions that surround these eight fabled men. For Úna, being a Butcher's daughter means a life of tangled ambition and incredible loneliness. " (Adapted from Catalogue)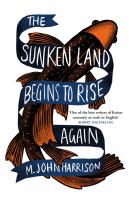 The sunken land begins to rise again / Harrison, M. John
"Shaw had a breakdown, but he's getting himself back together. He has a single room, a job on a decaying London barge, and an on-off affair with a doctor's daughter called Victoria, who claims to have seen her first corpse at age fourteen. It's not ideal, but it's a life. Or it would be if Shaw hadn't got himself involved in a conspiracy theory that, on dark nights by the river, seems less and less theoretical… Why has the local waitress disappeared into a shallow pool in a field behind the house? And why is the town so obsessed with that old Victorian morality tale, The Water Babies? " (Adapted from Catalogue)
Paris never leaves you / Feldman, Ellen
"Living through World War II working in a Paris bookstore with her young daughter, Vivi, and fighting for her life, Charlotte is no victim, she is a survivor. But can she survive the next chapter of her life? Alternating between wartime Paris and 1950s New York publishing, Ellen Feldman's Paris Never Leaves You is an extraordinary story of resilience, love, and impossible choices, exploring how survival never comes without a cost. The war is over, but the past is never past." (Adapted from Catalogue) Also available as an eBook.
Contacts / Watson, Mark
"'Richard Curtis James Chiltern boards the 23:50 sleeper train from London to Edinburgh with two pork pies, six beers and a packet of chocolate digestives. At 23:55 he sends a message to all 158 people in his contacts, telling them that he plans to end his life in the morning. He then switches his phone to flight mode. He's said goodbye. To him, it's the end of his story – and time to crack open the biscuits. But across the world, 158 phones are lighting up with a notification. Phones belonging to his mum. His sister. His ex-best friend. The woman who broke his heart. People he's lost touch with. Contacts is about the weight of loneliness, the importance of kindness – and how it's never too late to reach out." (Adapted from Catalogue) Also available as an eBook. 
The liar's dictionary : a novel / Williams, Eley
" Winceworth, Victorian lexicographer, is toiling away at the letter S for Swansby's multivolume Encyclopaedic Dictionary. His disaffection compels him to insert unauthorized fictitious entries into the dictionary in an attempt to assert some sense of individual purpose and artistic freedom. In the present day, Mallory, a young intern employed by the publisher, is tasked with uncovering these mountweazels before the work is digitized. She also has to contend with threatening phone calls from an anonymous caller. Is the change in the definition of marriage really that upsetting? And does the caller really intend for the Swansby's staff to 'burn in hell'?" (Adapted from Catalogue) Also available as an eBook.
His only wife : a novel / Medie, Peace A.
" Afi Tekple is a young seamstress in Ghana. She is smart; she is pretty; and she has been convinced by her mother to marry a man she does not know. Afi knows who he is, of course–Elikem is a wealthy businessman whose mother has chosen Afi in the hopes that she will distract him from his relationship with a woman his family claims is inappropriate. But Afi is not prepared for the shift her life takes when she is moved from her small hometown of Ho to live in Accra, Ghana's gleaming capital, a place of wealth and sophistication where she has days of nothing to do but cook meals for a man who may or may not show up to eat them." (Adapted from Catalogue) Also available as an eBook.
Boyfriend material / Hall, Alexis J.
"When tangentially — and reluctantly — famous Luc O'Donnell is forced back into the spotlight in the worst possible way, he has to think fast if he wants to save his floundering reputation. Enter Oliver Blackwood. Stunningly handsome and effortlessly put together, Oliver is successful, an ethical vegetarian, and has never appeared in a scandal mag even once. In other words, he's perfect boyfriend material and exactly what Luc needs to appear respectable again. But when their fake relationship starts to feel like real romance, Luc and Oliver might have to consider whether they're willing to fight for the truth of their new relationship…scandal, and consequences, be damned. (Adapted from Catalogue) Also available as an eBook.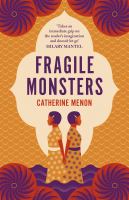 Fragile monsters / Menon, Catherine
"On a visit to her childhood home in rural Malaysia, Durga faces a reckoning. Stuck with her sharp-tongued grandmother in the rising heat, both women must untangle the truth from the myth of their family's past. What happened to Durga's mother after she gave birth? Why did so many of their family members disappear during the war? And who is to blame for the childhood tragedy that haunts Durga?" (Adapted from Catalogue)