She just wanted – had always wanted – a good book to read. Being chased by hellhounds and blowing things up were comparatively unimportant parts of the job. Getting the books – now, that was what really mattered to her." ― Genevieve Cogman, The Invisible Library
For some mysterious reason we love to see novels that feature libraries or librarians crossing our paths. So we were particularly excited when Genevieve Cogman's latest instalment of her Invisible Library series of novels recently arrived. The Dark Archive is the seventh title in the series that revolves around a multidimensional library which gathers fiction from various different realities and the exploits of the librarians as they travel multiple universes to acquire titles for their library, that exists outside the boundaries of normal space and time. Genevieve Cogman has also written role-playing game scenarios and works as a clinical classification's specialist for the NHS. Other new Science Fiction and Fantasy acquisitions include The down days by Hugo Ilze, Earthlings by Sayaka Murata and Gods of jade and shadow by Silvia Moreno-Garcia.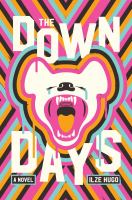 The down days : a novel / Hugo, Ilze
"In the aftermath of a deadly outbreak–reminiscent of the 1962 event of mass hysteria that was the Tanganyika Laughter Epidemic–a city at the tip of Africa is losing its mind, with residents experiencing hallucinations and paranoia. In a quarantined city in which the inexplicable has already occurred, rumors, superstitions, and conspiracy theories abound. Over the course of a single week, the paths of Faith, Sans, and a cast of other hustlers–including a data dealer, a drug addict, a sin eater, and a hyena man–will cross and intertwine as they move about the city, looking for lost souls, uncertain absolution, and answers that may not exist." (Adapted from Catalogue)
Earthlings : a novel / Murata, Sayaka
" As a child, Natsuki doesn't fit in with her family. Her parents favour her sister, and her best friend is a plush toy hedgehog named Piyyut, who talks to her. He tells her that he has come from the planet Popinpobopia on a special quest to help her save the Earth.  Later, as a grown woman, living a quiet life with her asexual husband, Natsuki is still pursued by dark shadows from her childhood, and decides to flee the "baby factory" of society for good, searching for answers about the vast and frightening mysteries of the universe. Dreamlike, sometimes shocking, and always strange and wonderful." (Adapted from Catalogue) Also available as an eBook.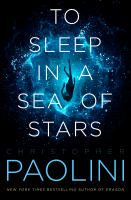 To sleep in a sea of stars / Paolini, Christopher
" Kira Nav rez dreamed of life on new worlds. Now she's awakened a nightmare. During a routine survey mission on an uncolonized planet, Kira finds an alien relic. At first she's delighted, but elation turns to terror when the ancient dust around her begins to move. As war erupts among the stars, Kira is launched into a galaxy-spanning odyssey of discovery and transformation. First contact isn't at all what she imagined, and events push her to the very limits of what it means to be human. While Kira faces her own horrors, Earth and its colonies stand upon the brink of annihilation. Now, Kira might be humanity's greatest and final hope . . ." (Adapted from Catalogue) Also available as an eBook.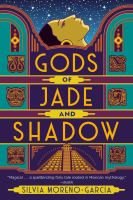 Gods of jade and shadow / Moreno-Garcia, Silvia
"The Jazz Age is in full swing, but Casiopea Tun is too busy cleaning the floors of her wealthy grandfather's house to listen to any fast tunes. Nevertheless, she dreams of a life far from her dusty small town in southern Mexico. A life she can call her own.  Yet this new life seems as distant as the stars, until the day she finds a curious wooden box in her grandfather's room. She opens it–and accidentally frees the spirit of the Mayan god of death, success could make her dreams come true. And take her on a cross-country odyssey from the jungles of Yucatán to the bright lights of Mexico City–and deep into the darkness of the Mayan underworld. " (Adapted from Catalogue)
The dark archive / Cogman, Genevieve
"A professional spy for a mysterious multidimensional library  which harvests fiction from different realities, Irene faces a series of assassination attempts that threaten to destroy her and everything she has worked for. Irene is teaching her new assistant the fundamentals of a Librarian's job, and finding that training a young Fae is more difficult than she expected. But when they both narrowly avoid getting killed in an assassination attempt, she decides that learning by doing is the only option they have left – especially when the assassins keep coming for them, and for Irene's other friends as well… " (Adapted from Catalogue)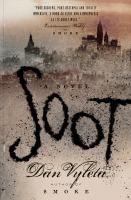 Soot : a novel / Vyleta, Dan
" The year is 1909. It has been ten years since Thomas Argyle, Charlie Cooper and Livia Naylor set off a revolution by releasing Smoke upon the world. They were raised to think Smoke was a sign of sin manifested, but learned its suppression was really a means of controlling society. Smoke allowed people to mingle their emotions, to truly connect, and the trio thought that freeing the Smoke would bring down the oppressive power structure and create a fair and open society. But the consequences were far greater than they had imagined, and the world has fractured." (Adapted from Catalogue)
Black sun / Roanhorse, Rebecca
" In the holy city of Tova, the winter solstice is usually a time for celebration and renewal, but this year it coincides with a solar eclipse, a rare celestial event proscribed by the Sun Priest as an unbalancing of the world. Meanwhile, a ship launches from a distant city bound for Tova and set to arrive on the solstice. The captain of the ship, Xiala, is a disgraced Teek whose song can calm the waters around her as easily as it can warp a man's mind. Her ship carries one passenger. Described as harmless, the passenger, Serapio, is a young man, blind, scarred, and cloaked in destiny. As Xiala well knows, when a man is described as harmless, he usually ends up being a villain. " (Adapted from Catalogue)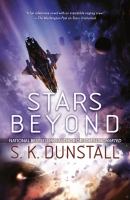 Stars beyond / Dunstall, S. K.
" An engineer with a fondness for weapons. A captain with no memory. An obsessive genemodder who loves to tinker. Meet the crew of Another Road. Josune, Roystan, and Nika have escaped the company thugs trying to kill them. They've gotten a new spaceship to replace The Road (after it was blown up underneath them).  All that's left to do before they head out to find the legendary lode of transurides is to restore Roystan's memory. To do that, they need to collect the genemod machine Nika has ordered. But first, they have to shake off the Justice Department agent and the Companies tracking them. It should be easy. They've done it before. What could possibly go wrong?" (Adapted from Catalogue)