I don't think it's healthy for a man to be always brooding over crime and detective stories, reading up all sorts of cases. It puts ideas into his head." ― Agatha Christie, Death in the Clouds
One of this month's Newly acquired crime novels revolves around one of the perennial true-life mysteries surrounding the Golden age of crime the disappearance of Agatha Christie.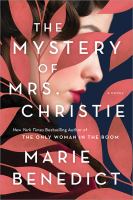 On Friday 3 December 1926, Agatha Christie, already a crime writing sensation, went missing for 11 days, sparking a huge manhunt, one of the biggest ever mounted in the UK. Even fellow crime writers Arthur Conan Doyle, and Dorothy L. Sayers were called in to help. With Arthur Conan Doyle trying paranormal techniques to solve the mystery, Agatha was subsequently found 11 days later in a hotel under the assumed name of Theresa Neele (her husband's mistresses name). And to this day no one really knows what happened to Agatha Christie over these days. Agatha herself always claiming to have no memory of what happened. Marie Benedict postulates a very possible and believable solution to the mystery.
There are lots of other fabulous new offerings including the latest novel from the Ngaio Marsh Shortlisted author Christina O'Reilly Retribution.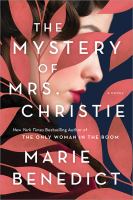 The mystery of Mrs. Christie : a novel / Benedict, Marie
"In December 1926, Agatha Christie goes missing. Investigators find her empty car on the edge of a deep, gloomy pond, the only clues some tire tracks nearby and a fur coat left in the car–strange for a frigid night. Her World War I veteran husband and her daughter have no knowledge of her whereabouts, and England unleashes an unprecedented manhunt to find the up-and-coming mystery author. Eleven days later, she reappears, just as mysteriously as she disappeared, claiming amnesia and providing no explanations for her time away. The puzzle of those missing eleven days has persisted. What is real, and what is mystery? What role did her unfaithful husband play, and what was he not telling investigators? " (Adapted from Catalogue)
The coffinmaker's garden / MacBride, Stuart
"As a massive storm batters the Scottish coast, Gordon Smith's home is falling into the North Sea. But the crumbling headland has revealed what he's got buried in his garden: human remains. A house full of secrets… With the storm still raging, it's too dangerous to retrieve the bodies and waves are devouring the evidence. Which means no one knows how many people Smith's already killed and how many more he'll kill if he can't be found and stopped. The media are baying for blood, the top brass are after a scapegoat, and ex-Detective Inspector Ash Henderson is done playing nice. He's got a killer to catch, and God help anyone who gets in his way. " (Adapted from Catalogue) Also available as an eBook. 
The hollow ones / Toro, Guillermo del
"Odessa Hardwicke's life is derailed when she's forced to turn her gun on her partner, Walt Leppo, a decorated FBI agent who turns suddenly, inexplicably violent while apprehending a rampaging murderer. The shooting, justified by self-defense, shakes the young FBI agent to her core. Devastated, Odessa is placed on desk leave pending a full investigation. But what most troubles Odessa isn't the tragedy itself — it's the shadowy presence she thought she saw fleeing the deceased agent's body after his death." (Adapted from Catalogue) Also available as an eBook.
The Thursday murder club / Osman, Richard
" In a peaceful retirement village, four unlikely friends meet weekly in the Jigsaw Room to discuss unsolved crimes; together they call themselves The Thursday Murder Club. When a local developer is found dead with a mysterious photograph left next to the body, the Thursday Murder Club suddenly find themselves in the middle of their first live case. As the bodies begin to pile up, can our unorthodox but brilliant gang catch the killer, before it's too late?" (Adapted from Catalogue) Also available as an eBook.
Retribution / O'Reilly, Christina
"A young woman has been murdered on Ripton Beach. DSS 'Archie' Baldrick and DC Ben Travers eventually identify the body as that of Lucy Martin, who has been renting a bach in the area. Her husband, Oliver, seems to know very little about his wife or her background. What was Lucy hiding? Why has she no family or friends? As the number of suspects mounts up, Archie begins to conclude that the real answer lies in Lucy's dark and mysterious past, and that the murderer may be just a little too close for comfort …" (Adapted from Catalogue)

No room at the morgue / Manchette, Jean-Patrick
"Eugene Tarpon, private eye, a sometime cop who has set up shop after being kicked off the force for accidentally killing a political demonstrator. Months have passed, and Tarpon desultorily tries to keep in shape while drinking all the time. No one has shown up at the door of his office in the midst of the market district of Les Halles. Then the bell rings and a beautiful woman bursts in, her hands dripping blood. It's Memphis Charles, her roommate's throat has been cut, and Memphis can't go to the police because they'll only suspect her. Can Tarpon help? Well, somehow he can't help trying. Soon bodies mount, and the craziness only grows." (Adapted from Catalogue)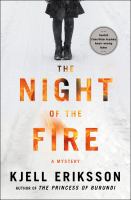 The night of the fire : a mystery / Eriksson, Kjell
"Police inspector Ann Lindell has left the Uppsala police and is living a quiet life, producing local cheese in a small town in Uppland. But life in the country is not as idyllic as it seems. On New Year's Eve someone sets fire to the former village school which is now a home for asylum seekers, and three people are killed. Ann Lindell's investigative instincts come back to life and soon she takes on the case. She is contacted by a person who has been involved in a previous investigation and who wants to warn her. His message is short and clear: Many will die. A few weeks later a bomb explodes in a suburb of Stockholm." (Adapted from Catalogue) Also available as an eBook.
A catered book club murder / Crawford, Isis
" If anything can be said about the endearingly predictable Margo Hemsley, it's that she always serves elaborate desserts at her mystery book club meetings. That's why everyone fears the worst after she doesn't pick up her order from Bernie and Libby and skips out on the monthly gathering. . When the search ends with the discovery of a dead body, Bernie and Libby agree to help the nine remaining book club members prove their friend was murdered. As the sleuthing sisters unearth scandalous secrets about the book club members, they'll have to determine who was connected to Margo's shady dealings–and who sent her to an early grave…" (Adapted from Catalogue)