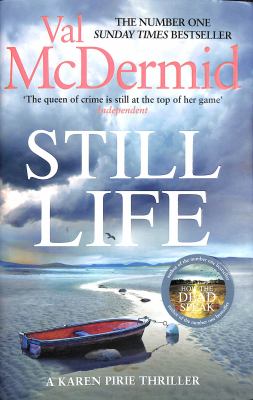 We're excited to announce that bestselling queen of crime fiction Val McDermid has kindly agreed to answer questions from her Wellington readers in a Q&A to be recorded on video this month.
Send us your questions for Val by Wednesday 10 February and we'll do our best to get them answered. A big thank you to Val McDermid for agreeing to do this Q & A session!
Email a question — enquiries@wcl.govt.nz
About Val McDermid
Val McDermid is one of the biggest names in contemporary crime fiction and 'Tartan Noir' — her novels have sold more than 16 million copies and have been translated into 40 languages worldwide. Her novels currently fall into four main series, featuring a host of memorable characters:
The  Tony Hill and Carol Jordan series has also been adapted into a TV series — the critically acclaimed Wire in the blood.
Val McDermid has also won crime writing's most prestigious award, the much-coveted Crime Writers' Association Gold Dagger for Best Crime Novel of the Year, for her novel The Mermaids Singing. Along with her plethora of awards, she also holds an Honorary Fellowship from St Hilda's College in Oxford — where she was the first student from a state school in Scotland ever to attend.
So, send us your questions for Val! You can use the email link above, or contact us on Facebook, Twitter, or Instagram on or before Wednesday 10 February, and we'll do our best to put your questions to Val in our interview.
You can also read more about Val at her website below:
Have a browse of Val's work below, and keep an eye out here and on social media for our Val McDermid interview coming soon!
Still life / McDermid, Val
"On a freezing winter morning, fishermen pull a body from the sea. It is quickly discovered that the dead man was the prime suspect in a decade-old investigation, when a prominent civil servant disappeared without trace. DCI Karen Pirie was the last detective to review the file and is drawn into a sinister world of betrayal and dark secrets. But Karen is already grappling with another case, one with even more questions and fewer answers. A skeleton has been discovered in an abandoned campervan and all clues point to a killer who never faced justice – a killer who is still out there. In her search for the truth, Karen uncovers a network of lies that has gone unchallenged for years. But lies and secrets can turn deadly when someone is determined to keep them hidden for good…"( Adapted from Catalogue) Also available as an
Audiobook
.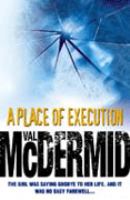 A place of execution / McDermid, Val
"On a freezing day in December 1963, Alison Carter vanishes from her rural village, an insular community that distrusts the outside world. For the young George Bennett, a newly promoted inspector, it is the beginning of his most difficult and harrowing case – a suspected murder with no body, an investigation with more dead ends and closed faces than he'd have found in the anonymity of the inner city, and an outcome that reverberates through the years." (Adapted from Catalogue) Also available as an eBook.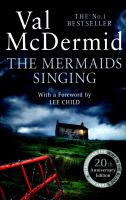 The mermaids singing / McDermid, Val
"Another body has been found. The fourth. Now even the most reluctant members of the Bradfield police department have to admit they have a serial killer on their hands. A sicko." "All the victims have been young men, their naked bodies broken and battered. All have been tortured." "Detective Inspector Carol Jordan has been working around the clock, teamed with criminologist Dr. Tony Hill. While Jordan is hunting for clues, Hill is composing a psychological profile of the murderer." (Adapted from Catalogue) Also available as an eBook.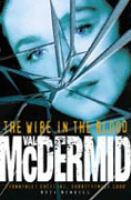 The wire in the blood / McDermid, Val
" Young girls are disappearing around the country, and there is nothing to connect them to one another, let alone the killer whose charming manner hides a warped and sick mind. Dr Tony Hill, head of the new National Profiling Task Force, sets his team an exercise: they are given the details of missing teenagers and asked to discover any possible links between the cases. For Tony Hill, the murder becomes a matter for personal revenge and, joined by colleague Carol Jordan, he embarks on a campaign of psychological terrorism – a game where hunter and hunted can all too easily be reversed." (Adapted from Catalogue) Also available as an eBook.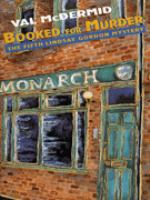 Booked for murder : the fifth Lindsay Gordon mystery / McDermid, Val
"Why would anyone want to kill bestselling author Penny Varnavides? Her demise can't be the freak accident it first appeared to be: it is an exact replica of the unique murder method employed in her forthcoming novel. Only three people seemed to know the details of this unpublished book – her literary agent, her editor, and her ex-girlfriend, Meredith. Who stood to gain the most from Penny's death? Did anyone else know about this unusual plot device?" "In an effort to clear her friend Meredith's name, Lindsay Gordon delves beneath the glittering facade of the high-powered, seemingly glamorous world of London publishing in search of a murderer." (Adapted from Catalogue)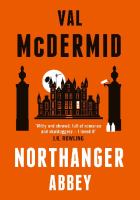 Northanger Abbey / McDermid, Val
"A modern re-imagining of the Gothic Classic Northanger Abbey by the bestselling crime author Val McDermid. The second book in The Austen Project. Cartier Diamond Dagger winner McDermid puts her gifts to good use in this update of Jane Austen's Northanger Abbey, which features sheltered young Cat Morland, who's charmed by Henry Tilney when she visits Edinburgh's Fringe Festival. Jane Austen in the hands of queen of crime, Val McDermid. Get ready for a very different Northanger Abbey." (Catalogue)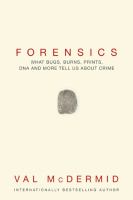 Forensics : what bugs, burns, prints, DNA, and more tell us about crime / McDermid, Val
"Val McDermid is one of the finest crime writers we have, whose novels have captivated millions of readers worldwide with their riveting narratives of characters who solve complex crimes and confront unimaginable evil. In the course of researching her bestselling novels McDermid has become familiar with every branch of forensics, and now she uncovers the history of this science, real-world murders and the people who must solve them. It's a journey that will take McDermid to war zones, fire scenes, and autopsy suites, and bring her into contact with both extraordinary bravery and wickedness, as she traces the history of forensics from its earliest beginnings to the cutting-edge science of the modern day." (Catalogue)