The task of the right eye is to peer into the telescope, while the left eye peers into the microscope." ― Leonora Carrington (Down Below)
One of our new and recently acquired Science Fiction and Fantasy titles is Queens of the Abyss: Lost Stories from the Women of the Weird. There is a mistaken perception that in the 19th and early 20th centuries, weird and wonderful fiction, was the exclusive domain of male writers but, as this fabulous new anthology shows, this view is far from the truth.
The fundamental contributions made by women authors to the birth of this genre is celebrated in this anthology from overlooked pulp magazine contributors to more established authors such as Frances Hodgson Burnett, Marie Corelli, Margaret St Clair and Leonora Carrington. Many of these tales have never been reprinted since their first publication so why not delve into the abyssal depths of surreal darkness in this entertaining and important work? There's lots of other wonderful new Science Fiction and Fantasy titles recently acquired by us, this short list is only our picks. Enjoy!
Queens of the abyss : lost stories from the women of the weird
" Contents include  A revelation by Mary E. Braddon,  The sculptor's angel by Marie Corelli, From the dead by Edith Nesbit, The Christmas in the fog by Frances Hodgson Burnett, The haunted flat by  Marie Belloc Lowndes, A modern circle by Alicia Ramsey, The nature of the evidence by May Sinclair,   The Bishop of hell by Marjorie Bowen,  The antimacassar by Greye La Spina, White lady by Sophie Wenzel Ellis,  The laughing thing by  G.G. Pendarves ,  Candlelight by Lady Eleanor Smith,  The wonderful tune by Jessie Douglas Kerruish, Island of the hands by Margaret St Clare, The unwanted by Mary Elizabeth Counselman and The seventh horse by the exceptional genius Leonora Carrington." (Adapted from Catalogue)
Tomorrow
The World / Joseph, M. K.
"A dying Hitler dictates his memoirs to a personal aide whilst his top commanders plot against each other to see who will become the next Fuhrer. Meanwhile a small resistance group from England tries to smuggle a package across Europe that will help to smash the fascist rule, but are they in reality the pawns of one of the German Generals? … Now a new novel has been discovered that imagines Britain and Europe as ruled by the Nazis after they won WWII." (Adapted from Catalogue)
Blood of the sun / Rabarts, Dan
"There's been a gang massacre on Auckland's Freyberg Wharf. Body parts everywhere. And with the police's go-to laboratory out of action, it's up to scientific consult Pandora (Penny) Yee to sort through the mess. It's a hellish task, made worse by the earthquake swarms, the insufferable heat, and Cerberus' infernal barking. And what's got into her brother Matiu? Does it have something to do with the ship's consignment? Or is Matiu running with the gangs again?  Join Penny and Matiu Yee for the family reunion to end all family reunions, as the struggle between light and dark erupts across Auckland's volcanic skyline." (Adapted from Catalogue)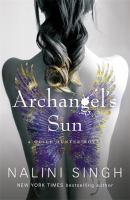 Archangel's sun / Singh, Nalini
"The Archangel of Death and the Archangel of Disease may be gone but their legacy of evil lives on – especially in Africa, where the shambling, rotting creatures called the reborn have gained a glimmer of vicious intelligence. It is up to Titus, archangel of this vast continent, to stop the reborn from spreading across the world. Titus can't do it alone, but of the surviving powerful angels and archangels, large numbers are wounded, while the rest are fighting a surge of murderous vampires. There is no one left . . . but the Hummingbird. Old, powerful, her mind long a broken kaleidoscope. Now she must stand at Titus's side against a tide of death, upon a discovery more chilling than any other. For the Archangel of Disease has left them one last terrible gift ." (Adapted from Catalogue)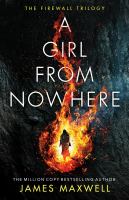 A girl from nowhere / Maxwell, James
"Life in the wasteland is a constant struggle. No one knows it better than Taimin. Crippled, and with only his indomitable aunt to protect him, Taimin must learn to survive in a world scorched by two suns and frequented by raiders. But when Taimin discovers his homestead ransacked and his aunt killed, he sets off with one mission: to seek revenge against those who stole everything. With nowhere to call home, his hunt soon takes a turn when he meets a mystic, Selena, who convinces him to join her search for the fabled white city. Taimin and Selena both need refuge, and the white city is a place where Taimin may find someone to heal his childhood injury. " (Adapted from Catalogue)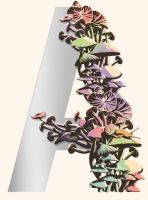 Ambergris / VanderMeer, Jeff
" Before Area X, there was Ambergris. Jeff VanderMeer conceived what would become his first cult classic series of speculative works: the Ambergris Trilogy. Now, for the first time ever, the story of the sprawling metropolis of Ambergris is collected into a single volume, including City of Saints and Madmen, Shriek: An Afterword, and Finch." (Catalogue)
Piranesi / Clarke, Susanna
"Piranesi's house is no ordinary building: its rooms are infinite, its corridors endless, its walls are lined with thousands upon thousands of statues, each one different from all the others. Within the labyrinth of halls an ocean is imprisoned; waves thunder up staircases, rooms are flooded in an instant. But Piranesi is not afraid; he understands the tides as he understands the pattern of the labyrinth itself. He lives to explore the house. There is one other person in the house-a man called The Other, who visits Piranesi twice a week and asks for help with research into A Great and Secret Knowledge. But as Piranesi explores, evidence emerges of another person, and a terrible truth begins to unravel, revealing a world beyond the one Piranesi has always known. " (Catalogue) Also available as an eBook.
The blue eye / Khan, Ausma Zehanat
"The Companions of Hira used their wits and magic to battle against the Talisman, an organization whose hyper conservative agenda limits free thinking and subjugates women. They were defeated. But Arian continues to lead a disparate group of Companions in pursuit of the mystical artifact that could end the Talisman's rule: The Bloodprint. For the arcane tome slipped out of their reach once more in the heat of battle. Through all they have endured, Arian's band of allies has always remained united in the face of their enemy. " (Catalogue)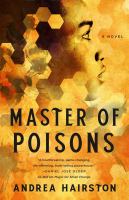 Master of poisons : a novel / Hairston, Andrea
"The world is changing. Poison desert eats good farmland. Once-sweet water turns foul. The wind blows sand and sadness across the Empire. To get caught in a storm is death. To live and do nothing is death. There is magic in the world, but good conjure is hard to find. Djola, righthand man and spymaster of the lord of the Arkhysian Empire, is desperately trying to save his adopted homeland, even in exile. Awa, a young woman training to be a powerful griot, tests the limits of her knowledge and comes into her own in a world of sorcery, floating cities, kindly beasts, and uncertain men. " (Catalogue)