Back at the tail end of 2020 we had the very special privilege of hosting an event to celebrate the recent publication of Monsters in the Garden: An Anthology of Aotearoa New Zealand Science Fiction and Fantasy.
In attendance were four of the most accomplished writers in New Zealand who all contributed works to the anthology: Elizabeth Knox, Tina Makereti, Dylan Horrocks and Craig Gamble.
The ensuing discussions were entertaining, informative, lively and a real insight into the inner workings of these fabulous authors as well as the current status of speculative fiction in Aotearoa.
If you missed the live event or want to re-experience this fascinating conversation you can watch below.
And keep your eyes peeled on our various social media channels for future events coming in 2021. Enjoy!
---
Monsters in the Garden : An Anthology of Aotearoa New Zealand Science Fiction and Fantasy / Knox, Elizabeth
"Casting its net widely, this anthology of Aotearoa-New Zealand science fiction and fantasy ranges from the satirical novels of the 19th-century utopians – one of which includes the first description of atmospheric aerobreaking in world literature – to the bleeding edge of now. Spaceships and worried sheep. Dragons and AI. The shopping mall that swallowed the Earth. The deviant, the fishy and the rum, all bioengineered for your reading pleasure. Featuring stories by some of the country's best known writers as well as work from exciting new talent, Monsters in the Garden invites you for a walk on the wild side. We promise you'll get back safely. Unchanged? Well, that's another question." (Publisher's description)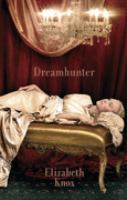 Dreamhunter / Knox, Elizabeth
"Set in 1906, Dreamhunter describes a world very similar to ours, except for a special place, known simply as the Place, where only a select group of people can go. these people are called Dreamhunters and they harvest dreams which are then transmitted to the general public for the purposes of entertainment, therapy – or terror and political coercion. Fifteen-year-old cousins Laura Hame and Rose Tiebold both come from famous dreamhunting families, but only Laura proves to be blessed with the gift and once inside the Place she finds out what happened to her missing dreamhunter father ." (Adapted from Catalogue) Also available as an eBook.
The imaginary lives of James Pōneke / Makereti, Tina
"'The hour is late. The candle is low. Tomorrow I will see whether it is my friends or a ship homewards I meet. But first I must finish my story for you. My future, my descendant, my mokopuna. Listen.' So begins the tale of James Poneke – orphaned son of a chief; ardent student of English; wide-eyed survivor. All the world's a stage, especially when you're a living exhibit. But anything can happen to a young New Zealander on the savage streets of Victorian London. When James meets the man with laughing dark eyes and the woman who dresses as a man, he begins to discover who people really are beneath their many guises." (Adapted from Catalogue) Also available as an eBook.
Sam Zabel and the magic pen / Horrocks, Dylan
"A burned-out superhero comic artist goes on an adventure that spans time and space–with two female companions. Cartoonist Sam Zabel hasn't drawn a comic in years. Stuck in a nightmare of creative block and despair, Sam spends his days writing superhero stories for a large American comics publisher and staring at a blank piece of paper, unable to draw a single line. Then one day he finds a mysterious old comic book set on Mars and is suddenly thrown headlong into a wild, fantastic journey through centuries of comics, stories, and imaginary worlds. (Adapted from Catalogue)