Remember if people talk behind your back, it only means you are two steps ahead."
― Fannie Flagg, from Fried Green Tomatoes at the Whistle Stop Cafe
This month's newly acquired fiction titles feature a plethora of fantastic new books including a sequel to Fannie Flagg's much loved Fried green tomatoes at the Whistle-Stop Café a keenly anticipated new book from author of Captain Corelli's Mandolin Louis de Bernières. Mikaela Nyman's community centred, mysterious, natural disaster novel set in Vanuatu Sado. And a Scottish family tragi-saga by Sarah Moss set in a faded cabin park called Summerwater. Enjoy!
A bookshop in Algiers / Adimi, Kaouther
"A Bookshop in Algiers celebrates quixotic devotion and the love of books in the person of Edmond Charlot, who at the age of twenty founded Les Vraies Richesses , the famous Algerian bookstore/publishing house/lending library. He more than fulfilled its motto 'by the young, for the young', discovering the twenty-four-year-old Albert Camus in 1937. A Bookshop in Algiers interweaves Charlot's story with that of another twenty-year-old, Ryad.  " (Adapted from Catalogue)
The autumn of the ace / De Bernières, Louis
"Daniel Pitt has seen a lot of action. He was an RAF fighter in the First World War and an espionage agent for the SOE in the Second. Now the conflicts he faces are closer to home. Daniel and Rosie's marriage has fractured beyond repair and Daniel's relationship with their son, Bertie, has been a failure since Bertie was a small boy. But after his brother Archie's death, Daniel is keen for new perspectives. He first travels to Peshawar to bury Archie in the place he loved best, and then finds himself in Canada, avoiding his family and friends back in England. " (Adapted from Catalogue)
Actress / Enright, Anne
"This is the story of Irish theatre legend Katherine O'Dell, as told by her daughter Norah. It tells of early stardom in Hollywood, of highs and lows on the stages of Dublin and London's West End. Katherine's life is a grand performance, with young Norah watching from the wings. But this romance between mother and daughter cannot survive Katherine's past, or the world's damage. As Norah uncovers her mother's secrets, she acquires a few of her own. Then, fame turns to infamy when Katherine decides to commit a bizarre crime." (Catalogue)
The wonder boy of Whistle Stop : a novel / Flagg, Fannie
" Bud Threadgoode grew up in the bustling little railroad town of Whistle Stop with his mother, Ruth, church-going and proper, and his Aunt Idgie, the fun-loving hell-raiser. Together they ran the town's popular Whistle Stop Cafe, known far and wide for its fun and famous fried green tomatoes. And as Bud often said of his childhood to his daughter Ruthie, "How lucky can you get?" But sadly, as the railroad yards shut down and Whistle Stop became a ghost town, nothing was left but boarded-up buildings and memories of a happier time. Then one day, Bud decides to take one last trip, just to see what has become of his beloved Whistle Stop. " (Adapted from Catalogue)
A lover's discourse / Guo, Xiaolu
"A Chinese woman comes to London to start a new life, away from her old world. She knew she would be lonely, adrift in the city, but will her new relationship bring her closer to this land she has chosen, will their love give her a home? A Lover's Discourse is an exploration of romantic love told through fragments of conversations between the two lovers. How can a man and woman be together? And how best to find solid ground in a world of uncertainty?" (Adapted from Catalogue)
Summerwater / Moss, Sarah
"On the longest day of the summer, twelve people sit cooped up with their families in a faded Scottish cabin park. The endless rain leaves them with little to do but watch the other residents. A woman goes running up the Ben as if fleeing; a retired couple reminisce about neighbours long since moved on; a teenage boy braves the dark waters of the loch in his red kayak. Each person is wrapped in their own cares but increasingly alert to the makeshift community around them. One particular family, a mother and daughter without the right clothes or the right manners, starts to draw the attention of the others. Tensions rise and all watch on, unaware of the tragedy that lies ahead as night finally falls." (Catalogue)
A saint from Texas / White, Edmund
"Yvette and Yvonne Crawford are twin sisters, born on a humble patch of East Texas prairie but bound for far grander fates. Just as an untold fortune of oil lies beneath their daddy's land, both girls harbour their own secrets and dreams oones that will carry them far from Texas and from each other. As the decades unfold, Yvonne will ascend the highest ranks of Parisian society as Yvette gives herself to a lifetime of worship and service in the streets of Jeric , Colombia. And yet, even as they remake themselves in their radically different lives, the twins find that the bonds of family and the past are unbreakable." (Catalogue)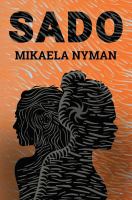 Sado / Nyman, Mikaela
" Category 5 Tropical Cyclone Pam makes landfall with devastating consequences. Vanuatu is bruised but not broken. Reeling from the loss of livelihood and struggling to meet basic human needs, people start to reassemble their lives. Cathryn is an NGO worker from New Zealand who has a ruined home, a teenage son and a Ni-Vanuatu boyfriend she hasn't heard from since the phone lines went dead. Faia is a community organiser, a radio journalist and a survivor who fights for women to be heard.  " (Catalogue)