I had always wanted to be a writer who confused genre boundaries and who was read in multiple contexts"  Jonathan Lethem
A nuclear powered supercar that can tunnel through the earth, a progressive pulp tome in which a band of Mercenary librarians set out to save a crumbling America, an enthralling fantasy epic from a New Zealand author,  a world where men have become a prized commodity and a very welcome return of Elizabeth Bear in a star spanning space opera with ex crime lords and mega intelligent AI systems. All are to be found in Decembers recently acquired Science Fiction and Fantasy titles. Enjoy.
The tower of fools / Sapkowski, Andrzej
"Reinmar of Bielawa, sometimes known as Reynevan, is a healer, a magician, and according to some, a charlatan. When a thoughtless indiscretion forces him to flee his home, he finds himself pursued not only by brothers bent on vengeance but by the Holy Inquisition. In a time when tensions between Hussite and Catholic countries are threatening to turn into war and mystical forces are gathering in the shadows, Reynevan's journey will lead him to the Narrenturm — the Tower of Fools.  And escaping it, avoiding the conflict around him, and keeping his own sanity will prove more difficult than he ever imagined" (Adapted from Catalogue) Also available as an Audiobook 
Afterland / Beukes, Lauren
"All Cole has left in the world is her boy, Miles. With men now a prized commodity, keeping him safe means breaking hastily written new rules – and leaving her own sister for dead. All Miles has left in the world is his mother.But is one person enough to save him from the many who would kill to get their hands on a living boy? Together, Cole and Miles embark on a journey across a changed, hostile country, towards a freedom they may never reach. And when Cole's sister tracks them down, they'll need to decide who to trust – and what loyalty really means in this unimaginable new world." (Adapted from Catalogue) Also available as an eBook.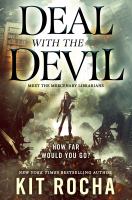 Deal with the Devil : a Mercenary Librarians novel / Rocha, Kit
" Nina is an information broker with a mission–she and her team of mercenary librarians use their knowledge to save the hopeless in a crumbling America. Knox is the bitter, battle-weary captain of the Silver Devils. His squad of supersoldiers went AWOL to avoid slaughtering innocents, and now he's fighting to survive. They're on a deadly collision course, and the passion that flares between them only makes it more dangerous. They could burn down the world, destroying each other in the process… Or they could do the impossible: team up. This is the first book in a near-future science fiction series with elements of romance." ( Adapted from Catalogue)
Providence / Barry, Max
" We thought the universe was a twinkling ocean of opportunity, waiting to be explored. Afterward, we knew better. Seven years after first contact, Providence Five launches. It is an enormous and deadly warship, built to protect humanity from its greatest ever threat. On board is a crew of just four–tasked with monitoring the ship and reporting the war's progress to a mesmerized global audience by way of social media. But while pursuing the enemy across space, Gilly, Talia, Anders, and Jackson confront the unthinkable: their communications are cut, their ship decreasingly trustworthy and effective. To survive, they must win a fight that is suddenly and terrifyingly real." (Catalogue)
Scardown / Bear, Elizabeth
"Jenny Casey was not born for this mission. She was modified for it.  Those who were once her enemies are now her allies, and at fifty, she's been handpicked for the most important mission of her life – a mission for which her artificially reconstructed body is perfectly suited. With the earth capable of sustaining life for just another century, Jenny – as pilot of the starship Montreal – must discover brave new worlds. And with time running out, she must succeed where others have failed.  With the help of a brilliant AI, an ex-crime lord, and the man she loves, Jenny may just get her chance to save the world." (Adapted from Catalogue)
The saints of salvation / Hamilton, Peter F
" Humanity is struggling to hold out against a hostile takeover by an alien race that claims to be on a religious mission to bring all sentient life to its God at the End of Time. But while billions of cocooned humans fill the holds of the Olyix's deadly arkships, humankind is playing an even longer game than the aliens may have anticipated. From an ultra-secret spy mission to one of the grandest battles ever seen, no strategy is off the table. Will a plan millennia in the making finally be enough to defeat this seemingly unstoppable enemy? " (Catalogue) Also available as an eBook.
The arrest : a novel / Lethem, Jonathan
"Before the Arrest, Sandy Duplessis had a reasonably good life as a screenwriter in L.A. An old college friend and writing partner, the charismatic and malicious Peter Todbaum, had become one of the most powerful men in Hollywood. That didn't hurt. Now, post-Arrest, nothing is what it was. Sandy, who calls himself Journeyman, has landed in rural Maine. There he assists the butcher and delivers the food grown by his sister, Maddy, at her organic farm. But then Todbaum shows up in an extraordinary vehicle: a retrofitted tunnel-digger powered by a nuclear reactor." (Adapted from Catalogue)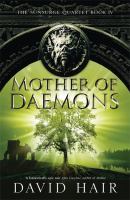 Mother of daemons / Hair, David
"'Lyra, Queen of Rondelmar, has fought enemies without and within, dealt with grief and loss, embraced forbidden magic, found her father and borne a child – and still it isn't enough. Her enemies are on the march and the Rondian Empire is collapsing. But a more dangerous adversary is out there . . . and he is winning. Ervyn Naxius, amoral genius, has unleashed war on two continents and is now laughing kings and priests dance to his tune and his daemonic followers are spreading through the lands, but still he isn't satisfied. His ultimate goal – absolute control of all life – is finally within his reach . . ." (Adapted from Catalogue)