Books are the plane, and the train, and the road. They are the destination, and the journey. They are home.
So many things fell by the wayside in 2020 and adventures abroad were certainly one of them. As librarians, many of us this year have definitely leaned heavily on reading as an escape, and we wonder if you have too? Books about far-flung places have definitely been one way to broaden our horizons while we daydream about overseas travel.
In this spirit, here are some travel stories you can immerse yourself in while you stay closer to home this year. Read about epic voyages of discovery, travel misadventures (to make you glad to be home – piranhas, shark-infested waters, extreme weather, poisonous spiders and vindictive mosquitoes), as well as exploring the world from a different angle when life makes a change you didn't expect. You'll also find a good amount of history and geography to browse here, including An Atlas of Extinct Countries (a tour of places that no longer exist). Have a browse, and we hope you enjoy!
The great journeys in history
"Marco Polo, Ferdinand Magellan, David Livingstone, Amelia Earhart, Neil Armstrong: these are some of the greatest travellers of all time. This book chronicles their stories and many more, describing epic voyages of discovery from the extraordinary migrations out of Africa by our earliest ancestors to the latest voyages into space. In modern times, the last inhospitable ends of the earth were reached – including both poles and the world's highest mountain – and new elements were conquered." (Adapted from Catalogue)
Blue sky kingdom : an epic family journey to the heart of the Himalayas / Kirkby, Bruce
"A warm and unforgettable portrait of a family letting go of the known world to encounter an unfamiliar one filled with rich possibilities and new understandings. In Blue Sky Kingdom, we follow Bruce and his family's remarkable three months journey, where they would end up living amongst the Lamas of Zanskar Valley, a forgotten appendage of the ancient Tibetan empire. " (Adapted from Catalogue)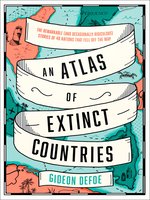 An Atlas of Extinct Countries, Gideon Defoe (ebook)
Prisoners of Geography meets Bill Bryson: a funny, fascinating, beautifully illustrated – and timely – history of countries that, for myriad and often ludicrous reasons, no longer exist. Countries die. Sometimes it's murder, sometimes it's by accident, and sometimes it's because they were so ludicrous they didn't deserve to exist in the first place.  This is an atlas of nations that fell off the map." (Adapted from Overdrive description)
Bad tourist : misadventures in love and travel / Roberts, Suzanne
"Both a memoir in travel essays and an anti-guidebook, Bad Tourist takes us across four continents to fifteen countries, showing us what not to do when traveling. A woman learning to claim her own desires and adventures, Suzanne Roberts encounters lightning and landslides, sharks and piranha-infested waters, burning bodies, and brief affairs as she searches for the love of her life and finally herself. Throughout her travels Roberts tries hard not to be a bad tourist, but owing to her cultural blind spots, things don't always go as planned. " (Catalogue)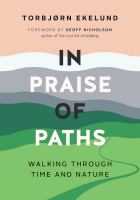 In praise of paths : walking through time and nature / Ekelund, Torbjørn Lysebo
"Torbj rn Ekelund started to walk everywhere after an epilepsy diagnosis affected his ability to drive. As he walks with shoes on and barefoot, through forest creeks and across urban streets, he contemplates the early tracks made by ancient snails and traces the wanderings of Romantic poets. If we still "understand ourselves in relation to the landscape," Ekelund asks, then what do we lose in an era of car travel and navigation apps?" (Adapted from Catalogue)

Broken heels and bicycle wheels / Blair, Larry
"As 2018 drew to a close I embarked on what was to be my grand odyssey, a North – South walk of Aotearoa. Following the Te Araroa route, I was to walk 3,000km over the next six months. Spoiler: I didn't. After some ups and downs, I binned that idea and had a crack at biking it instead. Broken Heels and Bicycle Wheels is my tale from that six month period. It's a fairly raw retelling of my trip as I lived it, warts and all…" (Adapted from Catalogue)
Walks on the wild side : exploring an unforgiving land / Pakenham, John
"In the early 1980s, John Pakenham walked a total of 1,500 miles, with a series of companions from the local Turkana and Samburu tribes, in the Great Rift Valley of northern Kenya. Repeatedly beset by extreme thirst and dehydration, bitterly cold torrential rains, poisonous spiders, and vindictive mosquitoes, he was lucky to live to tell his tale. Pakenham's account provides a rare glimpse of a tough terrain" (Adapted from Catalogue)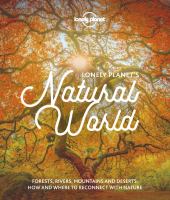 Lonely Planet's natural world.
"From Canada's mysterious and untamed Great Bear Rainforest to the spiritually significant mountain of Kailash in Tibet, unearth 50 destinations all around the world which take you right back to the heart of the natural world. With a combination of beautiful illustration and photography throughout, as well as contributions from award-winning travel writers, this unique coffee table book is the quintessential guide to helping you reconnect with nature." (Adapted from Catalogue)