As a special seasonal treat we've joined with author and music critic Simon Sweetman to curate and present to you a festive panoply of poets reading their works for Wellingtonians — one a day until Christmas.
Next up we have the lovely Rachel McAlpine, who will be reading from her collection How to be old.
How to be old : poems / McAlpine, Rachel
"Wellington writer Rachel McAlpine blogs and podcasts about living and ageing and is celebrating her 80th birthday with a book of poems. How to Be Old is an explosion of humanity on the page with some practical tips from the author and sage advice from Elsie aged five." (Catalogue)
About Rachel
Rachel says about her writing:
"Why do people hate and fear old age? Why is it so hard to see ourselves as belonging to the kingdom of old? Why does my own ageing seem overall a positive thing? What should I do with these age-related changes? What do other people think and feel and do? What am I for? How can I help?"
"Those questions puzzle me as I meander past my 80th year, and I explore them through poems, books, podcast and blog."
Read more about Rachel, on her website writeintolife.com
More by Rachel
Scarlet heels : 26 stories about sex / McAlpine, Rachel
"Twenty-six women, young and old, talk about moments when sex (or abstaining from sex) changed their lives somehow, brirnging clarity, change, or love. Their stories happened decades ago or yesterday, in Alaska, California, England, Nigeria, Ascension Island or New Zealand – in a pulpit, garden, airport, cupboard, train or bed." (Catalogue)
Templates / McAlpine, Rachel
"Touching insights into growing older. Six poems, six old photos of six little girls. A precious gift for contemplating life." (Catalogue)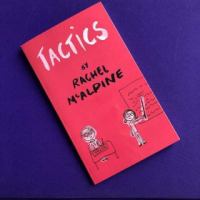 Tactics / McAlpine, Rachel
"Adorable poems with advice from a five-year-old life coach. Useful tips on breathing, voting, and killing zombies. A charming gift for anyone who interacts with children." (Catalogue)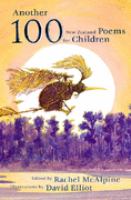 Another 100 New Zealand poems for children
"From computers and robots to moa and tuatara, from popcorn and mud pies to drought and howling wind, this sequel to 100 New Zealand Poems for Children speaks to New Zealand children today." (Catalogue)
Still to come…
Still to come are readings from Maggie Rainey-Smith, Michael Fitzsimons,  and Ruby Solly.
We'll be posting up the latest in the series of poems every day until Christmas on the Library homepage and on our blog here, so keep an eye out!
Read all Festive Panoply posts
We'd like to extend our deepest gratitude to Simon Sweetman for curating these daily poems, and to the lovely people at Book Haven for allowing us to record in their bookshop. We hope you enjoy them as much as we have!
The death of music journalism / Sweetman, Simon
"Simon's been writing poems since he was first listening to bands on his Walkman, but then he started sharing them via social media and open mic nights.  Marking a pivot from the razor-sharp and sometimes controversial music writing he is best known for, Simon's collection is as wide-ranging as his career to date.  A natural storyteller whose poetry is filled with characters both famous and ordinary, this eagerly awaited collection is unpredictable, anarchic, playful and surprisingly heartfelt." (Adapted from Catalogue)