As a special seasonal treat we've joined with author and music critic Simon Sweetman to curate and present to you a festive panoply of poets reading their works for Wellingtonians — one a day until Christmas.
Next up is the wonderful Sam Duckor-Jones who will be reading from his collection People from the pit stand up. Have a listen below, and enjoy!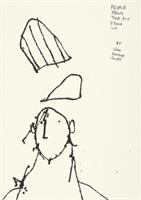 People from the pit stand up / Duckor-Jones, Sam
"This is the voice of someone who is both at home and not at home in the world. Sam Duckor-Jones's wonderfully fresh, funny, dishevelled poems are alive with art-making and fuelled by a hunger for intimacy. Giant clay men lurk in salons, the lawns of poets overgrow, petrolheads hoon along the beach, birds cry 'wow-okay, wow-okay, wow-okay'." (Catalogue)
About Sam
"Sam Duckor-Jones is a sculptor and poet who lives in Featherston. In 2017 he won the Biggs Poetry Prize from the International Institute of Modern Letters at Victoria University of Wellington. People from the Pit Stand Up is his first book."
From VUP's website
Find more of Sam's work in…
Annual. 2
"Annual 2 contains all-new material for 9- to- 13-year-olds. The result is a highly original, contemporary take on the much-loved annuals of the past – all in one beautiful package. Alongside familiar names publishing for children – Gavin Mouldey, Sarah Johnson, Ben Galbraith, Barry Faville, Giselle Clarkson, and Gregory O'Brien – you'll find the unexpected, including a new song by Bic Runga, a small-town mystery by Paul Thomas, and a classic New Zealand comic illustrated by new talent Henry Christian Slane. Smart and packed with content, a book for the whole family." (Catalogue)
Short poems of New Zealand
"I've begun to think of short poems as being the literary equivalent of the small house movement. Small houses contain the same essential spaces as large houses do. Both have places in which to eat, sleep, bathe and sit; they're the same, except small houses are, well, smaller. This anthology celebrates the many moods and forms of the short poem and demonstrates its power in holding our attention. Included here are famous names like Manhire, Glover, Hulme, Bethell, and Cochrane, amongst many new and rediscovered gems." (Adapted from Catalogue)
Still to come…
Still to come are readings from Mary McCallum, Richard Langston, Rachel McAlpine, Simon Sweetman, Oscar Sweetman, Maggie Rainey-Smith, Michael Fitzsimons,  and Ruby Solly.
We'll be posting up the latest in the series of poems every day until Christmas on the Library homepage and on our blog here, so keep an eye out!
Read all Festive Panoply posts
We'd like to extend our deepest gratitude to Simon Sweetman for curating these daily poems, and to the lovely people at Book Haven for allowing us to record in their bookshop. We hope you enjoy them as much as we have!
The death of music journalism / Sweetman, Simon
"Simon's been writing poems since he was first listening to bands on his Walkman, but then he started sharing them via social media and open mic nights.  Marking a pivot from the razor-sharp and sometimes controversial music writing he is best known for, Simon's collection is as wide-ranging as his career to date.  A natural storyteller whose poetry is filled with characters both famous and ordinary, this eagerly awaited collection is unpredictable, anarchic, playful and surprisingly heartfelt." (Adapted from Catalogue)