As a special seasonal treat we've joined with author and music critic Simon Sweetman to curate and present to you a festive panoply of poets reading their works for Wellingtonians — one a day until Christmas.
First up is the wonderful Chris Tse, reading a poem from his collection he's so MASC. Have a listen below, and enjoy!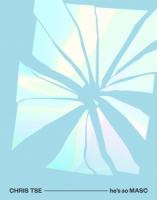 he's so MASC / Tse, Chris
"
he's So MASC
confronts a contemporary world of self-loathing poets and compulsive liars, of youth and sexual identity, and of the author as character — pop star, actor, hitman, and much more. These are poems that delve into worlds of hyper-masculine romanticism and dancing alone in night clubs. With its many modes and influences,
he's So MASC
is an acerbic, acid-bright, yet unapologetically sentimental and personal reflection on what it means to perform and dissect identity, as a poet and a person." (Library Catalogue)
About Chris
"Chris Tse was born and raised in Lower Hutt, New Zealand. He studied film and English literature at Victoria University of Wellington, where he also completed an MA in Creative Writing at the International Institute of Modern Letters."
"His poetry, short fiction, and non-fiction have been recorded for radio and widely published in numerous journals, magazines and anthologies, including Best New Zealand Poems, Sport, Turbine, The New Zealand Listener, Fishhead, Landfall, Cha, Poetry NZ, Takahe, JAAM, Snorkel, Sweet Mammalian, Glitterwolf, Cordite Poetry Review, Ika, Cyphers, Poetry, Capital Magazine, The Spinoff, and Mimicry."
Excerpted from Chris's website
More from Chris
How to be dead in a year of snakes / Tse, Chris
"In 1905, white supremacist Lionel Terry murdered the Cantonese gold prospector Joe Kum Yung to draw attention to his crusade to rid New Zealand of Chinese and other east Asian immigrants. Author Chris Tse uses this story–and its reenactment for a documentary a hundred years later–to reflect on the experiences of Chinese migrants of the period, their wishes and hopes, their estrangement and alienation, their ghostly reverberation through a white-majority culture. How to be Dead in a Year of Snakes" is a welcome poetic addition to New Zealand literature." (Adapted from Catalogue) Also available as an
eBook
.
New Zealand's China experience : its genesis, triumphs, and occasional moments of less than complete success
"New Zealand's China Experience collects fiction, poetry, personal accounts, historical narrative, anecdotes, transcribed oral narratives, newspaper articles and more, all bearing in one way or another on New Zealand perceptions of China and contacts with China and the Chinese. The book is richly illustrated with photographs, paintings, posters, and cartoons, and includes photographs by Brian Brake, George Silk, and Tom Hutchins, and three works by the contemporary artist Kerry Ann Lee. This unique collection brings together history from an 1823 report pointing to the importance of the Chinese market, to firsthand reports of the bombing of Shanghai from Yunan caves. The book also marks the 40th anniversary of the establishment of diplomatic relations between New Zealand and China in December 1972." (Catalogue)
Still to come…
Still to come are readings from Mary McCallum, Richard Langston, Sam Duckor-Jones, Rachel McAlpine, Simon Sweetman, Oscar Sweetman, Maggie Rainey-Smith, Michael Fitzsimons, Janis Freegard,  and Ruby Solly.
We'll be posting up the latest in the series of poems every day until Christmas on the Library homepage and on our blog here, so keep an eye out!
Read all Festive Panoply posts
A big thank you to Simon Sweetman for curating these daily poems, and to the lovely people at Book Haven for allowing us to record in their bookshop. We hope you enjoy them as much as we have!
The death of music journalism / Sweetman, Simon
"Simon's been writing poems since he was first listening to bands on his Walkman, but then he started sharing them via social media and open mic nights.  Marking a pivot from the razor-sharp and sometimes controversial music writing he is best known for, Simon's collection is as wide-ranging as his career to date.  A natural storyteller whose poetry is filled with characters both famous and ordinary, this eagerly awaited collection is unpredictable, anarchic, playful and surprisingly heartfelt." (Adapted from Catalogue)