If you think this Universe is bad, you should see some of the others."
Progressive Pulp is a new trend in science fiction that we have seen emerging in recent years, where the fast paced, page turning, addictive aspects of old fashioned pulp fiction are being reimagined or merged with bigger more serious ideas or concepts  such as explorations of gender or racial oppression.  Some authors are working almost exclusively in this new genre, e.g. Adam Christopher, whilst others are releasing individual titles that fit into this exciting and fast-growing sub-genre. Below are a couple of the authors and books we consider as fitting into this new Progressive Pulp category. Enjoy.
Ring shout : or, Hunting Ku Kluxes in the end times / Clark, P. Djèlí
"D. W. Griffith is a sorcerer, and
The Birth of a Nation
is a spell that drew upon the darkest thoughts and wishes from the heart of America. Now, rising in power and prominence, the Klan has a plot to unleash Hell on Earth. Luckily, Maryse Boudreaux has a magic sword and a head full of tales. When she's not running bootleg whiskey through Prohibition Georgia, she's fighting monsters she calls Ku Kluxes. She's damn good at it, too. But to confront this ongoing evil, she must journey between worlds to face otherworldly nightmares–and her own demons. Together with a foul-mouthed sharpshooter and a Harlem Hellfighter." (Adapted from Catalogue)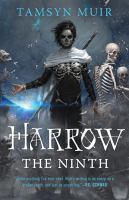 Harrow the ninth / Muir, Tamsyn
"She answered the Emperor's call. She arrived with her arts, her wits, and her only friend. In victory, her world has turned to ash. Nothing is as it seems in the halls of the Emperor, and the fate of the galaxy rests on one woman's shoulders. Harrowhark Nonagesimus, last necromancer of the Ninth House, has been drafted by her Emperor to fight an unwinnable war. Side-by-side with a detested rival, Harrow must perfect her skills and become an angel of undeath — but her health is failing, her sword makes her nauseous, and even her mind is threatening to betray her. " (Adapted from Catalogue)
I only killed him once : a Ray Electromatic mystery / Christopher, Adam
"Another Hollywood night, another job for electric-detective-turned-robotic-hitman Raymond Electromatic. The target is a tall man in a black hat, and while Ray completes his mission successfully, he makes a startling discovery–one he soon forgets when his 24-hour memory tape loops to the end and is replaced with a fresh reel… When a tall man in a black hat arrives in the offices of the Electromatic Detective Agency the next day, Ray has a suspicion he has met this stranger before, although Ray's computerized boss, Ada, is not saying a thing. " (Adapted from Catalogue)
Condomnauts / Yoss
"In the 24th century, Josu Vald's rise from an orphan in the slums of Rubble City, Cuba to one of the galaxy's most accomplished explorers was nothing short of meteoric. On the streets, Josue raced cockroaches for cash–until he discovered his true-calling: as a sexual ambassador for humanity and the Nu Barsa colony. Every so-called "condomnaut" knows that diplomacy and trade deals depend on sexual pacts in the galactic community–and every encounter becomes a close encounter, a wildly inventive and unapologetic tale that would make even Barbarella blush." (Adapted from Catalogue)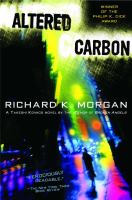 Altered carbon / Morgan, Richard K.
"In the twenty-fifth century, humankind has spread throughout the galaxy. While divisions in race, religion, and class still exist, advances in technology have redefined life itself. Now, assuming one can afford the expensive procedure, a person's consciousness can be stored in a cortical stack at the base of the brain and easily downloaded into a new body (or "sleeve").  Ex-U.N. envoy Takeshi Kovacs has been killed before, now he is thrown into the dark heart of a shady, far-reaching conspiracy that is vicious even by the standards of a society that treats "existence" as something that can be bought and sold. (Adapted from Catalogue)
Blood of the Sun / Rabarts, Dan.
"There's been a gang massacre on Auckland's Freyberg Wharf. Body parts everywhere. And with the police's go-to laboratory out of action, it's up to scientific consult Pandora (Penny) Yee to sort through the mess. It's a hellish task, made worse by the earthquake swarms, the insufferable heat, and Cerberus' infernal barking. And what's got into her brother Matiu? Does it have something to do with the ship's consignment? Or is Matiu running with the gangs again? Because if he's involved, Penny will murder him herself… Matiu can taste the chaos in the air. " (Adapted from Catalogue)
Ready Player Two / Cline, Ernest
"In the year 2044, reality is an ugly place. The only time teenage Wade Watts really feels alive is when he's jacked into the virtual utopia known as the Oasis. Wade's devoted his life to studying the puzzles hidden within this world's digital confines — puzzles that are based on their creator's obsession with the pop culture of decades past and that promise massive power and fortune to whoever can unlock them. But when Wade stumbles upon the first clue, he finds himself beset by players willing to kill to take this ultimate prize. The race is on, and if Wade's going to survive, he'll have to win." (Adapted from Catalogue)
Trail of lightning / Roanhorse, Rebecca
"In a world sinking beneath climate-warmed waves, Maggie works as a monster hunter in Dinétah, once the Navajo reservation. There, she encounters a creature that out-Grendels Grendel and seeks help from medicine man Kai Arviso. Maggie Hoskie is a Din tah monster hunter, a supernaturally gifted killer. When a small town needs help finding a missing girl, Maggie is their last best hope. But what Maggie uncovers about the monster is much more terrifying than anything she could imagine. " (Adapted from Catalogue)
The southern book club's guide to slaying vampires / Hendrix, Grady
" Patricia Campbell's life has never felt smaller. The only thing keeping her sane is her book club.  One evening after book club, Patricia is viciously attacked by an elderly neighbor, bringing the neighbor's handsome nephew, James Harris, into her life. Little by little, James will insinuate himself into Patricia's life and try to take everything she took for granted–including the book club–but she won't surrender without a fight in this blood-soaked tale of neighborly kindness gone wrong." (Catalogue) Also available as an eBook.