The hour is late. The candle is low. Tomorrow I will see whether it is my friends or a ship homewards I meet. But I must finish my story for you first. My future, my descendant, my mokopuna. Listen.' —Tina Makereti from The Imaginary Lives of James Poneke. 
Tina Makereti's fabulous fourth book The Imaginary Lives of James Poneke was shortlisted for: The New Zealand Heritage Book Awards and Longlisted for Ockham New Zealand Book Awards and the International Dublin Literary Award. The story of a young Maori boy put on display as a curiosity in Victorian London the tale is told from the first person and is an enthralling, compassionate and engrossing read that deals with big issues that are all still very relevant to this day.
Tina is one of the four authors at our unmissable Monsters in the Garden event which will have conversations and readings from Tina as well as Elizabeth Knox, Dylan Horrocks and Craig Gamble the event is Free and all are very welcome.
______________________________
9th December 2020
Te Awe Library – 29 Brandon Street
12.30pm to 1.30 pm
______________________________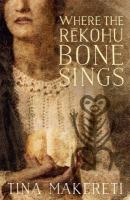 Where the Rēkohu bone sings / Makereti, Tina
"In the 1880s, Mere yearns for independence. Iraia wants the same but, as the descendant of a slave, such things are hardly conceivable. One summer, they notice their friendship has changed, but if they are ever to experience freedom they will need to leave their home in the Queen Charlotte Sounds. A hundred years later, Lula and Bigs are born. The birth is literally one in a million, as their mother, Tui, likes to say. When Tui dies, they learn there is much she kept secret and they, too, will need to travel beyond their world, to an island they barely knew existed. Neither Mere and Iraia nor Lula and Bigs are aware that someone else is part of their journeys. He does not watch over them so much as through them, feeling their loss and confusion as if it were his own." (Adapted from Catalogue)
Once upon a time in Aotearoa / Makereti, Tina
"Once Upon a Time in Aotearoa explores a world where mythological characters and stories become part of everyday life. Old and new worlds co-exist, cultures mingle, and magic happens. Familiar characters appear, but in these versions the gods live in a contemporary world and are motivated by human concerns. In this perplexing world, characters connect with each other and find ancient wisdom that carries them through. Bold and sexy, this collection is a crafty combo of mystery and history that makes the old new." (Adapted from Catalogue) Also available as an eBook.
Black marks on the white page
"Stones move, whale bones rise out of the ground like cities, a man figures out how to raise seven daughters alone. Sometimes gods speak or we find ourselves in a not-too-distant future. Here are the glorious, painful, sharp and funny 21st century stories of Maori and Pasifika writers from all over the world. Vibrant, provocative and aesthetically exciting, these stories expand our sense of what is possible in Indigenous Oceanic writing. Witi Ihimaera and Tina Makereti present the very best new and uncollected stories and novel excerpts, creating a talanoa, a conversation, where the stories do the talking." (Adapted from Catalogue) Also available as an eBook.
The imaginary lives of James Pōneke / Makereti, Tina
" All the world's a stage, especially when you're a living exhibit. But anything can happen to a young New Zealander on the savage streets of Victorian London. When James meets the man with laughing dark eyes and the woman who dresses as a man, he begins to discover who people really are beneath their many guises.Although London is everything James most desires, this new world is more dark and dazzling than he could have imagined." (Adapted from Catalogue) Also available as an eBook.