She said to him, 'You might melt.' And he said, "If I melt, you can make me again."
― Elizabeth Knox.
One of the authors at our upcoming Monsters in the Garden lunchtime event is fabulous Elizabeth Knox.
Elizabeth Knox is one of the leading lights in the New Zealand literary world, she is the author of numerous books for adults and young adults including the much heralded Dreamhunter Duet of books, The Vintner's Luck, Wake and Mortal Fire to name just a few.
In 2020 Queen's Birthday Honours she was awarded Companion of the New Zealand Order of Merit, for services to literature
Elizabeth's most recent novel The Absolute Book was published in 2019 in New Zealand to widespread acclaim and is due to be published internationally in 2021.
Elizabeth is both one of contributors and editors of Monsters in the Garden.
This unmissable event will have conversations and readings from Elizabeth Knox and fellow contributors Tina Makereti, Dylan Horrocks and Craig Gamble the event is Free and all are very welcome.
______________________________
9th December 2020
Te Awe Library – 29 Brandon Street
12.30pm to 1.30 pm
______________________________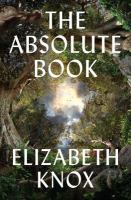 The absolute book / Knox, Elizabeth
"Taryn Cornick believes that the past is behind her – her sister's death by violence, and her own ill-concieved revenge. She has chosen to live a life more professional than personal. She has written a book about the things that threaten libraries – insects, damp, light, fire, carelessness and uncaring. The book is a success, but not all of the attention it brings her is good. There are questions about a fire in the library at Princes Gate, her grandparents' house, and about an ancient scroll box known as the Firestarter. The Absolute Book is a triumph of fantasy grounded in the reality and challenges of the moment we live in.' -Pip Adam" (Adapted from Catalogue)
The vintner's luck / Knox, Elizabeth
"One summer night in 1808, Sobran Jodeau sets out to drown his love sorrows in his family's vineyard when he stumbles on an angel. Once he gets over his shock, Sobran decides that Xas, the male angel, is his guardian sent to counsel him on everything from marriage to wine production. But Xas turns out to be a far more mysterious character. Compelling and erotic, The Vintner's Luck explores a decidedly unorthodox love story as Sobran eventually comes to love and be loved by both Xas and the young Countess de Valday, his friend and employer at the neighboring chateau." (Catalogue) Also available as an eBook.
Wake / Knox, Elizabeth
"One sunny spring morning the Tasman Bay settlement of Kahukura is overwhelmed by a mysterious mass insanity. A handful of survivors find themselves cut off from the world, and surrounded by the dead. As they try to take care of one another, and survive in ever more difficult circumstances, it becomes apparent that this isn't the first time that this has happened, and that they aren't all survivors and victims–two of them are something quite other. And, it seems, they are trapped with something. Something unseen is picking at the loose threads of their characters, corrupting, provoking, and haunting them. ." (Adapted from Catalogue) Also available as an eBook.
Dreamquake / Knox, Elizabeth
"Following on from the mesmerising Dreamhunter, the story continues dramatically as Grace, 'overdreamt' by Laura, introduces a nightmare, instead of the happy holiday dream programmed, to a packed Opera House audience, with chaotic results. Laura has collected and dreamt the nightmare in response to a letter she thinks is from her dead father. Laura takes Nown, the sandman she created, with her on a journey to discover what purpose the Depot in the Place is being used for, and finds a far greater secret behind the existence of the Place Itself.  " (Adapted from Catalogue) Also available as an eBook.
Mortal fire / Knox, Elizabeth
" Sixteen-year-old Canny Mochrie's parents go away on a vacation, so they send her off on a trip of her own with her stepbrother, Sholto, and his opinionated girlfriend, Susan, who are interviewing the survivors of a strange coal mine disaster and researching local folklore in 1959 Southland, New Zealand. Canny is left to herself to wander in a mysterious and enchanting nearby valley, occupied almost entirely by children who all have the last name, Zarene, and can perform a special type of magic that tells things how to be stronger and better than they already are." (Adapted from Catalogue)
The imaginary lives of James Pōneke / Makereti, Tina
"'The hour is late. The candle is low. Tomorrow I will see whether it is my friends or a ship homewards I meet. But first I must finish my story for you. My future, my descendant, my mokopuna. Listen.'  All the world's a stage, especially when you're a living exhibit. But anything can happen to a young New Zealander on the savage streets of Victorian London. When James meets the man with laughing dark eyes and the woman who dresses as a man, he begins to discover who people really are beneath their many guises." (Adapted from Catalogue) Also available as an eBook.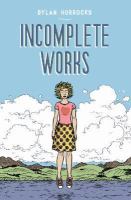 Incomplete works / Horrocks, Dylan
"Daydreams, fantasy, true love, and procrastination feature strongly in this selection of Dylan Horrocks's shorter comics running from 1986 to 2012. It is both the chronicle of an age and a portrait of one man's heroic struggle to get some work done." (Catalogue) Also available as an eBook.