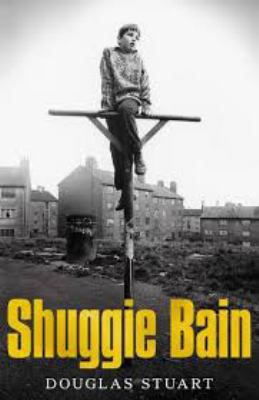 Rain was a natural state of Glasgow. It kept the grass green and the people pale and bronchial.
The 2020 Booker prize has been won by Scottish-American author Douglas Stuart with his debut novel Shuggie Bain.  He is only the second Scot ever to have won the prize — the first being James Kelman in 1994 with his book How Late It Was, How Late, which incidentally is a book Douglas cites as having "changed his life".
Shuggie Bain is semi-autobiographical — set in 1980s Glasgow, it deals with some weighty issues including poverty, parental alcoholism and a young boy's struggle to come to terms with his sexuality. It's a challenging read written in an emotionally nuanced style, but it's ultimately also a very compassionate read. Shuggie Bain was turned down by 30 editors before finding a publisher and going on to win the Booker.
Shuggie Bain / Stuart, Douglas
"It is 1981. Glasgow is dying and good families must grift to survive. Agnes Bain has always expected more from life. She dreams of greater things: a house with its own front door and a life bought and paid for outright (like her perfect, but false, teeth). But Agnes is abandoned by her philandering husband, and soon she and her three children find themselves trapped in a decimated mining town. As she descends deeper into drink, the children try their best to save her, yet one by one they must abandon her to save themselves. It is her son Shuggie who holds out hope the longest." Also available as an eBook and an Audiobook (Summary adapted from Catalogue)
---
Below are a few other books set in Glasgow. Enjoy!
How late it was, how late. / Kelman, James
" "How Late It Was, How Late" opens one Sunday morning in Glasgow, Scotland, as Sammy, an ex-convict with a penchant for shoplifting, awakens in a lane and tries to remember the two-day drinking binge that landed him there. Then, things only get worse. Sammy gets in a fight with some soldiers, lands in jail, and discovers that he is completely blind. His girlfriend disappears, the police probe him endlessly, and his stab at Disability Compensation embroils him in the Kafkaesque red tape of the welfare system. " (Adapted from Catalogue)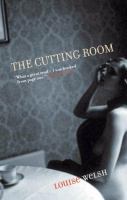 The cutting room / Welsh, Louise
"An auctioneer by profession, Rilke is an acknowledged expert in antiques. When he comes upon a hidden collection of violent, and highly disturbing, erotic photographs, Rilke feels compelled to unearth more about the deceased owner who coveted them. What follows is a compulsive journey of discovery, decadence and deviousness." ( Adapted from Catalogue)
Also available as an eBook.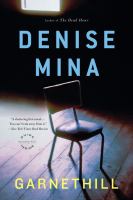 Garnethill : a novel / Mina, Denise
" There the unlucky Maureen O'Donnell wakes up one morning to discover her therapist-boyfriend dead in the living room. She now finds herself the prime suspect in his murder. Maureen O'Donnell wakes up one morning to find her therapist boyfriend murdered in the middle of her living room and herself a prime suspect in a murder case. Desperate to clear her name and to get at the truth, Maureen traces rumors about a similar murder at a local psychiatric hospital, uncovering a trail of deception and repressed scandal that could exonerate her – or make her the next victim. " (Adapted from Catalogue)
Buddha Da / Donovan, Anne
"Painter and decorator Jimmy McKenna develops  an keen interest in Buddhism after a chance meeting in a Glasgow sandwich bar with a Buddhist monk, but how will Jimmy's family react to his new found faith and how will this new approach to life change Jimmy?"  (Adapted from Catalogue)
Strange loyalties. / McIlvanney, William
"Strange Loyalties begins with Jack Laidlaw's despair and anger at his brother's death in a banal road accident. But his nagging doubts about the dynamics of the incident lead to larger questions about the nature of pain and injustice and the greater meaning of his own life. He becomes convinced there is more to his brother's death. His investigations will lead to a confrontation with his own past and a harrowing journey into the dark Glasgow underworld." (Adapted from Catalogue)
Also available as an eBook.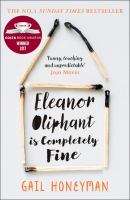 Eleanor Oliphant is completely fine / Honeyman, Gail
"Eleanor Oliphant has learned how to survive – but not how to live Eleanor Oliphant leads a simple life. She wears the same clothes to work every day, eats the same meal deal for lunch every day and buys the same two bottles of vodka to drink every weekend. Eleanor Oliphant is happy. Nothing is missing from her carefully timetabled life. Except, sometimes, everything. One simple act of kindness is about to shatter the walls Eleanor has built around herself." (Adapted from Catalogue)
Also available as an eBook.
Pitch black / Gray, Alex
"The new DCI Lorrimer novel When Chief Inspector Lorimer returns from his holiday on the Isle of Mull, he feels a welcome sense of calm. But it doesn't last long. Kelvin FC's new midfielder is found brutally stabbed to death in his own home and, with his wife apprehended trying to leave the country, a seemingly straightforward new case begins." (Catalogue)