"Let each diya you light bring a glow of happiness on your face and enlighten your soul."
Happy Diwali!
Diwali the Hindu festival of lights symbolizes the spiritual victory of good over evil, knowledge over ignorance and light over dark and is celebrated during the Hindu Luna month Kartika (between mid-October and mid-November) and traditionally takes place over five days with each day having its own associated rituals and ceremonies.
The first day of Diwali involves cleaning and decorating of homes and workplaces often using diyas small earthen oil-filled lamps and also the creation of rangoli; colourful designs made from rice flour, flower petals, coloured sand, quartz powder.
Day two is a day of ritual and prayer and is also used for purchasing of food especially sweets specially made for the festival which are later given as gifts.
Day three is the main day of the festival when homes, temples and rivers are aglow with light. The youngest members of the family visit their elders, and in the evening, people dress in their finest clothes, feast and pray, visit temples, families and sacred places, light lamps and diyas are set adrift on rivers and streams.
Day four celebrates the bond between the wife and husband and in some regions of India husbands will give gifts to their wives.
On the fifth and final day the sister-brother bond is celebrated.
We are celebrating Diwali this year in the libraries in many ways including….
From November 2nd our pre-school storytimes will be special Diwali storytimes! At Kilbirnie and Newtown there will also be craft activities afterwards.
On Saturday November 7 @ Newtown Library from 10am-4pm we have a live Rangoli being created by artist Jyoti Gosavi.
Also have Social Saturday craft for children and adults – bring the family! 2-3pm.
And we have a specially curated range of books, films and music that celebrate the richness of Indian culture below are just a few of our picks. We have a extensive range of great Indian literature in our collections for you to enjoy. These are just a few of the items we hold.

Anita and me / Syal, Meera
"The debut novel from the award-winning screenwriter of Bhaji on the Beach. The story of nine-year-old Meena, growing up in the only Punjabi family in the Black Country mining village of Tollington. This novel is based on the author's own childhood, growing up in the '60s as part of the only coloured family living in a Wolverhampton mining village. As in her films, it is filled with warmth, good humour and eccentric characters." (Catalogue)
The god of small things / Roy, Arundhati
"Set against a background of political turbulence in Kerala, Southern India, 'The God of Small Things' tells the story of twins Esthappen and Rahel. Amongst the vats of banana jam and heaps of peppercorns in their grandmother's factory, they try to craft a childhood for themselves amidst what constitutes their family – their lonely, lovely mother, their beloved Uncle Chacko (pickle baron, radical Marxist and bottom-pincher) and their avowed enemy Baby Kochamma (ex-nun and incumbent grand-aunt). " (Catalogue)
A suitable boy : a novel / Seth, Vikram
" The classic Number One bestseller from award-winning author Vikram Seth is one of the longest single volume novels ever published .The book follows the fortunes of four Indian families over the course of eighteen months . The novel commences in the fictional town of Brahmpur and is rich in detail and surrounding stories The sequel provisionally titles A Suitable Girl was due to be published in 2017 but as of 2020 is still unpublished " (Catalogue)

The sweet-vendor / Narayan, R. K.
" The Vendor of Sweets is a fictionalised biography of a sweet vendor in the fictional Indian town of Malgudi. Jagan the main character is a humble , honest and hardworking character . His obsession with his son Mali gradually spoils him and eventually Mali leaves for America with grand schemes which eventually unravel." ( Adapted from catalogue)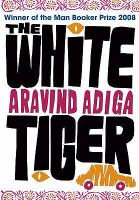 The white tiger / Adiga, Aravind
"Set in a raw and unromanticized India, The White Tiger-the first-person confession of a murderer-is as compelling for its subject matter as it is for the voice of its narrator: amoral, cynical, unrepentant, yet deeply endearing. Balram Halwai is a complicated man. Servant. Philosopher. Entrepreneur. Murderer. Over the course of seven nights, by the scattered light of a preposterous chandelier, Balram tells us the terrible and transfixing story of how he came to be a success in life – having nothing but his own wits to help him along."" (Adapted from Catalogue)
The guide / Narayan, R. K.
"Formerly India's most corrupt tourist guide, Raju–just released from prison–seeks refuge in an abandoned temple. Mistaken for a holy man, he plays the part and succeeds so well that God himself intervenes to put Raju's newfound sanctity to the test. " (Adapted from Catalogue)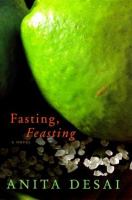 Fasting, feasting / Desai, Anita
"Tells the moving story of Uma, the plain older daughter of an Indian family, tied to the household of her childhood and tending to her parents' every extravagant demand, and of her younger brother, Arun, across the world in Massachusetts, bewildered by his new life in college and the suburbs, where he lives with the Patton family. From the heart of a close-knit Indian household to the cool centre of an American family, this novel examines a surfeit of feasting and Indian family life, and the self-denial and starving of affluent American women in the land of plenty." (Adapted from Catalogue)
Pather panchali

"Pather panchali is set in rural India and is part part of the classic Apu trilogy of films which are frequently listed among the greatest films of all time. The film begins when a young daughter is caught stealing food for a frail grandmother, the birth of Apu brings joy and hope to the struggling family until the prodigal son endures extreme tragedy in the wake of a destructive monsoon." (Adapted from Catalogue)