Tales from the Crypt. The Vault of Horror. The Haunt of Fear.
In the 40s and 50s, these EC Comics horror anthologies  were the most popular comics titles available, famed for their subversive and bizarre stories and going on to inspire the likes of Stephen King and George Romero. Unfortunately, due to the mid-50s censorship bulwark of the Comics Code Authority, which wouldn't even allow comic books to have the word horror in their title, let alone depictions of ghouls and vampires, EC and its peers went under. And so, titles like Crypt and Vault were, poetically, buried with them. While superheroes and sci-fi books have dominated the market since then, current comic companies will occasionally dip their toes into bringing back the horror anthology format, or have a one-off annual for the spooky season in the vein of the Simpsons Treehouse of Horror.
Thankfully, the classic EC stories have been saved and recollected in special archive editions, which are now available from our off-site at Te Pataka and our branches. You can also check out other horror anthologies that EC Comics inspired, such as DC's Flinch and DC Halloween, Marvel's classic Legion of Monsters stories from the 70s, and Dark Horse's revival of the Eerie Comics title. Just goes to show that you can't keep a good idea buried for long!
The EC archives : Shock SuspenStories. Volume 1, issues 1-6
"Featuring the titanic artistic talents of Al Feldstein, Jack Kamen, Jack Davis, Joe Orlando, Graham Ingles and Wally Wood – with a foreword by Hollywood legend Steven Spielberg! This beautifully bound hardcover reprints the first six complete issues of the pulp-comic classic
Shock SuspenStories.
Featuring the titanic artistic talents of Al Feldstein, Jack Kamen, Jack Davis, Joe Orlando, Graham Ingles, and Wally Wood, with a foreword by Steven Spielberg. Includes all the original ads, text pieces, and letters" (Catalogue)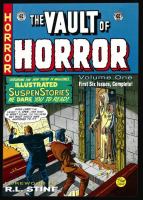 The vault of horror. Volume 1, issues 1-6 / Feldstein, Albert B
"Legendary publisher Bill Gaines provided the forum and creators like Al Feldstein, Johnny Craig, Wally Wood, Harry Harrison, Jack Kamen, Harvey Kurtzman, Graham Ingels, and Jack Davis provided the mayhem." (Catalogue)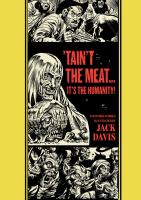 'Tain't the meat… it's the humanity! : and other stories / Davis, Jack
"Presenting the classic EC material in reader-friendly, artist-and-genre-centric packages for the first time, 'Taint the Meat collects every one of Davis's 24 Crypt stories in one convenient, gore-drenched package. Mostly written by EC editor Al Feldstein, these stories run the gamut from pure supernatural horror (the werewolf story "Upon Reflection" and the vampire story "Fare Tonight, Followed by Increasing Clottyness…") to science gone horribly wrong ("Bats in My Belfry "), as well as the classic "disbeliever gets his comeuppance" story ("Grounds… For Horror ") to EC's bread and butter, the ridiculously grisly revenge-of-the-abused tale ("The Trophy " and "Well-Cooked Hams ")…"." (Adapted from catalogue)
The living mummy and other stories / Feldstein, Albert B
"This book collects more than 30 EC horror stories from Mad magazine cartoonist Jack Davis. When Jack Davis took up his pen for EC Comics, he made his innocent victims more eye-poppingly terrified, his ax-murderers more gleefully gruesome, and his vampires and werewolves more bloodthirsty and feral than any other artist. " (Adapted from catalogue)
Tales from the crypt. Volume 5, issues 41-46
"Dark Horse Comics is proud to bring you more creepily classic Tales from the Crypt Digitally re-colored using Marie Severin's original colors as a guide, this twisted tome features stories drawn by the unforgettable artistic talents of Jack Davis, George Evans, Jack Kamen, Graham Ingels, Reed Crandall, Bernie Krigstein, Bill Elder, and Joe Orlando" (Catalogue)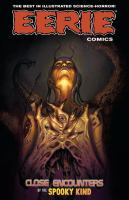 Eerie comics 2012-2015.
"Uncle Creepy's been hogging all the glory in Dark Horse's revival of Warren's classic magazines, but here comes Cousin Eerie to nudge him out of the spotlight The terrifying treasury of sinister sci-fi and fearsome fantasy is finally collected in this handsome paperback volume, amassing the inimitable talents of David Lapham, Mike Allred, Jonathan Case, Kelley Jones, and many more. Collecting all new material from the Eerie Comics #1-#8″ (Catalogue)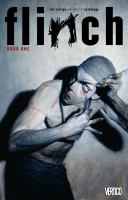 Flinch. Book one / Azzarello, Brian
"The legendary Vertigo horror anthology that will get under your skin–one slice at a time. It's the little things in life that matter most: the tiny leak in the fuel line; the faint smell of decay that won't wash off; the way a knife blade catches the light. These are the things that stick with us, no matter how much we want to forget–the things that make us flinch. No one is more familiar with this unnerving territory than the twisted souls whose hallucinatory work is preserved between these covers–an unprecedented gathering of fever dreams and waking nightmares scraped directly from the darkest corners of the greatest minds in comics." (Adapted from catalogue)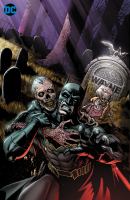 A very DC Halloween
"All of your favorite DC characters get spooky in this first-ever DC Halloween collection. HEROES MEET HORROR The DC Universe is home to some of the greatest crime-fighters in existence. Your favorite superheroes are usually busy keeping the universe safe, but when Halloween winds blow through the DCU, these heroes are transformed into nightmares. A Very DC Halloween collects 18 eerie tales from DC House of Horror #1 and Cursed Comics Cavalcade #1." (Adapted from catalogue)
Decades : Marvel in the '70s : Legion of Monsters
"Celebrate 80 years of Marvel Comics, decade by decade – together with the groovy ghoulies of the Supernatural Seventies. It was an era of black-and-white magazines filled with macabre monsters, and unsettling new titles starring horror-themed "heroes". Now, thrill to Marvel's greatest horror icons: The melancholy muck-monster known as the Man-Thing – whosoever knows fear burns at his touch. Morbius, the Living Vampire. Jack Russell, cursed to be a Werewolf-by-Night. And the flame-skulled spirit of vengeance, the Ghost Rider. But what happens when they are forced together to become…the Legion of Monsters? Plus stories starring Dracula, Frankenstein's Monster, Manphibian, the vampire-hunter Blade…and never-before-reprinted tales of terror." (Adapted from catalogue)