This is your brain on magic.
We recently approached international bestselling author Ben Aaronovitch about the possibility of doing a Q and A, very much expecting a polite 'no' in response. So when he kindly agreed, we were thrilled!
Thinking about how best to compile some really good questions for Ben, the answer was obvious: we would ask our library patrons to send in their questions for Ben. The questions we received ranged widely — from enquiries about the Rivers of London series, to examples of how to do research, to experiences writing for Doctor Who.
So, below we now present our interview with Ben Aaronovitch. In our opinion, he was hugely entertaining, insightful and really funny to interview and we thoroughly enjoyed the experience. We wish to extend our most heartfelt thanks to Ben, and of course to our users for supplying the questions. Enjoy!
False value / Aaronovitch, Ben
"Peter Grant is facing fatherhood, and an uncertain future, with equal amounts of panic and enthusiasm. Rather than sit around, he takes a job with émigré Silicon Valley tech genius Terrence Skinner's brand new London start up – the Serious Cybernetics Company. Drawn into the orbit of Old Street's famous "silicon roundabout", Peter must learn how to blend in with people who are both civilians and geekier than he is. Compared to his last job, Peter thinks it should be a doddle. But magic is not finished with Mama Grant's favourite son." (Catalogue)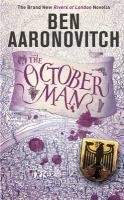 The October man / Aaronovitch, Ben
"If you thought magic was confined to one country-think again. Trier: famous for wine, Romans, and being Germany's oldest city. When a man is found dead with his body impossibly covered in a fungal rot, the local authorities know they are out of their depth. But fortunately this is Germany, where there are procedures for everything. Enter Tobias Winter, an investigator for the Abteilung KDA, the branch of the German Federal Criminal Police which handles the supernatural." (Adapted from Catalogue)
Rivers of London [3] : black mould / Aaronovitch, Ben
"Something dark and slimy is dripping through the walls of suburban London. Not the usual stuff that smells funny and can be hell on the lungs, this mould is possessed by some dark power full of bad intentions. Looks like it's another case for London's one and only trainee wizard cop, Police Constable Peter Grant, and his reluctant partner, Sahra Guleed.  Black Mould ties directly into the Rivers of London continuity, set between Foxglove Summer and The Hanging Tree." (Adapted from Catalogue)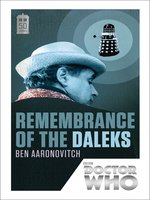 Remembrance of the Daleks, Ben Aaronovitch (ebook)
"With unfinished business to attend to, the Seventh Doctor returns to where it all began: Coal Hill School in 1963. Last time he was here, the Doctor left something behind – a powerful Time Lord artefact that could unlock the secrets of time travel. Can the Doctor retrieve it before two rival factions of Daleks track it down? And even if he can, how will the Doctor prevent the whole of London becoming a war zone as the Daleks meet in explosive confrontation?" (Adapted from Overdrive description)

For more information on Ben Aaronovitch's books visit his website. And again, a big thank you to Ben!