Here then at long last is my darkness. No cry of light, no glimmer, not even the faintest shard of hope to break free across the hold — Mark Z. Danielewski, House of Leaves
Many of the core elements of Halloween are thought to have originated from ancient Celtic harvest festivals. On All Hallows' Eve the boundary between the physical and spiritual world was thought to be at it's thinnest.
The festival has also long been associated with the consumption of food, a few examples being potato pancakes, apples and soul cakes. It was traditional to abstain from eating meat, a tradition reflected in the eating of certain vegetarian foods to this day.  It was in America in the 20th century that it was turned into the candy-coloured, sugar rush holiday that it is today. Indeed Halloween is now one of the major North American holidays.
Much of the modern imagery for Halloween has its roots in fiction, especially Gothic and horror fiction, with iconic characters such as Frankenstein, the Mummy and Dracula. So to put you in a Halloween mood we have selected some strange and macabre tales to shiver the spine and chill the soul for Halloween. And a few have a distinctly Kiwi twist on the supernatural world–enjoy!
Frankenstein, or, The modern Prometheus / Shelley, Mary Wollstonecraft
"No-one in the grip of Mary Shelley's Frankenstein, with its mythic-minded hero and its highly sympathetic monster who reads Goethe and longs to be at peace with himself, can fail to notice how much more excellent the original is than all the adaptations and imitations which have followed. In her first novel, Mary Shelley produced English Romanticism's finest prose fiction." (Adapted from Catalogue). For availability of the 1931 classic film, click
here
.
Dracula / Stoker, Bram
"When newly qualified solicitor Jonathan Harker visits Transylvania to help a new client purchase a residence in London, he is unaware that he will be lucky to escape with his life. Harker's fateful visit to Count Dracula's castle begins a series of disturbing events, as the malevolence he discovers there reaches across continents and oceans to twist and abuse his loved ones at home in England." (Adapted from Catalogue) For availability of Christopher Lee's first Dracula Film click here.
The scarecrow / Morrieson, Ronald Hugh
"Ronald Hugh Morrieson combines Boys' Own adventure, psychological thriller, small-town saga and family farce to produce a unique masterpiece. 14-year-old Neddy Poindexter and his mate Les proceed to take swift revenge on the chook-rustling Lynch Gang, but things turn sinister when the vulture-like Hubert Salter stalks into the small community of Klynham. There is a  killer on the loose – and Neddy is in terrible fear for the safety of his sister." (Catalogue) For availability of the 1981 film click here.
Into the mist / Murray, Lee
"When NZDF Sergeant Taine McKenna and his squad are tasked with escorting a bunch of civilian contractors into Te Urewera National Park, it seems a strange job for the army. Militant Tahoe separatists are active in the area, and with its cloying mist and steep ravines, the forest is a treacherous place. Yet nothing has prepared Taine for the true danger that awaits them.  Taine draws on ancient tribal wisdom as he becomes desperate to bring his charges out alive. Will it be enough to stop the nightmare?" (Adapted from Catalogue)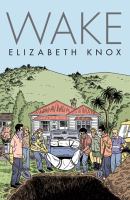 Wake / Knox, Elizabeth
"One sunny spring morning the Tasman Bay settlement of Kahukura is overwhelmed by a mysterious mass insanity. A handful of survivors find themselves cut off from the world, and surrounded by the dead. As they try to take care of one another, and survive in ever more difficult circumstances, it becomes apparent that this isn't the first time that this has happened. And, it seems, they are trapped with something. Something unseen is picking at the loose threads of their characters, corrupting, provoking, and haunting them." (Adapted from Catalogue)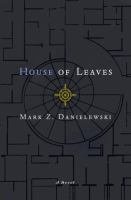 Mark Z. Danielewski's House of leaves / Danielewski, Mark Z
"A blind old man, a young apprentice working in a tattoo shop, and a mad woman haunting an Ohio institute narrate this story of a family that encounters an endlessly shifting series of hallways in their new home, eventually coming face to face with the awful darkness lying at its heart. Focusing on a young family that moves into a small home on Ash Tree Lane where they discover something is terribly wrong: their house is bigger on the inside than it is on the outside." (Adapted from Catalogue)
The shining / King, Stephen
"Jack Torrance's new job at the Overlook Hotel is the perfect chance for a fresh start. As the off-season caretaker at the atmospheric old hotel, he'll have plenty of time to spend reconnecting with his family. But as the harsh winter weather sets in, the idyllic location feels ever more remote . . . and sinister. And the only one to notice the strange and terrible forces gathering around the Overlook is Danny Torrance, a uniquely gifted five-year-old." (Adapted from Catalogue) For availability of the legendary Stanley Kubrick film click here.
Teatro grottesco / Ligotti, Thomas
"This collection features tormented individuals who play out their doom in various odd little towns, as well as in dark sectors frequented by sinister and often blackly comical eccentrics. The cycle of narratives that includes the title work of this collection, for instance, introduces readers to a freakish community of artists who encounter demonic perils that ultimately engulf their lives. These are selected examples of the forbidding array of persons and places that compose the mesmerizing fiction of Thomas Ligotti." (Adapted from Catalogue)
The hunger / Katsu, Alma
"After having travelled west for weeks, the party of pioneers comes to a crossroads. It is time for their leader, George Donner, to make a choice. They face two diverging paths which lead to the same destination. One is well-documented – the other untested, but rumoured to be shorter. Then the children begin to disappear. As the survivors turn against each other, a few begin to realise that the threat they face reaches beyond the fury of the natural elements." (Adapted from Catalogue) Also available as an Audiobook.