The Rivers of London graphic novel series stand alone from the novels, featuring brand new stories. However the graphic novels have very much the same tone, feel and character as the novels.  One important difference is that in the graphic novels Ben collaborates with Andrew Cartmel, who he initially worked with on Doctor Who.
One suspects that Ben and Andrew's previous experience in television will help considerably in Simon Pegg and Nick Frost's upcoming television adaption of the Rivers of London books.
And we are thrilled that in October Ben has agreed to do a pre-recorded Question and Answer online event–and we need your questions ideally by the end of this month.
So if you've ever wanted to ask Ben Aaronovitch a question, now's your chance!
Simply send us your questions via Facebook, Twitter, Instagram or email until 30 September, and we'll do our best to ask them during the event. And in the meantime, check out the selection of Ben's work. Enjoy!

Rivers of London [1] : body work / Aaronovitch, Ben
"Peter Grant, having become the first English apprentice wizard in fifty years, must immediately deal with two different but ultimately inter-related cases. In one he must find what is possessing ordinary people and turning them into vicious killers, and in the second he must broker a peace between the two warring gods of the River Thames." (Adapted from Catalogue) Also available as an
eBook
.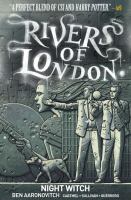 Rivers of London [2] : night witch / Aaronovitch, Ben
"Press-ganged into helping a Russian oligarch hunt for his missing daughter, PC Grant and his boss, Thomas Nightingale, London's only wizarding cops, find themselves caught up in a battle between Russian gunmen, a monstrous forest creature – and their nemesis. But as Grant and Nightingale close in on the missing girl, they discover that nothing about this case is what it seems! " (Adapted from Catalogue)
Rivers of London [3] : black mould / Aaronovitch, Ben
"Something dark and slimy is dripping through the walls of suburban London. Not the usual stuff that smells funny and can be hell on the lungs, this mould is possessed by some dark power. Looks like it's another case for London's one and only trainee wizard cop, PC Peter Grant, and his reluctant partner, Sahra Guleed An all-new adventure for Ben Aaronvitch's laconic, way-past-cool but slightly geeky trainee wizard and budding detective, Peter Grant.  " (Adapted from Catalogue) Also available as an eBook.