We are very excited to announce that in October we will be doing a pre-recorded Question and Answer online event with the international bestselling author Ben Aaronovitch–and we need your help with the questions!
Ben Aaronovitch is one of the most popular science fiction and fantasy writers in the world today. His Rivers of London series has been translated into 14 languages worldwide, with every one of the novels becoming a Sunday Times Top Ten bestseller. Ben has been a screenwriter for Doctor Who, Casualty and has written spin-off novels for Doctor Who and Blake 7. His work has even been adapted into a fantastic graphic novel series.
So if you've ever wanted to ask Ben Aaronovitch a question, now's your chance!
Simply send us your questions via Facebook, Twitter, Instagram or email and we'll do our best to ask them during the event. And in the meantime, check out the selection of Ben's work we have available to borrow throughout our libraries. Enjoy!
False value / Aaronovitch, Ben
"Peter Grant is facing fatherhood, and an uncertain future, with equal amounts of panic and enthusiasm. Rather than sit around, he takes a job with émigré Silicon Valley tech genius Terrence Skinner's brand new London start up – the Serious Cybernetics Company. Drawn into the orbit of Old Street's famous "silicon roundabout", Peter must learn how to blend in with people who are both civilians and geekier than he is. But magic is not finished with Mama Grant's favourite son." (Adapted from  Catalogue)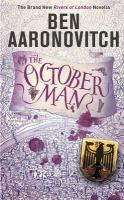 The October man / Aaronovitch, Ben
"When a man is found dead with his body impossibly covered in a fungal rot, the local authorities know they are out of their depth. But fortunately this is Germany, where there are procedures for everything.Enter Tobias Winter, an investigator for the Abteilung KDA, the branch of the German Federal Criminal Police which handles the supernatural. His aim is to get in, deal with the problem, and get out with the minimum of fuss, personal danger, and paperwork." (Catalogue)
Foxglove summer / Aaronovitch, Ben
"Ben Aaronovitch takes Peter Grant out of whatever comfort zone he might have found and takes him out of London – to a small village in Herefordshire where the local police are reluctant to admit that there might be a supernatural element to the disappearance of some local children. But while you can take the London copper out of London you can't take the London out of the copper. Peter soon finds himself caught up in a deep mystery and having to tackle local cops and local gods." (Catalogue). Also available as an Audiobook. 
The furthest station / Aaronovitch, Ben
" Traumatised travellers have been reporting strange encounters on their morning commute, with strangely dressed people trying to deliver an urgent message. Stranger still, despite calling the police themselves, within a few minutes the commuters have already forgotten the encounter – making the follow up interviews rather difficult. So with a little help from Abigail and Toby the ghost hunting dog, Peter and Jaget are heading out on a ghost hunting expedition…" (Catalogue)
Lies sleeping / Aaronovitch, Ben
"The Faceless Man, wanted for multiple counts of murder, fraud, and crimes against humanity, is on the run. Peter Grant, Detective Constable and apprentice wizard, now plays a key role in an unprecedented joint operation to bring him to justice. But even as the unwieldy might of the Metropolitan Police bears down on its foe, Peter uncovers clues that the Faceless Man, far from being finished, is executing the final stages of a long term plan." (Catalogue)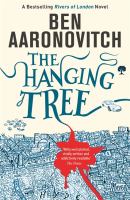 The hanging tree / Aaronovitch, Ben
"Suspicious deaths are not usually the concern of Police Constable Peter Grant or the Folly–London's police department for supernatural cases–even when they happen at an exclusive party in one of the flats of the most expensive apartment blocks in London. But the daughter of Lady Ty, influential goddess of the Tyburn river, was there, and Peter owes Lady Ty a favor. Plunged into the alien world of the super-rich, a sensible young copper would keep his head down. But this is Peter Grant we're talking about." (Catalogue)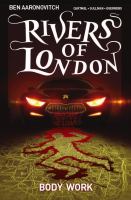 Rivers of London [1] : body work / Aaronovitch, Ben
"Peter Grant, having become the first English apprentice wizard in fifty years, must immediately deal with two different but ultimately inter-related cases. In one he must find what is possessing ordinary people and turning them into vicious killers, and in the second he must broker a peace between the two warring gods of the River Thames.  The graphic novel is based on the bestselling novel "Rivers of London." (Catalogue)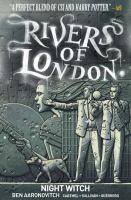 Rivers of London [2] : night witch / Aaronovitch, Ben
"Press-ganged into helping a Russian oligarch hunt his missing daughter, PC Peter Grant and his boss, Thomas Nightingale, London's only wizarding cops, find themselves caught up in a battle between Russian gunmen, a monstrous forest creature – and their nemesis: The Faceless Man. But as Grant and Nightingale close in on the missing girl, they discover that nothing about this case is what it seems!" (Catalogue)