The first thing that people say is where do these sounds come from, where would they think of these sounds? Well of course the teacher [says], it's 'te reo o te whenua', it's the voice of the land. We've always said that it's the voice of Tangaroa, it's the voice of Tāne, it's the voice of Hine-nui-te-pō. It's a multitude of voices that are there. They're the carriers of those voices. The manu, the insects … Tāne and so on. Your ears are attuned … they replicate those sounds.
– Richard Nunns
Continuing our celebration of New Zealand music month, we made a selection with some of the many books we have in our various libraries that cover the rich diversity of New Zealand's music and musicians.
We start with with Nick Bollinger's 100 essential New Zealand albums,  and continue with Ian Chapman's The Dunedin sound: some disenchanted evening an overview of the now world-famous Dunedin sound.
Taonga Pūoro Singing treasures: the musical instruments of the Māori by Brian Flintoff is a superb introduction to the rebirth of the now vibrant world of Taonga Pūoro and includes a great sampler CD.
New Zealand also has many talented classical composers like Gillian Karawe Whitehead and Douglas Lilburn and we have selected a few titles to illustrate this.
100 essential New Zealand albums / Bollinger, Nick
"Compiled by one of New Zealand s most popular music columnists, this listing will delight pop music fans everywhere. The choices included cover a broad range and present an eclectic taste. Eachentry is accompanied by some of the most entertaining writing about music and musicians, ranging from personal accounts of youthful encounters with music legends as well as passionate responses to renowned albums. Guaranteed to surprise and intrigue, thisreference is a must-have for all music lovers." (Catalogue)
The Dunedin sound : some disenchanted evening / Chapman, Ian
"There are very few geographical locations in the world that are privileged enough to have an internationally acknowledged 'sound' attributed to them. Remarkably, New Zealand has just such a location in Dunedin. For more than three and a half decades now, the cultural identity of this modestly-sized southern university city has been bound to music, and it surely will be ad infinitum. Within the ever-evolving history of popular music, the Dunedin Sound continues to sit proudly alongside the the likes of Liverpool's Mersey Sound, the Nashville Sound, and the Seattle Sound."  (Adapted from Catalogue)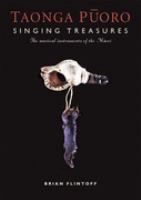 Taonga pūoro = Singing treasures : the musical instruments of the Māori / Flintoff, Brian
"Comprehensively covers the world of Maori musical instruments, a fascinating and little-known area of traditional Maori culture. Illustrated throughout with colour photographs of exquisite contemporary instruments as well as ancient taonga held in museums around the world. It comes with a CD sampler, compiled from recent releases of contemporary Maori music and the natural sounds which inspires it. And to further breathe life into this book, the technical information about each instrument is interwoven with the stories and myths that belong to each instrument. In addition, instructions are given for making and playing these singing treasures, and there is an explanation of the art forms used in Maori carving." (Catalogue)
Moon, tides & shoreline : Gillian Karawe Whitehead, a life in music / Sanders, Noel
"One of Aotearoa New Zealand's most distinguished classical composers, Gillian Whitehead has produced a substantial and lasting body of work that includes operas, orchestral and choral pieces, vocal and instrumental chamber compositions and solo works. They are often in collaboration with poets and other artists, and many incorporate traditional Ma-ori musical instruments and themes." (Catalogue)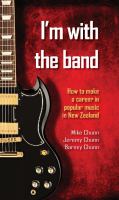 I'm with the band : how to make a career in popular music in New Zealand / Chunn, Mike
"Whether you want to make a living from music or play for fun, this is the essential guide to the New Zealand music industry. I'M WITH THE BAND explains everything you need to know from recording demos to signing contracts, from hiring a manager to protecting your music. Key figures in the New Zealand industry share their inside knowledge and experiences to help everyone from the hobby band to the performer on the brink of discovery." (Catalogue)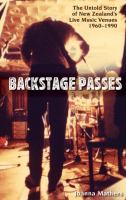 Backstage passes : the untold story of New Zealand's live music venues, 1960-1990 / Mathers, Joanna
"New Zealand music was made on beer-stained stages, in grimy toilets and smoky back rooms. Venues like Dunedin's Empire Tavern and the Gladstone Hotel in Christchuch were the cradle for scenes that won worldwide acclaim, where idiosyncratic styles were forged and local legends made. From the late 1950s until the early 1990s, live music ruled the night. Backstage Passes charts the stories of the country's most celebrated live music venues. " (Adapted from Catalogue)
Dead people I have known / Carter, Shayne
" In Dead People I Have Known, the legendary New Zealand musician Shayne Carter tells the story of a life in music, taking us deep behind the scenes and songs of his riotous teenage bands Bored Games and the Doublehappys and his best-known bands Straitjacket Fits and Dimmer. He traces an intimate history of the Dunedin Sound–that distinctive jangly indie sound that emerged in the seventies, heavily influenced by punk–and the record label Flying Nun." (Adapted from Catalogue)
Blue smoke : the lost dawn of New Zealand popular music, 1918-1964 / Bourke, Chris
"Bringing to life the musical worlds of New Zealanders both at home and out on the town, this history chronicles the evolution of popular music in New Zealand during the 20th century. From the kiwi concert parties during World War I and the arrival of jazz to the rise of swing, country, the Hawaiian sound, and then rock'n'roll, this musical investigation brings to life the people, places, and sounds of a world that has disappeared and uncovers how music from the rest of the world was shaped by Maori and Pakeha New Zealanders into a melody, rhythm, and voice that made sense on these islands. "(Adapted from Catalogue)