It's the start of the second week of lockdown: if you're anything like us, you've probably run out of coffee. And olive oil. And anything resembling a vegetable. But you don't want to go out unless you have to, so it's time to start combining the ingredients you've got left: tofu and powdered cheese butter; tuna and hot cross buns; pasta and Nutella. Keep at it–who knows what interesting food combo you may inadvertently discover!
Meanwhile, we've also got our third day of StayAtHomeFest, combining talks from some of our favourite authors with links to eBooks of their work via Overdrive. We've also added links to associated digital resources in case you want to do a bit more exploring. So grab whatever's left at the back of your cupboard (Is that garlic? An old Easter egg?) and join us for Day Three of this socially-distanced digital event!
---
ROBERT MACFARLANE
Since he published his first book in 2003, Robert Macfarlane has been one of Britain's foremost nature writers. His most recent work, Underland: a Deep Time Journey has been called "one of the most ambitious works of narrative non-fiction of our age", and was included in the Guardian's 100 Best Books of the 21st Century (at #56, just ahead of The Amazing Adventures of Kavalier and Clay.)
Underland, by Robert Macfarlane
"In Underland, Macfarlane delivers his masterpiece: an epic exploration of the Earth's underworlds as they exist in myth, memory and the land itself. He takes us on a journey into our relationship with darkness, burial, and what lies beneath the surface. Traveling through 'deep time' – the dizzying expanses of geologic time that stretch away from the present – he moves from the birth of the universe to a post-human future." (Adapted from Overdrive description)
Discover More:
Gale in Context: Environmental Studies: Underland is an exploration of both the world beneath our feet and also the time we live in. Continue this exploration of our geological age with our premiere environmental database.
Oxford English Dictionary: Macfarlane's fourth book, Landmarks, examines the language of landscape–did you know the word feith refers to a watercourse running through peat in a way that resembles veins? Discover more magical descriptions via the Oxford English Dictionary!
---
MARIANA ENRIQUEZ
If you had to read one short story collection on a Halloween evening, you'd struggle to find a better one than Mariana Enriquez' Things We Lost in the Fire. And not just because of the dread that underlies her work–although there's plenty of it!–but also because of the powerful political realism. As Enriquez herself explains, "There's something about the scale of the cruelty in political violence… that always seems like the blackest magic to me."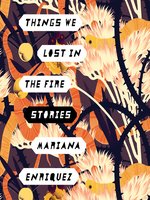 Things We Lost in the Fire, by Mariana Enriquez (Audiobook)
"An arresting collection of short stories, reminiscent of Shirley Jackson and Julio Cortazar, by an exciting new international talent." Short stories include "The Dirty Kid", "The Inn", "The Intoxicated Years", "Adela's House", "Spider Web", "End of Term", "No Flesh Over Our Bones", "The Neighbor's Courtyard", "Under the Black Water", "Green Red Orange". (Adapted from Overdrive description)
Discover More:
Pressreader: As well as writing novels and short stories, Mariana Enriquez is also a journalist at Página/12. Browse more Argentinian newspapers–as well as a range of other international titles–via our free full-page eNewspaper database.
Academic Search Elite: Mariana Enriquez has also talked about the importance of psychogeography in her work. Discover more about psychogeography ("a way to delve into the soul of a city"!) at Academic Search Elite.
---
KELLY LINK
There are a lot of descriptions of Kelly Link's writing out there: the MacArthur Foundation called her work "surreal and fantastical with the concerns and emotional realism of contemporary life"; Publishers Weekly described it as "Like Kafka hosting Saturday Night Live"; Neil Gaiman simply declared her a "national treasure". So what exactly can you expect from this Pulitzer-nominated author? Read on to find out!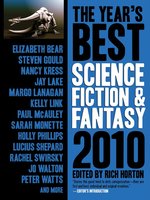 The Year's Best Science Fiction & Fantasy, by Rich Horton
"This volume of the year's best SF features stories by some of the genre's greatest authors, including Elizabeth Bear, Nancy Kress, Jay Lake, Margo Lanagan, Kelly Link, Paul McAuley, Sarah Monette, Lucius Shepard, Jo Walton, and many others. Selecting the best fiction from Analog, Asimov's, Clarkesworld, F&SF, The New Yorker, Tor.com, and other top venues, The Year's Best Science Fiction & Fantasy is your guide to magical realms and worlds beyond tomorrow." (Adapted from Overdrive description)
Discover More:
Lynda.com: When she's not writing, Kelly Link manages Small Beer Press. Learn more about the publishing industry, and how to publish your own eBooks, thanks to Lynda.com.
Novelist Plus: Link's work has been described as uniquely difficult to categorise, and is sometimes classed as New Weird. Find out more about this genre–and what New Weird works to read next–via Novelist Plus.
---
KAI CHENG THOM
When Kai Cheng Thom's debut work, Fierce Femmes and Notorious Liars: A Dangerous Trans Girl's Confabulous Memoir was released in 2016, it was described as "a genre-breaking refusal of the idea that the only stories trans people have to tell are their autobiographies." Since then, Thom has published not only a children's book and poetry collection but also I Hope We Choose Love: A Trans Girl's Notes from the End of the World–recently named a Stonewall Honor Book by the American Library Association!.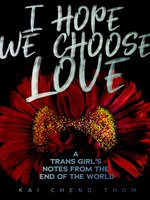 I Hope We Choose Love, by Kai Cheng Thom
"In a heartbreaking yet hopeful collection of personal essays and prose poems, blending the confessional, political, and literary, Kai Cheng Thom dives deep into the questions that haunt social movements today. With the author's characteristic eloquence and honesty, I Hope We Choose Love proposes heartfelt solutions on the topics of violence, complicity, family, vengeance, and forgiveness." (Adapted from Overdrive description)
Discover More:
Gale Archives of Sexuality and Gender: "I wanted to… write my life, but to do so in a way that put relationships between trans people, rather than the expectations of cis people, front and centre." Discover more via the Gale Archives of Sexuality & Gender!
Libby: Want to read Kai Cheng Thom's work on your phone or tablet? Then don't forget to download Libby, Overdrive's fantastic eBook and eAudiobook app.
---
CAROL LEONNIG
There have been a number of books written about Trump's presidency since his inauguration in 2016, but perhaps none have been quite as well researched, detailed or "unsettling" as Carol Leonnig and Philip Rucker's A Very Stable Genius. Learn more about Pulitzer Prize-winning reporter Carol Leonnig and the writing of A Very Stable Genius via the Slate Political Gabfest–and below!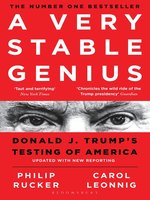 A Very Stable Genius, by Carol D. Leonnig
"For the past three years, Rucker and Leonnig have chronicled the ways President Trump has reinvented the presidency in his own image. They take readers inside Robert Mueller's Russia investigation and the Trump legal team's scramble for survival, behind the curtains as the West Wing scurries to clean up the President's mistakes and into the room to witness Trump's interactions with foreign leaders, and assess the consequences." (Adapted from Overdrive Catalogue)
Discover More:
Lynda.com: Interested in becoming a journalist yourself? Head to Lynda.com to see what skills you'll need, including courses on video journalism, social media, article writing and more.
RBdigital: Explore some of the world's best investigative reporting via RBdigital, our free eMagazine resource–with titles including the New Yorker, Time, Mother Jones and the Listener.