It can be tough being stuck at home. You need plenty of food, you need exercise, you need social support (and, it seems, you need a large stockpile of toilet paper). But there's something else you need, too–the arts! Presenting: StayAtHomeFest 2020!
StayAtHomeFest 2020 combines talks from some of our favourite authors with links to eBooks of their work via Overdrive. We've also added links to associated digital resources in case you want to do a bit more exploring. So make yourself a coffee, move the cat from the best spot on the couch and settle back for Day One of this socially-distanced digital event!
---
ISABEL ALLENDE
What better way to start than with the legendary Isabel Allende? The Chilean-American author has written 24 books, sold more than 74 million copies of her work and won over 60 awards. Her latest novel, A Long Petal of the Sea, has been described as "a masterful work of historical fiction about hope, exile and belonging"–perfect for times like these.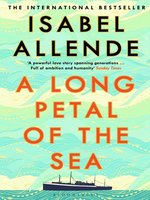 A Long Petal of the Sea, by Isabel Allende
"Victor Dalmau is a young doctor when he is caught up in the Spanish Civil War. Together with his sister-in-law he is forced out of his beloved Barcelona and into exile. When opportunity to seek refuge arises, they board a ship chartered by the poet Pablo Neruda to Chile, the promised 'long petal of sea and wine and snow'. There, they find themselves enmeshed in a web of characters who come together in love and tragedy over four generations." (Adapted from Overdrive description)
Discover More:
Kanopy Films: As well as writing for the page, Allende has authored numerous screenplays, and had several novels adapted for the screen. Discover more via one of our free film streaming services!
Mango Languages: Want to read Allende's work in the original Spanish? Check out Mango Languages, our free database for learning languages on the go.
Gale World History In Context: Did you know Isabel Allende's stepfather was one of the first people to meet the SS Winnipeg when it reached Chilean waters? Learn more at one of our premiere historical databases.
---
MAX PORTER
Next up is UK writer Max Porter. Porter is primarily known for his debut novel Grief is the Thing with Feathers, winning him the Sunday Times PFD Young Writer of the Year Award and a shortlisting for the Guardian First Book Award–but did you know he also edited Eleanor Catton's The Luminaries? His most recent work, Lanny, has been described as "a joyously stirred cauldron of words."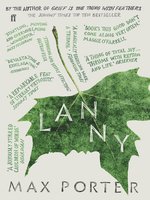 Lanny, by Max Porter
"Not far from London, there is a village. This village belongs to the people who live in it and to those who lived in it hundreds of years ago. It belongs to England's mysterious past and its confounding present. It belongs to families dead for generations, and to those who have only recently moved here, such as the boy Lanny, and his mum and dad. But it also belongs to Dead Papa Toothwort, who has woken from his slumber in the woods. Dead Papa Toothwort, who is listening to them all." (Adapted from Overdrive description)
Discover More:
Beamafilm: Did you know Lanny is being made into a film starring Rachel Weisz? Discover more book adaptations with the second of our two film streaming services, Beamafilm.
Oxford Art Online: Explore Oxford Art Online's images, drawings and maps and you'll be drawing like Lanny and Mad Pete in no time!
Gale Literature Center: Porter's use of language has been compared to James Joyce's Ulysses. Discover more about the connection via our comprehensive online literary site.
---
SUKETU MEHTA
Pulitzer finalist Suketu Mehta burst into Best-of lists last year with his groundbreaking This Land is Our Land: An Immigrant's Manifesto, a book laying out a powerful argument for mass migration as a form of global justice. The work has been called "among the most comprehensive, clearest, lucid and persuasive arguments in favour of immigrant rights yet written."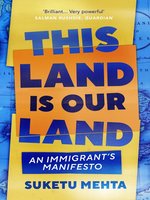 This Land Is Our Land, by Suketu Mehta
"Drawing on his family's own experience, and years of reporting around the world, Suketu Mehta subjects the worldwide anti-immigrant backlash to withering scrutiny. The West, he argues, is being destroyed not by immigrants but by the fear of immigrants. He juxtaposes the phony narratives of populist ideologues with the ordinary heroism of labourers, nannies and others, and explains why more people are on the move today than ever before."
(Adapted from Overdrive description)
Discover More:
New York Times: Suketu Mehta lives in Manhattan, and luckily we've got access to his hometown newspaper and its archives! Explore the New York Times via the link.
RBdigital: Mehta's work has also appeared in the New Yorker, the New York Review of Books and Harper's. Check out the latest copies via RBdigital, our free eMagazine resource.
---
VINCENT O'MALLEY
Over the last four years, Vincent O'Malley has helped to fundamentally change how many people view the New Zealand Wars, arguing that the Waikato War should be seen as the defining conflict in New Zealand history. Both The Great War for New Zealand: Waikato 1800-2000 and The New Zealand Wars/Ngā Pakanga o Aotearoa have been bestsellers across the country.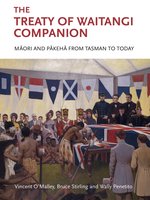 The Treaty of Waitangi Companion, by Vincent O'Malley
"Since the Treaty of Waitangi was signed in 1840 it has become the defining document in New Zealand history. From the New Zealand Wars to the 1975 Land March, from the Kingitanga to the Waitangi Tribunal, from Captain Cook to Hone Harawira, The Treaty of Waitangi Companion tells the story of the Treaty and Māori and Pākehā relations through the many voices of those who made this country's history." (Adapted from Overdrive description)
Discover More:
BWB Books: Go deeper into Aotearoa's history with free access to some of Bridget Williams Books' most popular titles, including O'Malley's fantastic The Great War for New Zealand: Waikato 1800-2000 and The New Zealand Wars/Ngā Pakanga o Aotearoa.
Raraunga Kōrero–Māori Databases: Browse an index of clippings collected by T.F. Grey, as well as an index to articles from the Dominion and Evening Post dating back to 1930. Rohe/iwi mentioned include Te Ati Awa, Ngāti Mutunga, Ngāti Toa, Ngāti Raukawa, Ngāti Porou, Ngāti Tuwharetoa, Mataatua.
Wellington City Recollect: The team at Wellington City Libraries have been digitising historic photos, pamphlets and postcards from the Wellington region–look through them right here!
---
OLGA TOKARCZUK
Before the US publication of Flights in 2017, Polish author Olga Tokarczuk was described as "probably one of the greatest living writers you have never heard of." Two years and one Nobel Prize later, Tokarczuk has become a powerful literary figure beyond her country of origin, with English language readers waiting eagerly for the translation of The Books of Jacob, due in 2021.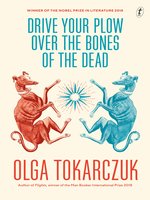 Drive Your Plow Over the Bones of the Dead, by Olga Tokarczuk
"Drive Your Plow Over the Bones of the Dead takes place in a remote Polish village, where Duszejko, an eccentric woman in her sixties, recounts the events surrounding the disappearance of her dogs. When members of a hunting club are found murdered, she becomes involved in the investigation. Duszejko is reclusive, preferring the company of animals; she's unconventional, and is fond of the poetry of William Blake…" (Adapted from Overdrive description)
Discover More:
Pressreader: Olga Tokarczuk's Nobel Prize win was covered extensively by some of Poland's media–but not by the newspapers of the country's nationalist right. Compare the difference via Pressreader, our free full-page newspaper database.
Gale in Context: Environmental Studies: Looking for the most up-to-date environmental info after reading Drive Your Plow Over the Bones of the Dead? Check out Gale in Context: Environmental Studies, including full-text articles from New Zealand and around the world.
Gale LitFinder: Suddenly hooked on William Blake? Read his complete works via Litfinder!