'We only do one per day,' says Dr Butler, 'so we can monitor everything very carefully.' That made me feel better about it, which–looking back–was bloody stupid. — Body Tourists by Jane Rogers
It's hard to know where to start with this month's new sci-fi and fantasy titles: there's work from big hitters including William Gibson and Terry Goodkind, the debut novel of The Who's Pete Townshend and Highfire by Eoin Colfer of Artemis Fowl fame.
But the novel that's really caught our attention is Jane Rogers' Body Tourists, the story of a clinic in London that specialises in bringing the dead back to life for two weeks. The catch? The process requires a robust conduit body, sourced from poor teenagers from the local Estate. Check out the Readings review here!
Body tourists / Rogers, Jane
"In this version of London, there is a small, private clinic. Behind its layers of security, procedures are taking place on poor, robust teenagers from northern Estates in exchange for thousands of pounds – procedures that will bring the wealthy dead back to life in these young supple bodies for fourteen days. It's an opportunity for wrongs to be righted, for fathers to meet grandsons, for scientists to see their work completed. Old wine in new bottles. But at what cost?" (Adapted from Catalogue)
Agency / Gibson, William
"Verity Jane, gifted app whisperer, takes a job as the beta tester for a new product: a digital assistant, accessed through a pair of ordinary-looking glasses. Eunice, the disarmingly human AI in the glasses, manifests a face, a fragmentary past, and a canny grasp of combat strategy. Realizing that her cryptic new employers don't yet know how powerful and valuable Eunice is, Verity instinctively decides that it's best they don't…" (Adapted from Catalogue)
Highfire / Colfer, Eoin
"Squib Moreau's intentions are (generally) good: he really wants to be a supportive son to his hard-working momma Elodie. But sometimes life gets in the way–like when crooked Constable Regence Hooke got to thinking pretty Elodie Moreau was just the gal for him. An apprenticeship with the local moonshine runner, servicing the bayou, looks like the only way out. But Hooke has his own eye on that very same stretch of bayou–and neither of them have taken into account the dragon…" (Adapted from Catalogue)
The vanished birds / Jimenez, Simon
"Nia Imani is a woman out of place. Traveling through the stars condenses decades into mere months for her, though the years continue to march steadily onward for everyone she has ever known. Her friends and lovers have aged past her. She lives only for the next paycheck, until the day she meets a mysterious boy, fallen from the sky. But Nia is not the only one who wants the boy. The past hungers for him, and when it catches up, it threatens to tear this makeshift family apart." (Adapted from Catalogue)
Heart of black ice / Goodkind, Terry
"As emissaries to the Old World, Nicci and her companions have travelled far into uncharted territories. Now in the wake of a brutal war unleashed around the city of Ildakar, they must face a terrible new threat posed by an old foe. The Norukai, barbarian raiders and slavers, have been gathering an immense fleet among the inhospitably rocky islands that make up their home. With numbers greater than anyone could have imagined, the Norukai are poised to launch their final and most deadly war." (Adapted from Catalogue)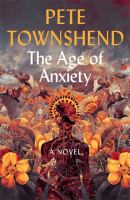 The age of anxiety / Townshend, Pete
"A former rock star disappears on the Cumberland moors. An art dealer has drug-induced visions of demonic faces swirling in a bedstead. A beautiful Irish girl who has stabbed her father to death is determined to seduce her best friend's husband. A young composer begins to experience aural hallucinations, expressions of the fear and anxiety of the people of London. Hallucinations and soundscapes haunt this novel, which on one level is an extended meditation on manic genius and the dark art of creativity." (Adapted from Catalogue)
Zed : a novel / Kavenna, Joanna
"Lionel Bigman is dead. Murdered by a robot. Guy Matthias, the philandering founder and CEO of the mega-corporation Beetle, insists it was human error. But was it? Either the predictive algorithms of Beetle's supposedly omniscient 'lifechain' don't work, or, they've been hacked. Both scenarios are impossible to imagine and signal the end of Beetle's technotopia and life as we know it. Zed asks profound questions about who we are, what we owe to one another, and what makes us human." (Adapted from Catalogue)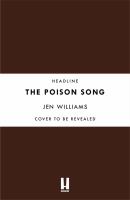 The poison song / Williams, Jen
"Ebora was once a glorious city, celebrated in song. Now refugees from every corner of Sarn seek shelter within its crumbling walls, and the enemy that has poisoned their land won't lie dormant for long. The deep-rooted connection that Tormalin, Noon and the scholar Vintage share with their Eboran war-beasts has kept them alive so far. But with Tor distracted, and his sister Hestillion hell-bent on bringing ruthless order to the next Jure'lia attack, the people of Sarn need all the help they can get." (Adapted from Catalogue)
Legacy of ash / Ward, Mat
"A shadow has fallen over the Tressian Republic. Ruling families – once protectors of justice and democracy – now plot against one another. Yet as Tressia falls, heroes rise. Viktor Akadra is the Republic's champion. Josiri Trelan is Viktor's sworn enemy. And Calenne, Josiri's sister, seeks only to break free of their tarnished legacy. As war spreads across the Republic, these three must set aside their differences in order to save their homeland." (Adapted from Catalogue)
The menace from farside / McDonald, Ian
"Remember: Lady Luna knows a thousand ways to kill you, but family is what you know. Family is what works. Cariad Corcoran has a new sister who is everything she is not: tall, beautiful, confident. They're unlikely allies and even unlikelier sisters, but they're determined to find the moon's first footprint, even if the lunar frontier is doing its best to kill them before they get there." (Adapted from Catalogue)