With family like mine, you don't need to invent anything. — Isabel Allende
This month's new fiction includes Isabel Allende's A Long Petal of the Sea, the story of the ship chartered by poet Pablo Neruda to save Spanish Republicans from Franco's retribution after the Spanish Civil War. As Allende reveals in her interview with Time, one of the people who welcomed the ship to Chile was none other than her stepfather Ramón Huidobro.
Also new this month are two exciting works of New Zealand fiction: Paul Cleave's Whatever it Takes and A.C. Buchanan's From a Shallow Grave. From a Shallow Grave tells the story/ies of Phyllis Symons, whose body was found at the construction site of the Mount Victoria Tunnel in 1931. Listen to a reading from it here!
A long petal of the sea / Allende, Isabel
"Victor Dalmau is a young doctor when he is caught up in the Spanish Civil War. Together with his sister-in-law he is forced out of his beloved Barcelona and into exile. When opportunity to seek refuge arises, they board a ship chartered by the poet Pablo Neruda to Chile, the promised 'long petal of sea and wine and snow'. There, they find themselves enmeshed in a rich web of characters, destined to witness the battle between freedom and repression as it plays out across the world." (Adapted from Catalogue)
From a shadow grave / Buchanan, A. C.
"Wellington, 1931. Seventeen-year-old Phyllis Symons' body is discovered in the Mt Victoria tunnel construction site. Eighty years later, Aroha Brooke is determined to save her life." (Adapted from Catalogue)
Whatever it takes / Cleave, Paul
"When seven-year-old Alyssa is kidnapped, Deputy Noah Harper decides he will do what it takes to find her–but that means crossing lines he can never come back from. Finding the girl safe isn't enough to stop Noah from losing his job, his wife, and from being kicked out of Acacia Pines. Now, 12 years later, comes a phone call. Alyssa is missing again and her father wants him to honor the promise he made to her all those years earlier–that he would never let anything bad happen to her again." (Adapted from Catalogue)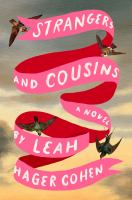 Strangers and cousins / Cohen, Leah Hager
"In the idyllic town of Rundle Junction, Bennie and Walter are preparing to host the wedding of their daughter Clem. A ceremony at their beloved, rambling home should be the happiest of occasions, but Walter and Bennie have a secret. A new community has moved to Rundle Junction, threatening the social order…" (Adapted from Catalogue)
Hitting a straight lick with a crooked stick : stories from the Harlem Renaissance / Hurston, Zora Neale
"In 1925, Barnard student Zora Neale Hurston–the sole black student at the college–was living in New York, desperately striving for a toe-hold on the world. During this period, she began writing short works that captured the zeitgeist of African American life. Nearly a century later, this singular talent is recognized as one of the most influential and revered American artists of the modern period." (Adapted from Catalogue)
The forest of enchantments / Divakaruni, Chitra Banerjee
"The Ramayana, one of the world's greatest epics, is also a tragic love story. In this brilliant retelling, Chitra Banerjee Divakaruni places Sita at the centre of the novel: this is Sita's version. The Forest of Enchantments is also a very human story of some of the other women in the epic, often misunderstood and relegated to the margins: Kaikeyi, Surpanakha, Mandodari. A powerful comment on duty, betrayal, infidelity and honour, it is also about women's struggle to retain autonomy in a world that privileges men." (Adapted from Catalogue)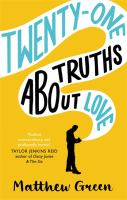 Twenty One Truths About Love / Green, Matthew
"1. Dan wants to do something special. 2. He's a man who is tired of feeling ordinary. 3. He's sick of feeling like a failure. 4. He doesn't want to live in the shadow of his wife's deceased first husband. Dan is also an obsessive list maker; his story unfolds entirely in his lists, which are brimming with his hilarious sense of humour, unique world-view and thoughts. When read in full, his lists paint a picture of a man who has reached a point where he's willing to do anything for the love (and soon-to-be new love) of his life." (Adapted from Catalogue)
Haven't they grown / Hannah, Sophie
"All Beth has to do is drive her son to his Under-14s away match. Just because she knows her ex-best friend lives near the football ground, that doesn't mean she has to drive past her house and try to catch a glimpse of her. But she can't resist. She parks outside the open gates of Newnham House, watches as Flora and her children step out of the car. Except there's something terribly wrong. It's the children. Twelve years ago they were five and three years old. Today, they look precisely as they did then. They haven't changed at all…" (Adapted from Catalogue)
Say say say / Savage, Lila
"Ella is not yet living the life she imagined. Her artistic ambitions have given way to an unintended career as a care worker. One spring, Bryn hires her to help him care for Jill, his wife of many years. A car accident caused a brain injury that has left Jill verbally diminished. As Ella is drawn into the couple's household, she is profoundly moved by the tenderness Bryn shows toward the wife he still fiercely loves. Ella is startled by the yearning this awakens in her, one that causes her to look at relationships of all kinds in new ways…" (Adapted from Catalogue)
The hungry and the fat / Vermes, Timur
"Europe's borders are closed. Beyond the Sahara, huge camps have been built for millions of people who have no choice but to wait. They have been waiting so long that they could have walked to Europe by now… if it didn't spell certain death. When German model and TV star Nadeche Hackenbusch visits the largest of the camps with a camera crew, young refugee Lionel recognizes a unique opportunity: use the media attention to organize 150,000 refugees to set off on a march to Europe…" (Adapted from Catalogue)