"I have chosen to no longer be apologetic for my femaleness and my femininity. And I want to be respected in all of my femaleness because I deserve to be."
― Chimamanda Ngozi Adichie, We Should All Be Feminists
To celebrate International Women's Day for 2020, our recent literature picks for this month feature a wealth of outstanding female writers. We take a look at seasoned favourites such as Elena Ferrante and Louisa May Alcott, as well as fresh voices in poetry and biographical literature.
This year the theme for IWD is 'Each for Equal' – how we can use our individuality as part of a bigger whole to stand up for gender equality. In this booklist, we've focused on the shared experience of womanhood, as well as coming-of-age in a time where women's voices have never been louder or more important. There's heaps to pick from for your next read, and we guarantee you'll find inspiration, empathy, joy and sorrow, and perhaps even a deeper understanding of what it means to be female in today's world.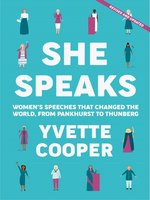 She Speaks, Yvette Cooper (ebook)
"In this timely and personal selection of exceptional speeches, Yvette Cooper MP tells the rousing story of female oratory. From Boudica to Greta Thunberg and Margaret Thatcher to Malala, Yvette introduces each speech and demonstrates how powerful and persuasive oratory can be decidedly female. Written by one of our leading public voices, this is an inspirational call for women to be heard across the globe." (Adapted from Overdrive description)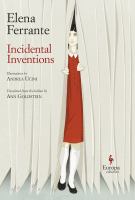 Incidental inventions / Ferrante, Elena
"'This is my last column, after a year that has scared and inspired me.' With these words, Elena Ferrante bid farewell to her year-long collaboration with the Guardian. For a full year she penned short pieces; the subjects ranged from first love to climate change, from enmity among women to the adaptation of her novels to film and TV. Gathered here  and accompanied by… Andrea Ucini's intelligent, witty, and beautiful illustrations, this is a must for all Ferrante fans." (Adapted from Catalogue)
Vanity Fair's women on women
"Vanity Fair's Women on Women features thirty of the best profiles, essays, and columns on female subjects written by female contributors to the magazine over the past thirty-five years. Many of these pieces constitute the first draft of a larger cultural narrative. They tell a singular story about female icons and identity over the last four decades—and about the magazine as it has evolved under the editorial direction of Tina Brown, Graydon Carter, and now Radhika Jones, who has written a compelling introduction." (Adapted from Catalogue)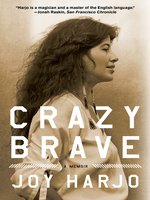 Crazy Brave, Joy Harjo (ebook)
"In this transcendent memoir, grounded in tribal myth and ancestry, music and poetry, Joy Harjo details her journey to becoming a poet. Born in Oklahoma, the end place of the Trail of Tears, Harjo grew up learning to dodge an abusive stepfather by finding shelter in her imagination, a deep spiritual life, and connection with the natural world. Narrating the complexities of betrayal and love, Crazy Brave is a haunting, visionary memoir about family and the breaking apart necessary in finding a voice." (Overdrive description)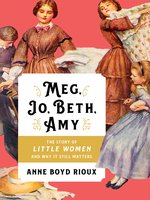 Meg, Jo, Beth, Amy, Anne Boyd Rioux (ebook)
In Meg, Jo, Beth, Amy, Anne Boyd Rioux brings a fresh and engaging looks at the circumstances leading Louisa May Alcott to write Little Women and why this beloved story of family and community ties set in the Civil War has resonated with audiences across time. (Overdrive description)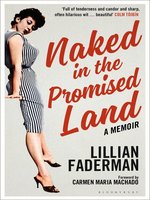 Naked in the Promised Land, Lillian Faderman (ebook)
"Born in 1940, Lillian Faderman is the only child of an uneducated and unmarried Jewish woman who left Latvia to seek a better life in America. Desperately seeking to make her life meaningful, she studied at Berkeley; paying her way by working as a pin-up model and burlesque dancer… she became a brilliant student and the woman who becomes a loving partner, a devoted mother, an acclaimed writer and ground-breaking pioneer of gay and lesbian scholarship. (Adapted from Overdrive description)
Make it scream, make it burn : essays / Jamison, Leslie
"The author of New York Times best sellers like The Empathy Exams, Jamison returns with 14 fresh essays blending memoir, criticism, and journalism. Among her subjects: 52 Blue, the world's loneliest whale; the awful yet somehow remote Sri Lankan civil war; and a museum exhibiting relics of broken relationships. With the virtuosic synthesis of memoir, criticism, and journalism for which she has become known, Jamison offers 14 new essays that are by turns ecstatic, searching, staggering, and wise." (Catalogue)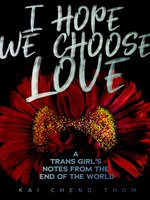 I Hope We Choose Love, Kai Cheng Thom (ebook)
"A heartbreaking yet hopeful collection of personal essays and prose poems, blending the confessional, political, and literary, Kai Cheng Thom dives deep into the questions that haunt social movements today. With the author's characteristic eloquence and honesty, I Hope We Choose Love proposes heartfelt solutions on the topics of violence, complicity, family, vengeance, and forgiveness. (Adapted from Overdrive description)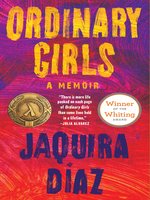 Ordinary Girls, Jaquira Díaz (ebook)
In this searing memoir, Jaquira Díaz writes fiercely and eloquently of her challenging girlhood and triumphant coming of age. From her own struggles with depression and sexual assault to Puerto Rico's history of colonialism, every page of Ordinary Girls vibrates with music and lyricism. Díaz's memoir provides a vivid portrait of a life lived in (and beyond) the borders of Puerto Rico and its complicated history—and reads as electrically as a novel.
(Adapted from Overdrive description)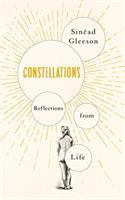 Constellations : reflections from life / Gleeson, Sinéad
"How do you tell the story of life that is no one thing? How do you tell the story of a life in a body, as it goes through sickness, health, motherhood? And how do you tell that story when you are not just a woman but a woman in Ireland? In this powerful and daring memoir in essays Sinéad Gleeson does that very thing. In writing that is in tradition of some of our finest writers and yet still in her own spirited, warm voice, Sinéad takes on journey that is both personal and yet universal in its resonance." (Adapted from Catalogue)