As a reader, I love when something hooks me in. And I like an inciting event that joins characters that won't go away. — Kiley Reid, author of Such a Fun Age
February sees a great selection of new fiction: our favourites include Royals by Emma Forrest, Olive, Again by Elizabeth Strout and Kiley Reid's debut novel Such a Fun Age. Such a Fun Age has been called a "thrilling millennial spin on the 19th-century novel of manners" and is well worth checking out.
And if it's spies you prefer, never fear–Robert J. Harris is here to resurrect Richard Hannay in The Thirty One Kings. So head to your nearest branch (or visit the eLibrary) and grab your copy!
Such a fun age / Reid, Kiley
"When Emira is apprehended at a supermarket for 'kidnapping' the white child she's actually babysitting, it sets off an explosive chain of events. Her employer Alix, a feminist blogger with the best of intentions, resolves to make things right. But Emira herself is broke and wary of Alix's desire to help. When a surprising connection emerges between the two women, it sends them on a crash course that will upend everything they think they know – about themselves, each other, and the messy dynamics of privilege." (Adapted from Catalogue)
Olive, again / Strout, Elizabeth
"New York Times bestselling author and Pulitzer Prize winner Elizabeth Strout continues the life of her beloved Olive Kitteridge, a character who has captured the imaginations of millions of readers. Prickly, wry, resistant to change yet ruthlessly honest and deeply empathetic, Olive Kitteridge is a compelling life force. The New Yorker has said that Elizabeth Strout animates the ordinary with an astonishing force, and she has never done so more clearly than in these pages." (Adapted from Catalogue)
The secret of Cold Hill / James, Peter
"Cold Hill House has been razed to the ground by fire, replaced with a development of ultra-modern homes. Gone with the flames are the violent memories of the house's history. For Jason and Emily Danes, this is their forever home, and for Maurice and Claudette Penze-Weedell, it's the perfect place to live out retirement. But it's only a matter of days before both couples start to feel they are not alone in their new homes . . ." (Adapted from Catalogue)
Show them a good time / Flattery, Nicole
"A young, broke Irish woman narrates her relationship with a successful comedian in New York. Angela makes her way through a series of meaningless dates in a basement restaurant. Two university students collaborate on a play – but the unemployment offices lurks around the corner. Show Them a Good Time is a collection that subverts types – men and women, their assigned roles and meanings – in modern society. Exuberant and irreverent, accomplished and unexpected, it marks the arrival of a thrilling new voice." (Adapted from Catalogue)
Royals / Forrest, Emma
"July, 1981. London. Shy, working-class Steven finds solace in beauty. Eighteen years old, he dreams of being a fashion designer. He's also gay, maybe – he hasn't decided yet. When he ends up in hospital after being brutally attacked by his father, he meets Jasmine, an heiress. Intoxicating, anarchic, fabulous Jasmine. Fuelled by their shared love of fashion, a friendship blossoms and soon, Steven finds himself swept into her hedonistic world, wholly beguiled. However, underneath the glitter and the frivolity, darkness lies." (Adapted from Catalogue)
Dora : a headcase / Yuknavitch, Lidia
"Ida has a secret: she is in love with her best friend. But any time she gets close to intimacy, Ida faints or loses her voice. She needs a shrink. Or so her philandering father thinks. Immediately wise to the head games of her new shrink, Siggy, Ida – and alter-ego Dora – hatch a plan to secretly film him. But when the film goes viral, Ida finds herself targeted by unethical hackers. Dora: A Headcase is a contemporary coming-of-age story based on Freud's famous case study, retold and revamped through Dora's point-of-view." (Adapted from Catalogue)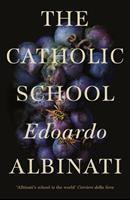 The Catholic school / Albinati, Edoardo
"In 1975, three young well-off men, former students at Rome's prestigious all-boys Catholic high school San Leone Magno, brutally torture, rape, and murder two young women. The event shocks and captivates all of Italy, exposing the violence and dark underbelly of the upper middle class at a moment when the traditional structures of family and religion are under threat. Albinati's novel reflects on the legacy of abuse, the Italian bourgeoisie, and the relationship between sex, violence, and masculinity." (Adapted from Catalogue)
All this could be yours / Attenberg, Jami
"If I know why they are the way they are, then maybe I can learn why I am the way I am," says Alex Tuchman of her parents. Now that her father is on his deathbed, Alex–a strong-headed lawyer, devoted mother, and loving sister–feels she can finally unearth the secrets of who Victor is. She travels to New Orleans to be with her family, but mostly to interrogate her tightlipped mother, Barbra. As Barbra fends off Alex's unrelenting questions, she reflects on her tumultuous life." (Adapted from Catalogue.)
The thirty-one kings / Harris, Robert J.
"June 1940. As German troops pour across France, the veteran soldier and adventurer Richard Hannay is called back into service. In Paris an individual code named 'Roland' has disappeared and is assumed to be in the hands of Nazi agents. Only he knows the secret of the Thirty-One Kings, one upon which the future of Europe depends." (Adapted from Catalogue)