Humanity has pondered the meaning of life since the beginning of time. This selection of recent arrivals ruminates on the big questions, beliefs and doubts as well as offering a variety of answers, including new books from best-selling authors Richard Dawkins and John Bevere. Remember that reserves are free, so it you want to borrow a copy of one of these titles, there is no charge to bring it to your preferred branch.
What, why, how : answers to your questions about Buddhism, meditation, and living mindfully, by Henepola Gunaratana.
How can I fit meditation into my busy life? How should I understand karma and rebirth? Is enlightenment even possible for me? Imagine that you could sit down with one of Buddhism's most accomplished and plainspoken teachers–and imagine that he patiently agreed to answer any question you had about meditation, living mindfully, and key Buddhist concepts What, Why, How condenses into one volume a half-century of Bhante G.'s wise answers to common questions about the Buddha's core teachings on meditation and spiritual practice. (drawn from the Catalogue)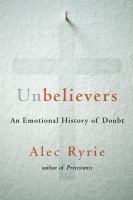 Unbelievers : an emotional history of doubt, by Alec Ryrie.
"Unbelievers shows how, long before philosophers started to make the case for atheism, powerful cultural currents were challenging traditional faith. These tugged in different ways not only on celebrated thinkers such as Machiavelli, Montaigne, Hobbes, and Pascal, but on men and women at every level of society whose voices we hear through their diaries, letters, and court records. …As the Reformation eroded time-honoured certainties, Protestant radicals defended their faith by redefining it in terms of ethics. In the process they set in motion secularizing forces that soon became transformational. Unbelievers tells a powerful emotional history of doubt with potent lessons for our own angry and anxious age." (drawn from the publisher's description)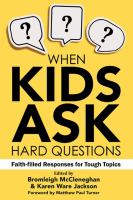 When kids ask hard questions : faith-filled responses for tough topics
When your children ask the hard questions, are you prepared to respond? Progressive Christian parents and pastors offer advice on responding to today's tough topics, including bodies, gender, racism, divorce, death, grief, faith, loss, suicide, violence etc. The range and complexity of issues which kids are grapple with today can be overwhelming. A diverse group of young parents, pastors, and experts provide pathways to help you support the kids in your care with reflective and respectful conversations.
Tao : the watercourse way, by Alan Watts.
The Chinese philosophy of Tao is the way of man's cooperation with the natural course of the natural world. This book includes an introduction to the Chinese culture that forms the basis of Tao before focusing on its interpretations by key thinkers such as Lao-Tzu, author of the Tao Te Ching. It then promotes the idea of following a life lived according to the natural world – allowing time to quiet our minds and observe the world rather than imposing ourselves on it.
God, where are you?! : finding strength & purpose in your wilderness, John Bevere.
"Do you feel lost in a difficult season, wondering, "God, where are you? " … Contrary to what many may think, getting through this season isn't just a matter of waiting on God. You have a part to play in navigating through it. A big one. And if you don't want to waste time wandering in circles, it's important to learn what that is." This will help you navigate your dry or difficult seasons and step into all that God has for you. (drawn from the Catalogue)
Outgrowing God : a beginner's guide, by Richard Dawkins.
Do we need God in order to explain the universe? Do we need God in order to be good? These are some of the most controversial and profound questions we ponder. Popular author Dawkins draws on philosophy and comparative religion as well as science to interrogate the hypocrisies of religion and explain to readers how life emerged without a Creator. The first part of the book, Goodbye God, reviews the shortcomings of the Bible as a guide to ethics, while the second part, Evolution and beyond, is more on Dawkins' field is an evolutionary biologist and ethologist.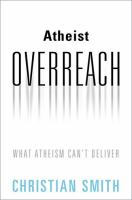 Atheist overreach : what atheism can't deliver, by Christian Smith,
Smith takes a look at the evidence for atheism and reviews some claims about morality, science, and human nature. Can a morality promoting benevolence towards all and universal human rights not be grounded in some religious system; does modern science disprove the existence of God; and is there anything innately spiritual about human beings. "He does not argue that atheism is necessarily wrong, but rather that its advocates are advancing crucial claims that are neither rationally defensible nor realistic. Their committed worldview feeds unhelpful arguments and contributes to the increasing polarization of today's political landscape. …This book provides readers with the information they need to participate more knowledgably in debates about atheism and what it means for our society." (drawn from the Catalogue)