Find easy to make craft projects to inspire both you and your children and have fun crafting together. Enjoy!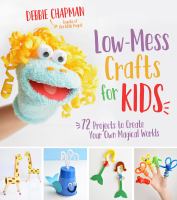 Low-mess crafts for kids : 72 projects to create your own magical worlds / Chapman, Debbie
"Messy crafts have met their match with these 72 creations that keep out the clutter and mess but pack in the fun and creativity. With tricks like twisting pipe cleaners into fun shapes to avoid glue and using brightly colored cups and patterned paper to avoid paint, keeping it simple doesn't mean play time has to be less fun. 
Low-Mess Crafts for Kids
brings parents and caretakers solutions to the craft time conundrum." (adapted from Catalogue)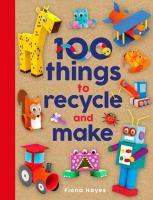 100 things to recycle and make / Hayes, Fiona
"100 Things to Recycle and Make brings together the most popular projects from the Crafty Makes series, using everyday objects to create an amazing range of crafty makes. Children will be entertained for hours with this invaluable collection of crafty makes, and even the whole family can be involved in recycling everyday objects and turning them into exciting projects." (adapted from Catalogue)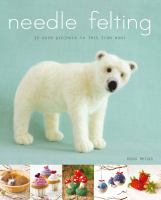 Needle felting : 20 cute projects to felt from wool / Herian, Emma
"Unlike many crafts, needle felting is very forgiving to beginners, so there's no excuse not to give it a shot. No matter how much experience you have in crafts or how creative you think you are, needle felting offers endless possibilities. Relax into it, have a go and see where it takes you." (adapted from Catalogue)
Finger knitting for kids : super cute & easy things to make / Teranishi, Eriko
"Now kids can create their very own knitted accessories! This book provides easy-to-follow instructions for 15 fun knitting projects for kids. With a wide range of projects, interests and skill levels throughout the book, crafty kids 5-12 will be making original knitted creations in no time! Lessons on making and adding embellishments like pompoms, tassels and loops introduce kids to the wonderful world of yarn crafting. " (adapted from Catalogue)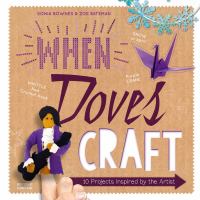 When Doves Craft : Ten Projects Inspired by the Artist / Insight Editions (COR)
"Combining the artistry of Prince with the fun of crafting, this delightful book celebrates the artist's biggest hits in ten step-by-step projects. When Doves Craft is ideal for beginner crafters as well as those looking for something completely unique. Including inspirational quotes and facts about Prince, it is a perfect tribute to the most creative artist of them all." (adapted from Catalogue)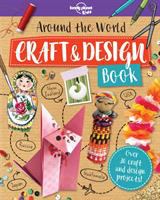 Around the world craft & design book / Eaton, Kait
"Discover, draw and design cultural artifacts from around the world with this fun and creative activity book. Lonely Planet Kids' Around the World Craft & Design Book contains a mix of exciting projects that can be made from common household items. Colorful illustrations, photos and fun facts introduce young artists to different cultures and encourage them to create and showcase their unique designs. We want to inspire the next generation of global citizens and help kids and their parents to approach life in a way that makes every day an adventure. Come explore" (adapted from Catalogue)
Cloth / Llimós Plomer, Anna
"Guaranteed to spark children's imagination, this book shows how easy it is to make a wide range of whimsical cloth objects using commonly available fabrics such as wool, felt, burlap, and cleaning cloths. In five easy steps, kids will have fun crafting everything from a three-dimensional dog, to a marionette, pompom keychain, and textile collage. These experiments in color, texture, and shape will provide hours of hands-on entertainment." (Catalogue)