In the universe, there are things that are known, and things that are unknown, and in between, there are doors.
― William Blake
The Nobel Prize for literature has just been announced recently and we were very pleased to see one of our favourite modern writers Olga Tokarczuk was one of the reciprocates. Known for her dreadlocked look, staunch ecological, feminist stances and lets not forget her mind expanding exceptional books.  Olga Tokarczuk  has courted controversy with Nationalist elements of her home country.  As her books have on occasion dealt with some of the uncomfortable moments in her countries past. Indeed her publishers have had to hire bodyguards to protect her from right wing threats.
Flights her book loosely about travel in all its forms, both to places beyond and within ourselves, propelled her to international fame and acclaim. It had taken ten years from the Polish publication of Drive Your Plow over the Bones of the Dead  (her William Blake infused Eco thriller) to be translated into English. Her most recent work, The Books of Jacob a 1000 page historical epic, though published in Poland in 2014 and already winning Poland's highest literary honour, will not be fully translated into English until 2021, her English translator saying she is working flat out to deliver it by then. Olga Tokarczuk recently pondered if her life would have been easier if her works had been translated into English earlier.
Both Flights and Drive Your Plow over the Bones of the Dead are available to borrow from our libraries but alas unless you speak polish we, like everyone else, will have to wait till 2021 before we can get to read The Book of Jacob. Enjoy.
Drive your plow over the bones of the dead / Olga Tokarczuk ; translated from the Polish by Antonia Llyod-Jones.Server ErrorYour request could not be completed.Drive Your Plow over the Bones of the Dead: A Novel
" Drive Your Plow Over the Bones of the Dead takes place in a remote Polish village, where Duszejko, an eccentric woman in her sixties, recounts the events surrounding the disappearance of her two dogs. When members of a local hunting club are found murdered, she becomes involved in the investigation. Duszejko is reclusive, preferring the company of animals to people; she's unconventional, believing in the stars, and she is fond of the poetry of William Blake, from whose work the title of the book is taken." (Adapted from Syndetics summary) Also available as an eBook.
Flights / Olga Tokarczuk ; translated by Jennifer Croft.Flights
"Flights is a series of imaginative and mesmerising meditations on travel in all its forms, not only the philosophy and meaning of travel, but also fascinating anecdotes that take us out of ourselves, and back to ourselves.Olga Tokarczuk brilliantly connects travel with spellbinding anecdotes about anatomy, about life and death, about the very nature of humankind.  Many consider Tokarczuk to be the most important Polish writer of her generation and Flights is one of those rare books that seems to conjure life itself out of the air."(Adapted from Syndetics summary. )Also available as an eBook.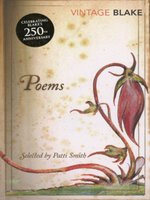 Poems, William Blake (ebook)
SELECTED AND INTRODUCED BY PATTI SMITH
William Blake is one of Britain's most fascinating writers, who, as well as being a groundbreaking poet, is also well known as a painter, engraver, radical and mystic. Although Blake was dismissed as an eccentric by his contemporaries, his powerful and richly symbolic poetry has been a fertile source of inspiration to the many writers and artists who have followed in his footsteps. In this collection Patti Smith has collected together her personal selection of Blake's poems, including the complete poems from the famous Songs of Innocence and Songs of Experience, to give a singular picture of this unique genius. (Overdrive description)