Have you traversed though all of Tintin? Been through the footnotes of Asterix? Are you just looking for something new to read? Then try one of these comics, as recommended by our librarians!
Want a superhero story with a fun twist? Try Sparks, the hero who's actually two cats in a robot dog suit!
Do you want a comic with an interactive element? Then read Hocus Pocus, a pick-a-path adventure comic where YOU decide where the story goes!
Passionate about dinosaurs? Then check out Dinosaur Empire, an adventure through the three periods of the Age of Dinosaurs!
You can find all these books (and more!) in the Children's Comic section of our library branches.
Sparks! / Boothby, Ian
"Sparks is a hero and man's best friend, but nobody suspects he's two cats! August is a brilliant inventor who is afraid of the outside. Charlie is a crack pilot who isn't afraid of anything. Together these pals save lives every day as they pilot a powerful, mechanical dog suit!" (Adapted from catalogue)
Zeus : king of the gods / O'Connor, George
"O'Connor's vibrant, kinetic art brings ancient tales to undeniable life, in a perfect fusion of super-hero aesthetics and ancient Greek mythology. Volume 1 of OLYMPIANS, ZEUS: King OF THE GODS, introduces readers to the ruler of the Olympian Pantheon, telling his story from his boyhood to his ascendance to supreme power." (Adapted from catalogue)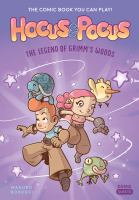 Hocus & Pocus [1] : the legend of Grimm's woods / Manuro
"Enter a world inspired by favorite fairy tales, complete with gingerbread houses, a girl dressed in red, and seven brothers lost in the woods. Readers can play as Hocus (a girl) or Pocus (a boy), choose a magic animal companion, and enter a colorful forest of brain-teasing riddles, magical objects, and unusual characters. Succeed or fail, it all depends on you" (Adapted from catalogue)
Dinosaur empire! : a graphic novel / Howard, Abby
"This book takes readers on a journey back in time to experience the Mesozoic Era firsthand through a riveting combination of art and factual information. This first in a three-book, middle-grade, graphic novel series centering around scientific investigations throughout time helps readers learn about the creatures of the Mesozoic Era." (Catalogue)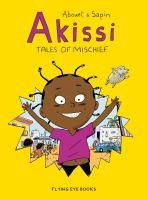 Akissi : tales of mischief / Abouet, Marguerite
"Collects the adventures of Akissi, a young West African girl who is always getting into trouble." (Catalogue)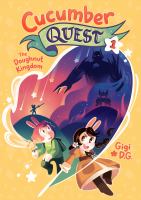 Cucumber quest. 1, The doughnut kingdom / Gigi D. G.
"A delightfully pun-filled middle grade graphic novel, adapted from the popular web comic series, about bunny siblings on a heroic journey to save their world from an evil queen." (Catalogue)