I like the truth, even when it does trouble me.
― Juliet Marillier, Wildwood Dancing
Our latest crop of newly acquired science fiction and fantasy books  feature a wide variety of novels that can loosely be described as epic space operas, fantasy novels with vast sweeping kingdoms steeped in ancient magic, steam punk and urban fantasy. And also feature a child Empress and an exciting fantasy fiction debut "The tigers daughter" .  And to top it all we have bestselling New Zealand author Juliet Marillier's latest highly anticipated historical fantasy outing The harp of kings.  In which a young woman warrior bard goes on a for dangerous mission to recover a missing ancient harp. Enjoy!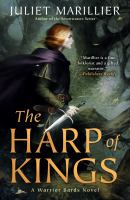 The harp of kings / Marillier, Juliet
"Eighteen-year-old Liobhan is a powerful singer and an expert whistle player. Her brother has a voice to melt the hardest heart, and is a rare talent on the harp. But Liobhan's burning ambition is to join the elite warrior band on Swan Island. She and her brother train there to compete for places, and find themselves joining a mission while still candidates. Their unusual blend of skills makes them ideal for this particular job, which requires going undercover as traveling minstrels. For Swan Island trains both warriors and spies. Their mission: to find and retrieve a precious harp, an ancient symbol of kingship, which has gone missing. " (Adapted from Catalogue)
The cruel stars / Birmingham, John
" The galaxy was once terrorized by the Sturm, a group of "species purists" intent on destroying any human with genetic or cybernetic enhancements. Fashioning themselves as the one true "Human Republic," the Sturm cut a bloody swath across the stars, killing billions before finally being defeated and driven into the far reaches of Dark Space. Centuries of peace bred complacency. Everyone believed the Sturm had died out in the Dark. They were wrong. The enemy has returned and five flawed, reluctant heroes must band together to prevail against a relentless enemy and near-impossible odds." (Adapted from Catalogue)
Reticence / Carriger, Gail
" Percival Tunstell loves that his sister and her best friend are building themselves a family of misfits aboard their airship, the Spotted Custard. Of course, he'd never admit that he belongs among them. He's always been on the outside – dispassionate, aloof, and hatless. But accidental spies, a trip to Japan, and one smart and beautiful doctor may have him renegotiating his whole philosophy on life. Except hats. He's done with hats. Thank you very much." (Adapted from Catalogue)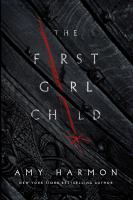 The first girl child / Harmon, Amy
"  Bayr of Saylok, bastard son of a powerful and jealous chieftain, is haunted by the curse once leveled by his dying mother. Bartered, abandoned, and rarely loved, she plagued the land with her words: From this day forward, there will be no daughters in Saylok. Raised among the Keepers at Temple Hill, Bayr is gifted with inhuman strength. But he's also blessed with an all-too-human heart that beats with one purpose: to protect Alba, the first girl child born in nearly two decades and the salvation for a country at risk. Now the fate of Saylok lies with Alba and Bayr, whose bond grows deeper with every whisper of coming chaos." (Adapted from Catalogue)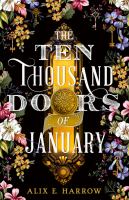 The ten thousand doors of January / Harrow, Alix E
"In the early 1900s, a young woman searches for her place in the world and the mystery behind a magical door in this captivating debut. In a sprawling mansion filled with peculiar treasures, January Scaller is a curiosity herself. As the ward of the wealthy Mr. Locke, she feels little different from the artifacts that decorate the halls: carefully maintained, largely ignored, and utterly out of place. Then she finds a strange book. A book that carries the scent of other worlds, and tells a tale of secret doors, of love, adventure and danger. Each page turn reveals impossible truths about the world and January discovers a story increasingly entwined with her own." (Adapted from Catalogue)
The sword saint / C. F. Iggulden.
"Cities have been broken before. Empires have fallen. But this is the end of an age.
The city of Darien's power has grown, but not without a price. Victory has drawn the gaze of a fierce enemy from the North. The Feal Empire is determined to claim Darien's magic and use it to take the throne. With nowhere else to turn, the twelve families enlist the help of the Sword Saint. Alongside five outcasts – a gambler, a hunter, a young thief, a sorceress and a battle-scarred warrior – the sword saint must travel into the very heart of the invading army. Darien was once the Empire of Salt's greatest stronghold – now it will be the final battleground. And the Sword Saint their last hope." (Adapted from Syndetics summary)
The Phoenix Empress / Rivera, K. Arsenault
"Since she was a child, the divine empress O Shizuka has believed she was an untouchable god. When her uncle, ruler of the Hokkaran Empire, sends her on a suicide mission as a leader of the Imperial Army, the horrors of war cause her to question everything she knows. Thousands of miles away, the exiled and cursed warrior Barsalyya Shefali undergoes trials the most superstitious would not believe in order to return to Hokkaran court and claim her rightful place next to O Shizuka.  As the distance between disgraced empress and blighted warrior narrows, a familiar demonic force grows closer to the heart of the empire. Will the two fallen warriors be able to protect their home?" (Adapted from Catalogue)
The tiger's daughter / Rivera, K. Arsenault
"The Hokkaran empire has conquered every land within their bold reach–but failed to notice a lurking darkness festering within the people. Now, their border walls begin to crumble, and villages fall to demons swarming out of the forests. Away on the silver steppes, the remaining tribes of nomadic Qorin retreat and protect their own, having bartered a treaty with the empire, exchanging inheritance through the dynasties. It is up to two young warriors, raised together across borders since their prophesied birth, to save the world from the encroaching demons." (Adapted from Catalogue)