After 25 years of Hellboy, The B.P.R.D. finale has arrived. Mike Mignola crafts an image rich apocalypse, a pivotal point in the mythos of this world this issue reveals massive twists in what we have come to understand as B.P.R.D. lore. Recently reprised in the Hellboy movie, with Stranger things' David Harbour this issue, Ragna rok, is definitely worth catching.
George Takei teams up with Justin Eisinger, Steven Scott and artist Harmony Becker for his graphic memoir, They called us enemy. Forced from their home into an uncertain future, Takei and his entire family were incarcerated in American concentration camps. The futuristic designs of Eileen Gray are detailed in a graphic novel bearing her name, a statement in it's self coming from an era where the work of women architects was often eclipsed by their male counterparts. And a new series, Prodigy, from the creator of the Walking Dead has polymath Edison Crane fixing global problems.
Eclectic styles and commentaries on the fantastic to the historic and how they impact our lives today these comics are bursting with tales to tell. Enjoy!
They called us enemy / Takei, George
"In 1942, at the order of President Franklin D. Roosevelt, every person of Japanese descent on the west coast was rounded up and shipped to "relocation centers". A stunning graphic memoir, They called us enemy, is George Takei's firsthand account of those years behind barbed wire, the joys and terrors of growing up under legalized racism, those experiences planted the seeds for his astonishing future. What is American? Who gets to decide? When the world is against you, what can one person do?" (Adapted from catalogue)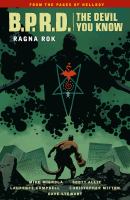 B.P.R.D. : the devil you know [3] : Ragna rok / Mignola, Michael (print ), (eBook)
"The finale to B.P.R.D., Hellboy, Abe Sapien, Liz Sherman, and the rest of the bureau face off against one of their oldest enemies in the last battle to save the world. One enemy leads to another as the B.P.R.D. finds themselves up against something–and someone–even more sinister than they believed, and Christopher Mitten draws the origin story of one of the B.P.R.D.'s most mysterious foes.
Collects B.P.R.D.- The Devil You Know #11-15." (Adapted from catalogue)
Eileen Gray : a house under the sun / Malterre-Barthes, Charlotte
"Meet Eileen Gray, the queer, Irish architect behind the world-renowned E-1027 house and a pioneer of the Modern Movement in architecture. In 1924. Nearly a century later, this structure is a design milestone. Dzierżawska's exquisite visuals illuminate the previously overlooked struggles and triumphs of a young queer Irish designer whose work and life came to bloom during the 'Ann es Folles' of early 20th century Paris." (Adapted from catalogue)
Prodigy : the evil earth / Millar, Mark
"Edison Crane's not content being the world's smartest man and most successful businessman — his brilliant mind needs constantly challenged. He's a Nobel Prize-winning scientist, genius composer, Olympic athlete and an expert in the occult, and now international governments are calling on him to fix problems they just can't handle. Collects Prodigy 1-6." (Adapted from catalogue)
House of whispers. Volume one, The power divided / Gaiman, Neil
"One of four books expanding Neil Gaiman's acclaimed Sandman Universe. Welcome to the House of Dahomey, the houseboat of Erzulie Fréda, where the souls of Voodoo followers go when they sleep but even the fearsome Erzulie is powerless when her dream river turns sour, tossing her house from one realm and into another.. the Dreaming! Collects House of Whispers #1-6 and Sandman Universe Special #1″ (Adapted from catalogue)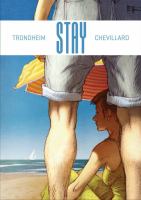 Stay / Trondheim, Lewis
"A moving and mesmerizing look at life, death, written by celebrated author Lewis Trondheim and illustrated by Hubert Chevillard. Roland has the perfect vacation planned for Fabienne, with the entire itinerary recorded in a notebook. But, Roland is decapitated in a freak accident. And Fabienne, stunned and alone, has no idea how to process it. Ghost-like, she wanders the tourist-filled streets, a passive spectator. Along the way she meets Paco a local vendor with some eccentric views on life and death..." (Catalogue)
Die!Die!Die! [1] / Kirkman, Robert
"We don't like to admit it, but this is an evil world where evil people do evil stuff all the time. Thankfully, there is a secret cabal with the United States government that works outside our normal system to influence world matters through targeted assassination. The world around us is manipulated right under our noses. So if you're hurting people, somehow making the world worse than it already is,  someone could right now be giving the order for you to… DIE DIE DIE. Collects DIE DIE DIE #1-8." (Adapted from catalogue)
Woman world / Dhaliwal, Aminder
"When a birth defect wipes out the planet's entire population of men, Woman World rises out of society's ashes. Dhaliwal's infectiously funny instagram comic follows the rebuilding process, tracking a group of women who have rallied together under the flag of "Beyonce's Thighs." Only Grandma remembers the distant past, a civilization of segway-riding mall cops and "That's What She Said" jokes. For the most part, Woman World's residents are focused on their struggles with unrequited love and anxiety, not to mention that whole "survival of humanity" thing." (Adapted from catalogue)
Death to the tsar / Nury, Fabien
"Moscow. September 17th. 1904. In front of the palace of the Governor General of Moscow, the assembled masses protest against widespread poverty. Governor Sergei Alexandrovich is stood on the balcony when he drops his hankerchief – inadvertently giving the signal for the soldiers to open fire… The repercussions of his deadly mistake resound throughout the whole of Russia… and the assassins close in. Told in two parts, this is the true story of the assassination of Grand Duke Sergei Alexandrovich and a nation on the brink of revolution." (Adapted from catalogue)