Mars has become a kind of mythic arena onto which we have projected our Earthly hopes and fears."
– Carl Sagan
Fiction writers since the days of Edgar Rice Burroughs have speculated on what or who might live on Mars, and how humans might fare together or alone in a new environment. Current space-faring aspirations have inspired various nations to investigate the 'red planet', from the NASA Mars rover — your name could make the interplanetary voyage — to the UAE Hope probe due to launch next year. Chinese students can experience life on a Martian base in the Gobi desert as China prepares an orbiter and rover for the 2020 launch window.
For the rest of us, interplanetary exploration is only a page turn away, with a heady mix of nostalgia, fast-paced action, intrigue and Martian terrain that is envisioned from the lush to the inhospitably harsh. Simon Morden's sequel to One Way continues a thrilling science fiction series that places convicts on the red planet's surface. The Arabella of Mars series by David D. Levine is a space opera nostalgia package bedecked with regency props, political intrigue and a swashbuckling heroine. And Richard K Morgan's Thin Air dives into corruption and kidnapping in a vividly rendered Martian outpost. Something for all tastes in these voyages of the imagination. Enjoy!

Lost Mars : stories from the golden age of the red planet
"Since the 1880s, after an astronomer first described "channels" on the surface of Mars, writers have been fascinated with the planet, endlessly speculating on what life on Mars might look like and what might happen should we make contact with the planet's inhabitants. This wonderful collection offers ten wildly imaginative short stories from the golden age of science fiction by such classic sci-fi writers as H.G. Wells, Ray Bradbury, and J. G. Ballard, as well as hard-to-find stories by unjustly forgotten writers from the genre." (Catalogue)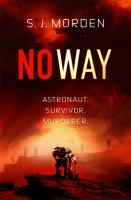 No way / Morden, Simon
"In this sequel to the unnerving One Way, Frank Kitteridge, who's been abandoned on Mars by the unscrupulous builders of the first base there, learns that survivors at another base are itching to exploit him for all he's worth. To get back home, he must fight back now." (Catalogue)
Arabella the traitor of Mars / Levine, David D.
"At last husband and wife, Arabella and Captain Singh seem to have earned the attention of great men, ones who have new uses in mind for the Mars Company captain and his young wife. Both Company and Crown have decided that it is time to bring Mars into the folds of Empire, and they think Singh is the perfect man to do it. Now, Arabella must decide between staying loyal to the man she loves and the country of her father or betraying all that she has known to fight alongside the Martians in a hopeless resistance against the Galaxy's last remaining superpower." (Catalogue)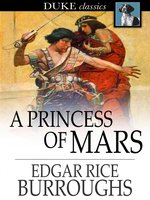 A Princess of Mars, Edgar Rice Burroughs (ebook)
This science fiction planetary romance, packed full of dangerous feats and swordplay, is set on a dying Mars. Civil War veteran John Carter is unexpectedly transported to Barsoom, the planet we call Mars, and finds with the weaker gravity that he has super-human strength. In combat he finds respect and belonging with the Tharks, an aggressive race of green four-armed nomads. But when the Tharks capture the human-like Dejah Thoris, Carter feels the need to help this beautiful princess of Mars." (Overdrive description)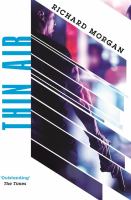 Thin air / Morgan, Richard K.
"An ex-corporate enforcer, Hakan Veil, is forced to bodyguard Madison Madekwe, part of a colonial audit team investigating a disappeared lottery winner on Mars. But when Madekwe is abducted, and Hakan nearly killed, the investigation takes him farther and deeper than he had ever expected. And soon Hakan discovers the heavy price he may have to pay to learn the truth." (Catalogue)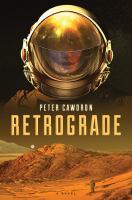 Retrograde / Cawdron, Peter
"Mankind has long dreamed of reaching out to live on other planets, and with the establishment of the Mars Endeavour colony, that dream has become reality. The fledgling colony consists of 120 scientists, astronauts, medical staff, and engineers. Buried deep underground, they're protected from the harsh radiation that sterilizes the surface of the planet. The colony is prepared for every eventuality except one–what happens when disaster strikes Earth?" (Catalogue)
Red rising / Brown, Pierce
"Darrow is a Red, a member of the lowest caste in the color-coded society of the future. He works all day, believing that he and his people are making the surface of Mars livable for future generations. But they have been betrayed. Darrow discovers that vast cities and sprawling parks cover the planet, and Reds are nothing more than slaves to the decadent Gold ruling caste. Now he will sacrifice everything and stop at nothing to bring down his enemies." (Catalogue)